Hexbug Remote Control Mouse Cat Toy, Color Varies
By Hexbug
---
About This Item
Realistic robotic mouse entices your cat with lifelike movements such as starting, stopping and pausing.
Remote control allows you to control the mouse's movements for a fun bonding experience with your feline predator.
Soft rubber tail and realistic ears and whiskers capture the attention and interest of your four-legged friend.
Two channels of operation allow for play with multiple mice and pets at once for added fun.
Get caught up in a classic game of cat-and-mouse with this irresistibly entertaining toy.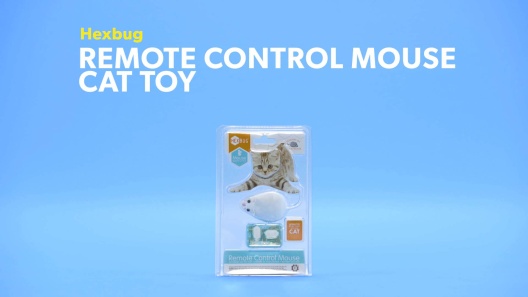 Learn More About Hexbug From Our Team of Experts
---
---
Questions & Answers
14 Customer Questions
---
Does it work on carpet?
Answer by • Oct 30, 2017
This toy is designed to work on hard surfaces.
---
Does it turn left & right or forward and backward only ?
Answer by • Aug 29, 2017
This product features 360 degree movement control.
---
How fast does the mouse go? E.g. does it just kind of crawl along, or does it shoot forward quickly?
Answer by • Dec 29, 2017
The toy can move slow and fast. The remote control allows you to control the mouse's movements.
---
Do you always have to use the remote control to make it move or do you also have the option to have it move in it's own
Answer by • Dec 22, 2018
The mouse for this cat toy only moves if controlled with the remote.
---
---
---
By MisTy on Apr 30, 2022
My cats love it but very high maintanence
My cats really like this toy. They love watching it, chasing it, and swatting it. The problem is taking care of the toy. The biggest issue is the fact that the wheel mechanism picks up every piece of fur or hair on the ground that gets drawn up and knotted around the wheels burning out the motor and preventing the wheels from turning. In addition, the batteries ran out pretty quickly, even when only using it for 5-10 minutes at a time and turning the button off each time. Overall, lasted 3+ weeks of every few days of use. If you are someone who vacuums their floors every day before you use this toy, then you might have better luck with it.
---
By Sylvia on May 17, 2022
Fantastic!
We love playing with our cats with the remote control mouse. It is entertaining for humans and felines alike. Works as advertised.
---
By Lucy on Jan 25, 2022
Lucy approved
This remote control mouse was very well liked by Lucy, our cat. She is usually pretty picky about toys. I think the size was perfect, we've had other remote toys that were more rat sized and she didn't care for them. She could pick this one up, which I think helps. The only thing that would be nice to change is the click of the remote. If it were quieter it wouldn't get her attention as easily. A couple times when getting the mouse to switch direction, she would look up at the one holding the remote instead of watching the mouse.
---
By Melanie on Jan 24, 2022
Great, when it works
My older kittens absolutely love this toy. One of them runs around it and does somersaults around it & even loves to cuddle with it. Unfortunately, the wheels accumulate hair/fur on them way too easily, and so a lot of the time it just ends up going in big circles and I have to keep stopping to try to clean it out. As far as I can tell, there isn't an easy way to take it apart to get to the axles either to clean them easily and completely.
---
By TJPK on Mar 10, 2022
No consistent motion
Sometimes it goes. Sometimes it doesn't. It came with batteries. Does it need new batteries? I don't know. Will cost me more to fix it than I paid for it. Don't waste your money.
---
By Binx on May 13, 2022
Sorry to say but will not buy again
Not a fan of this product. Inconsistent. Suddenly stops working at any given time.
---
By Harry on Jan 27, 2022
Concept great but didn't deliver
We all know this toy only costs $10 and you get what you pay for. Great concept but have to be right on top of mouse for remote to work and even then it doesn't work great. We have to chase the cat and mouse to try to control it.
---
By BarbieFavToy on Dec 10, 2021
My cats loves this - it breaks after a couple months
My cat is very picky with toys, maybe because she was feral until she was an adult. But she loves to play. Hence the conundrum I have as a pet parent. She loves to chase this robotic mouse, which basically works really well until it dies. I've tried replacing the battery and haven't had much success. It's just junky in it's design. I am lucky that I found a local electronics recycling company that will take it. I give it 4 stars because Barbie the cat loves it even though it's not a hardy toy.
---
By Audi on Jan 6, 2022
Fun for the operator
My cats thought it was okay. They did figure out that I was the one that was making the mouse move around so they would look at me and then look at the mouse. It was quite comical. I had more fun playing with it than my cats did. Wish the mouse would have had some kind of laser with it too.
---
By Munchies on Jan 21, 2022
Wheel conundrum..
They should redu this with a little heavy duty set of wheels so that it goes on more surface types. It's always getting stuck . Luckily the cat helps me unstuck it by swatting at it.. it's fun to play with though, the cat likes it..
---