---
About This Item
An innovative, cost-effective alternative to expensive, bulky pet stairs.
Lightweight, portable steps are made in the USA from thick, sturdy recycled cardboard.
Fun cat-shaped holes on either side provide access to the cozy cavern where your cat can nap or play.
Three-step stairs feature a 6-inch rise with a 6.75-inch platform; supports up to 25 pounds, so they're great for small dogs too.
Ships flat and assembles in minutes without tools; assembled stairs measure 20.5 x 18 x 17.25 inches.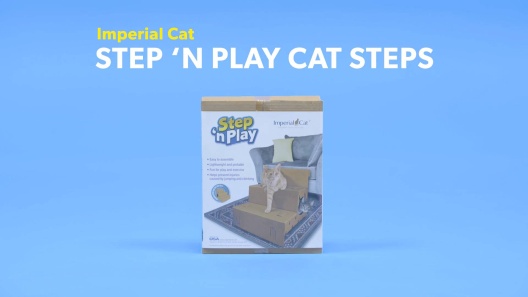 Learn More About Imperial Cat From Our Team of Experts
---
---
Questions & Answers
7 Customer Questions
---
Sorry if this is an obvious question but on the dimensions 20.5x18x17,25". Which is the height, length and width?
Answer by • Oct 31, 2018
The measurements are displayed as length x width x height.
---
Would this slide around on a hardwood floor? I want to put it next to a bed, but am worried it would slide once the cat was on it.
Answer by • Feb 09, 2019
These cat stairs are made of cardboard, which are easy to slide around on hardwood floors.
---
How difficult are these to disassemble for moving?
Answer by • Feb 14, 2019
The steps are fairly easy to disassemble. To take apart, remove tabs from the side, base and top panels.
---
My cat weighs 23lbs. Would this be sturdy enough for him to use daily?
Answer by • Nov 12, 2020
The Cat steps are made from thick, sturdy cardboard and can hold cats up to 25 pounds.
---
---
---
By kwebb on Feb 8, 2022
Not hood for anything
Let me say 1st that the cardboard is thick, and it's actually a lot sturdier than I expected. Mouse had a lovely time "helping" me put it together. But that's all the fun she got out of it. Once it was setup, neither of my cats wants anything to do with it. The old lady cat won't even climb it to get on the couch (not even with a traction mat fastened to the steps). Instead, she struggles her arthritic way up the side of the couch. I thought it would be a nice play thing for Mouse (the young cat), and double as steps for the older cat and my 3.5 pound Chihuahua, but none of them will use it even to sit on, so it's just taking up space. I think they would all like it much better if the steps were deeper. The height and width are good, but they aren't deep enough to lie on comfortably, or to ascend. But that's just my guess. The cats won't tell me a thing.
---
By JLRabbit on Jan 16, 2022
Cat Stairs
I purchased these stairs for our elderly sable tabby. Her 20 year old hips have gotten wobbly and jumping up/down off the couch is no longer a good idea. These stairs we crazy easy to build. My daughter & I did it in less that 10 minutes. We used duct tape across the stair steps to give her a little traction. She wasn't quite comfortable at first because of the smooth surface. After 5 minutes of a duct tape application, we are good to go. We have smooth wood floors, and I put a rug under the stairs to keep them in place. Love this product and with the two easy modifications we are good to go. For the price and ease of use, I support this product 100%. Fits our needs perfectly.
---
By toogie on Feb 5, 2022
very cute!
got this because of the low price and the fact that my cat Toogie loves cardboard. it was pretty easy to put together and serves the purpose we got it for. also i know it's cardboard, but because it's so neutral it blends in with our other furniture and we can always paint it if we change our minds. added bonus that toogie enjoys walking on the stairs as well as chewing on them.
---
By Like on Jan 3, 2022
Not for toy dogs
Although it said for cats I got it for my 5lb toy shish tzu as everything else was too big. However because of the cardboard surface it's way too slippery and going down she ends up sliding off or fell off and going up is the same . Poor thing fell so many times that she wouldn't keep trying and got scared of it. I tried sanding it with a Brillo pad to rough up the surface but it ended up looking so bad . I just tossed it , I tried not sure what kind of steps to try for the poor gal!
---
By melmiron on Jan 10, 2022
low cost cat ladder
This is an excellent choice to see if your aging cat will use a ladder. I wasn't sure if my 18 year old Siamese would use a ladder so this was a good low cost choice instead of spending a lot of money on something she would not use. These steps only cost $20 and was very easy to assemble.
---
By Katluvr on Dec 9, 2021
Made In The USA !
This is an answere to a movable , light weight solution for the aged cat and me to move as needed. Is great to give the elder cat a way to get up to a window or window sill or bed if you have room. My younger cats also use it and like the hide hole as well. For those who think it is too slippery, it is easy to tape or glue stair tread strips on the stairs. I put a large towel over it and just tucked it to fit, looks nice too. Fantastic price! Will last a long time for cats....not kids. Thank you Chewy!!
---
By Kbw1 on Jan 11, 2022
Neatest thing
I love these, I only wish my cats did. Maybe if they were younger, they would have. They just jump over or around them. My first cat would have loved to shred them. My cats are 17 and 15. I'm going to see if my brother 's cat will use them.
---
By Susan on Nov 11, 2021
2 for 1 steps and kitty hut
Right now my cats are using these more as kitty huts than steps, since I only have 1 cat that needs steps. They do slide around but I placed them on rubber backed bath mats which creates a comfortable kitty hut as well. I thought they were pretty awkward to put together, and used a mallet to force the tabs in the slots, but after that they seem very stable, not likely to come apart. I like the idea of cardboard for cat steps and huts rather than big pieces of non-recyclable plastic. Plus I can get 2 or 3 of these for the price of 1 plastic set of steps with the bonus of kitty huts.
---
By Drisana on Dec 10, 2021
Perfect for a Little Boost!
These stairs are just the right size for helping our elderly cat get onto the bed. Pretty sturdy for being cardboard, and both cats love playing in it! My only concern is that there's no traction on the steps (they're smooth cardboard).
---
By Summer on Feb 15, 2022
Steps to aid the dog
Very sturdy and easily assembled. Did not work out for our dog unfortunately. She was afraid of the stairs.
---