Kaytee Run-About Small Animal Exercise Ball
---
About This Item
Unique exercise ball allows your furry friend the freedom to roam and explore the world while keeping him safe.
Durable plastic ball features a securely latching hatch and ample ventilation slits for comfort.
Provides essential exercise and stimulation for your pet, as well as great entertainment for you.
Can also be used to transport him outside the home or as a holding area while you clean his cage.
Clear exercise ball is available in four sizes to fit most small pets; 7-inch ball is also available in moon glow transparent green.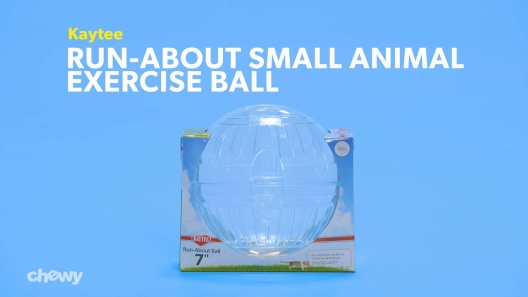 Learn More About Kaytee From Our Team of Experts
---
Compare Similar Items
| | | | | | |
| --- | --- | --- | --- | --- | --- |
| | | | | | |
| Customer Rating | | | | | |
| Price | | | | | |
| Small Pet Type | Hamster, Mouse | Mouse, Hamster | Hamster, Mouse | Mouse, Hamster | Gerbil, Mouse, Hamster |
| Material | Plastic | Plastic | Plastic | Plastic | Steel |
| Toy Type | Exercise Wheels & Balls | Exercise Wheels & Balls | Exercise Wheels & Balls | Exercise Wheels & Balls | Exercise Wheels & Balls |
| Toy Feature | N/A | N/A | N/A | N/A | N/A |
---
Questions & Answers
16 Customer Questions
---
Can this exercise ball be used for a baby turtle?
Answer by • Apr 11, 2019
An exercise ball should not be used for turtles.
---
How does it attach to the cage
Answer by • Apr 11, 2019
The exercise ball does not attach to a cage. It allows your pet to explore any open space on the floor. We recommend only using this while under supervision.
---
Is this a good size for a small rat
Answer by • May 27, 2020
The manufacturer recommends using the 11½ inch ball for juvenile rats and small breeds, and the 13 inch ball for adult and large rats.
---
Can a hedgehog use this ?
Answer by • Sep 05, 2019
The 11.5 inch and the 13 inch exercise ball are suitable for hedgehogs and rats.
---
---
---
By ilovemyrat on Mar 6, 2022
DONT BUY THIS
i have never bought this item before. But from what I know its bad. The holes for breathing don't give enough air. Your pets toes can get stuck in the toes and break them. They can bump into things giving them trauma. And most of all its not a good product. hamsters are not toys. They need 6 inches of bedding. A cage minimum is 450 by 450. Not a critter trail. Please research before buying a hamster. Don't use this item unless its a extra hideout in there environment. Btw the photo isn't mine*
---
By Nikki on Apr 18, 2022
7 inches? More like 3 to 4
My fat little hamster is so uncomfortable it this tight poorly made ball that I do not even bother trying to use the other two I bought for our rats. Price, is NOT right nor is description
---
By HammiesBall on Mar 18, 2022
Bal For Hamster
Good product. Works like it's supposed to. Happy with the product.
---
By Jess on Dec 28, 2021
better as a hammock than exercise
not suitable for rats, hamsters, mice, etc. Toes can get caught, senses are heavily restricted, and it is difficult to clean and poorly ventilated.
---
By clara on Feb 2, 2022
make sure you know the size
way too small and my hamster came out and is now lost
---
By Kate on Aug 9, 2021
is terrible
Never get hamster balls. If any hamster owner did any research they'd know that these are so bad. First, awful ventilation. 2nd their paws will get stuck and will break 3rd it stresses them out, you all say " they love it" no it want to get out it doesn't want to run in it's of poop and pee. Please educate children, parents, aunts , uncle anyone who is using these or small cages. It not hard to do research. DO BETTER.
---
By RunAboutBall on Jun 8, 2021
Bigger than expected
I wasn't to sure what size to get my rat Remy cause he's not small or to big. I went with the 13 inch and it's way bigger than anticipated it's not a bad thing though cause now I won't worry about him having a small space inside the ball. There's plenty of room he just has to get use to it when it comes to walking. Thank you Chewy! I will leave photos for anyone who is curious about the 13 inch. As you will see in the pictures the ball is pretty big compared to a high chair, my hand, and also my cat next to it. Hope these pictures help the next buyer. Thanks again!
---
By Hello on Dec 6, 2021
Exercise ball
I got this for my hedgehog and it's the perfect size
---
By Matt on Oct 13, 2021
Exercise ball
Locks much safer than the old one , my hamster loves it..thank you.
---
Different use than intended
I bought this before realizing that there can be more harm done than good with hamster balls. I tried to use it as it was intended, but my dwarf hamster was incredibly stressed out in it. I will say though - it's a wonderful tool for catching her and carrying her around! She doesn't like to be touched much at all. She knows to hop into it when offered, and it's how I get her out of her cage when needed!
---