K&H Pet Products Snuggle-Up Bird Warmer
Frequently Bought Together
---
About This Item
Air conditioning and cool drafts can upset your bird—this warmer helps protect your feathered friend.
Built-in thermostat matches your pet's optimal body temperature.
Uses low-voltage electricity to keep your pal safe and make cleaning easy.
Provides a consistent stream of heat in the bird's habitat.
Helps reduce stress by keeping stable temperatures.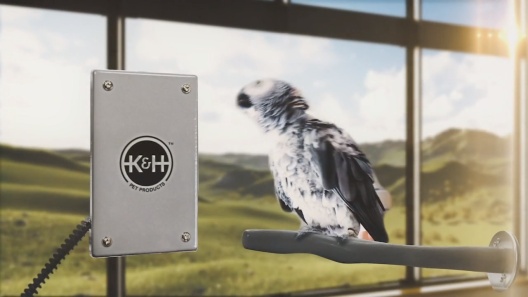 Learn More About K&H Pet Products From Our Team of Experts
---
---
About K&H Heated Small Pet & Farm Products
K&H Heated Solutions
K&H offers a variety of products designed to make your pet more comfortable. Their wide range heated products are all MET certified, making them a safe and comfortable solution for keeping your furry friend warm, indoors or out.
Safety
Safety for your pet is K&H's number one priority. They work closely with MET Laboratory to ensure their products are safe for your pet and home.
Soothing, Eco-Friendly Warmth
Green & Energy Efficient
Many K&H products cost less to run than a night light. They use foam from bio-based materials and poly fill made from recycled bottles.
Machine Washable
K&H beds are either machine washable or made with a machine washable cover, to make keeping your pet's bed fresh convenient and easy.
Vet Recommended
Veterinarians and pet experts use and recommend the traditional K&H bed line as well as their heated line of bed products.
Therapeutic Relief
K&H beds and mats provide warmth to relax the muscles of active pets, and to soothe the joints and muscles of aging and arthritic pets.
About K&H Pet Products
K&H has over 20 years of experience making products for pets with the goal of making their lives—and yours—better and easier. They know how much you care about your pets and are dedicated to designing innovative, quality solutions that enhance their comfort and well-being.
Shop K&H Pet Products
Compare Similar Items
| | | | | | |
| --- | --- | --- | --- | --- | --- |
| | | | | | |
| Customer Rating | | | | | |
| Price | | | | | |
| Bird Type | Cockatiel, Finch, Canary... | Chicken | Chicken | Chicken | Chicken |
| Material | Coated Metal, Metal | Plastic | Wood | Plastic | Cotton, Natural Fabric |
| FarmAnimalType | — | Poultry | — | Poultry | — |
---
Questions & Answers
22 Customer Questions
---
I cover my bird at night. Will the heater catch on fire if to close to it?
Answer by • Nov 28, 2019
The Snuggle Up Bird Warmer can be left on when a cover is on the cage.
---
How hot does it get to the touch? Can it burn your bird?
Answer by • Oct 14, 2019
This warmer uses harmless, 12-volt, low voltage electricity to heat the perch.
---
What temperature does this heater give off? Does it constantly radiate heat or does it turn off if the area has reached that specific temperature?
Answer by • Jan 06, 2020
While it is not adjustable, the Snuggle Up Bird Warmer is thermostatically controlled to help maintain a bird's ideal body temperature.
---
How long is the cord. Can you an extention if necessary
Answer by • Dec 02, 2019
This product features a 6.5-foot power cord. It's not recommended to use an extension cord with this product. MET Safety Laboratories suggests that an extension cord should not be a permanent fixture, and should only be a temporary solution when using any electrical product.
---
---
---
By sneaky on Aug 11, 2022
Doesn't get warm
I bought this hoping to keep my birds mildly warm since we have the air conditioning running, and don't want to freeze them. I figured it would also be great during the winter when it gets cold. We live in the north right now sometimes get snow. I set it up not hard to do. I can't feel barely anything coming from it at all no warmth. I've touched it numerous times and still nothing feels barely warm like a lukewarm touch. That's not anything to get them warm. If that's all the heat it can produce I'm sad that I pad this price for the product.
---
By Sandystl on Apr 14, 2022
My African Grey loves it
Love, love this warmer. This is my grey's 2nd one. My grey sleeps next to it every night and sometimes naps during the day next to it. The first one I got for my grey was 8 yrs ago and it quit working about 2 weeks ago, that isn't bad at all since I leave it on year round. It seems the house can feel chilly at times in the winter and in the summer the house can be on cool side with the air on. Wish they made a flat platform or a larger platform warmer for parrot cages that they can stand flat footed on. My greys feet sometimes feel pretty cold. I tried the heated perch and my grey hated it, she stood on it once and after that wouldn't get back on it. I think it is because she has 2 toes that does not bend so she isn't able to get a good grip and the perch is slippery or not very comfortable.
---
By Recommend on Mar 23, 2022
I have one for every bird
This is a must during winter months and my birds use it daily! I have the perch as well however they don't care for it even wrapped in vet tape. This however, they each snuggle up with when the room is colder than preferred.
---
By ValM on Jan 23, 2022
Sleeps next to it every night!
My rainbow Lori loves this! Right when it's bedtime he goes between the heating plate and a stuffed animal I have placed in his cage. He absolutely loves it. You can catch him up against it every night especially with the NY Winters. He does really well with this product.
---
By Katt on Nov 21, 2021
Very useful for cold nights!
I've been so worried about it getting too cold for my boys at night (I don't sleep with a heater on), so I wanted to get something to help warm them up. Luckily, I found this handy little heater! It's only slightly warm to the touch, so there's no danger of it burning my birds, which was my biggest concern. And my boys surprisingly love it; I often find them standing with their chests to it during cold mornings. It's also perfectly safe to use under a cage cover, so it's definitely given me some peace of mind.
---
By CocoandPebbles on Dec 29, 2021
My parakeets love it!
I bought because one of my parakeets has not been his usual cheerful self and vet recommended buying a warmer. Both parakeets fight for the perch near the warmer. I am buying a second unit!
---
By Cinco on Nov 16, 2021
Keeps birds nice and warm
I have two cockatiels and they sleep next to the warmer every night. They adjusted to the warmer quickly and I no longer worry about cold winter nights. Highly recommend!
---
By sprinkleD on Dec 20, 2021
Nice and warm
Our birds absolutely love this thing and chewy seems to have the best price for it
---
By HabitualDodo on Sep 18, 2021
Helpful if you live with both AC and a naked bird
The title says it all, I like my home cool but I want my little Dana to be comfortable. This is one of the ways I can ensure that.
---
By Disappointed on Apr 10, 2021
Nice Product!
I purchased this because I live in Michigan and the nights get significantly cooler and the winters are HARSH. I set it up right above my Budgies favorite perch and he cozies right up to it to sleep. He loves it and so do I. Four stars only because I had to use an extension cord and the cord was kinda hard to get through the wires of his cage without damaging the rubber at the end. Overall we both love it!
---