Nature's Miracle Just For Cats Calming Spray, 8-oz bottle
Temporarily Out of Stock
Get notified when this item is back in stock.
Compare Similar Items
| | | | |
| --- | --- | --- | --- |
| | | | |
| Customer Rating | | | |
| Price | | | |
| Autoship | — | | — |
| Top Ingredients | Water, Plant Extract Blend, Preservatives... | Special Proprietary Blend of Fragrance Extracts (Simulated Feline Pheromones), Sodium Lauryl Sulfate (1.8%), Rosemary Oil (0.8%)... | Pheromones 0.02%, Inert Ingredients 99.98%. |
| Lifestage | Adult | Adult | Adult |
| Health Feature | Calming | Calming | Calming |
| Closure Type | — | — | Buckle, Slip On |
---
About This Item
Features a calming scent!
Safe for your home and your purring pal when used as directed.
Helps to reduce stress, anxiety, and hyper-activity.
Can be used to reduce separation and travel-induced anxiety.
Promotes rest and relaxation without sedatives!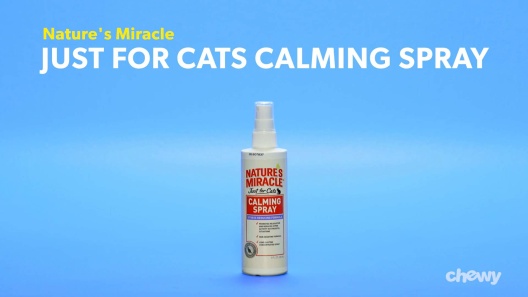 Learn More About Nature's Miracle From Our Team of Experts
---
---
Solutions You Can Trust
Because pet ownership comes with its share of messes, cleanups and challenges, Nature's Miracle is the answer to your prayers. Offering everything from products that keep both your home and your furry pal clean, to sprays for common behavioral issues, Nature's Miracle is rooted in solutions that are safe, effective and gentle.
Home Sweet-Smelling Home
Nature's Miracle proves that you can have a pet and a clean, fresh-smelling home too. While accidents are inevitable, whether it's a new pup that's training or a kitty that ate something disagreeable, they offer a variety of odor and stain removers that quickly work to save your furniture and floors—as well as your nose.
Well-Groomed
Since a clean home starts with a clean pet, Nature's Miracle has everything you need to keep your little buddy's skin and coat in tip-top shape.
LATHER UP
Working to clean, condition and even soothe the skin, there are plenty of shampoos suited to your pet's needs.
SAVE WATER
Skip the bath and freshen them up with Nature's Miracle's deodorizing sprays and wipes. It's perfect for dogs who prefer to stay dry!
Mind Their Manners
Sometimes your little angel needs a little help in the training department, so consider Nature's Miracle your obedience school in a bottle. From sprays that discourage marking and scratching to sprays that help calm and control anxious behavior, you're just a few spritzes away from a peaceful home.
FOR THE CATS: Give the ruler of your kingdom a worthy throne with the best selection of litter boxes. Including disposable, covered and even corner options, Nature's Miracle is equipped to meet both of your needs. They also have an impressive lineup of litters, plus a litter caddy and liners to keep it all fresh.
FOR THE DOGS: Keep your yard—and your neighbor's yard—clean with Nature's Miracle's handy poop bags and poop scoopers. They're designed to make cleanups quick and mess-free, so you can go back to focusing on the fun stuff.
About Nature's Miracle
Nature's Miracle has a motto that whatever your pet can do, they can undo it. Recognizing the importance of giving pet parents a safe and effective way to clean up after their furry children, they started with just a single carpet-cleaning product. After great success, they expanded their lineup, and today they're a go-to source for keeping your home and your pets spotless.
Shop Nature's Miracle
---
Questions & Answers
24 Customer Questions
---
Does this help to get a cat out of heat?
Answer by JacksMomma • Apr 04, 2022
No. Sterilization will help get a cat out of heat.
---
since there are essential oils in this, is it really safe for cats? read essential oils are not good for cats.
Answer by • Mar 12, 2018
When used as directed, this product is safe to use around pets and children. This non-sedating formula has soothing scents that naturally calm cats and reduce hyperactivity.
---
I have a kitty that after the death of our 15 year old cat became a huge bully to other cat. Would this product help? If yes, is it safe to spray on him, like the paws?
Answer by • Aug 14, 2018
This product has a stress-reducing formula that promotes relaxation and reduces hyperactivity in stressful situations. It's very effective and easy to use, just spray in areas your cat spends time.
---
What's in it ingredient wise?
Answer by • Feb 12, 2018
The ingredients are Water, Herbal Extracts, Flower Extracts, Plant Seed Extracts, Essential Oils, Propylene Glycol, Diazolidinyl Urea, Methylparaben, and Propylparaben.
---
---
---
By Olivia on Oct 19, 2022
Great product
Took my 2 kittens on an 8+ hour road trip and this had them sleeping the whole time pretty much. Also helped when introducing them to my family's two adult cats and dog. Definitely recommend.
---
By Jo73 on Oct 23, 2022
This is great calming spray. Works!
My cats get all worked up going to the vet. I spray this all over the inside of their carriers. Before we get to the end of our driveway, it is working. The loud meowing stops.
---
By xine on Jul 16, 2022
Works well
I have used this for years on multiple cats & it has worked on most of the cats. I usually use when going to vet or when traveling to visit family out of state which is a 12 plus hour drive so I do have to use multiple times since doesn't last that long on some cats. I have had okay luck using on a cat in heat & has worked really well on feral cats when I trap them to get them spayed/neutered. It however has not helped w/ male cats that spray/fight.
---
By Shelves on Jun 23, 2022
Helps with separation anxiety
This spray works great. Our cats get a little anxiety when we leave for a weekend but if we spray this before leaving they are much more laid back when we get home. It's also great for rescues! Our youngest came into our care at about 3 weeks old as a rescue ferral kitten. He'll cry sometimes, scratch carpet, and paw (loudly) at our blinds. I spray this is his favorite trouble spots and he does not cause so much trouble. He is a sweetheart but needs some additional help calming down compared to our other adopted kitties that we weaned properly.
---
By Nikki on Jun 21, 2022
Didn't work for elderly cat
I will give this product 3 stars.. I bought this so my cat would stop peeing in the house and my other two to stop scratching the couch. I have noticed there is no more scratching of the couch however the peeing is still continuing. My senior cat hisses everytime she leaves the litter box. We have 6.. and all cleaned twice daily. She has started going in the house - the vet said it was stress related since all of her tests came back normal. I thought this would help relieve her stress and stop going in the house but nope :(
---
By Blondie on Aug 21, 2022
Calming Spray
Absolutely did not work for my 8 year old cats. Have also tried the treats with calming too, but they would not eat them because they were too hard, not soft chews.
---
By Smokey on May 5, 2022
Highly recommend
My antisocial 11 year old stays in her own little world upstairs. She has everything she needs, but has to come out for water fountain and littler box, she'll growl and hiss at my 2 other cats just walking past them. My male cat is 10 1/2 and other female is 7 years old. So they have shared the same space since they were kittens. Anyway I sprayed the carpet outside her room to lure her out and it worked, she doesn't growl and snarl as much and she finally came downstairs. I'm spraying a little further to get her to stay downstairs. I only spray once a week. She seems more confident and looks forward to our playtime. Hope this helps.
---
By Ganadu on May 28, 2022
Smells nice
Although this didn't have the same kind of calming effect that a pheromone spray would for my cat during transportation and a vet visit, it smells really nice, and I think it calmed ME down so it wasn't a total loss.
---
By Theresa on Jun 8, 2022
Not impressed
The spray barely had any scent at all. I have used other calming sprays with great floral scents but this one is terrible.
---
By BeBreezy78 on Jul 22, 2022
No good for my cat
I can't say this won't work for your cat but this does nothing for mine.
---