Outward Hound Challenge Slider Dog Toy
Frequently Bought Together
---
About This Item
Puzzle dog toy for dogs—puppies and adults!
Makes feeding fun and challenging.
Created to help reduce destructive behaviors and encourage activity.
Designed for durability and long-lasting physical and mental stimulation.
Constructed of tough, food-safe plastic free from BPA, PVC and phthalates.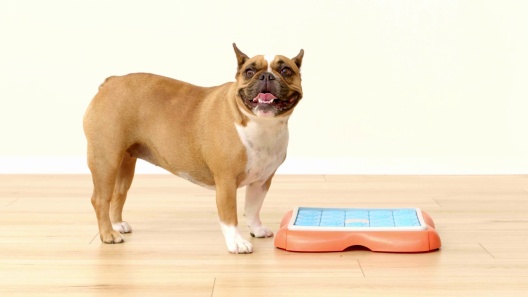 Learn More About Outward Hound From Our Team of Experts
---
---
About Outward Hound Puzzle Toys for Dogs
Healthy Playtime Problem Solving
Did you know that 15 minutes of mental exercise can have a similar effect on your dog's emotional well-being as 30 minutes of physical exercise? Dogs love to explore and problem solve and will use their noses and paws as tools. Each Nina Ottoson puzzle toy game is designed with your dog's natural behaviors, senses and safety in mind.
Reduce Unwanted Behaviors
Setting your dog to work on a puzzle or game helps focus his attention and energy. This mental redirection can help reduce boredom, anxiety and destructive behaviors, too. Try using puzzle toys to distract your dog from fireworks, thunderstorms and other stressful situations.
Four Levels of Play
All dogs are different. That's why each treat puzzle toy was designed with a different level of difficulty—to please dogs of all skill levels, whether they are beginners or puzzle-solving pros. Start by choosing a level that suits your pup's skill set and level up as he learns!
Level 1
Perfect for beginners, these puzzles help gain interest and prepare dogs for puzzles to come.
Level 2
Features added obstacles, requiring your dog to combine actions to retrieve each tasty reward.
Level 3
These advanced puzzles challenge your dog to complete several steps in order to reach the hidden treats.
Level 4
This is the hardest level and requires multiple steps and problem-solving skills to solve!
For Bonding and Training
Nina Ottosson puzzle games are a great way to build your relationship with a newly adopted dog or help a shy dog come out of his shell. You can also use puzzles to help train your dog and practice basic commands like "sit" and "stay".
About Outward Hound
Designed for dog lovers by dog lovers, Outward Hound products are made to meet the demands of your pet and your active lifestyle. Their unique lines of gear, toys, treat puzzles and dog bowls create engaging, interactive experiences that foster bonding between pets and their people. Let Outward Hound help you push the boundaries of playtime and Raise the Woof on what you expect from your pet gear!
Shop Outward Hound
Compare Similar Items
| | | | | | |
| --- | --- | --- | --- | --- | --- |
| | | | | | |
| Customer Rating | | | | | |
| Price | | | | | |
| Toy Feature | Outdoor, Training, Exercise | Training | Training | Outdoor, Training, Exercise | Outdoor, Training, Exercise |
| Material | Polypropylene, Plastic | Polypropylene, Plastic | Plastic | Polypropylene, Plastic | Wood, Polypropylene, Plastic |
| Breed Size | All Breeds | Small Breeds | Medium Breeds | All Breeds | Small Breeds, Medium Breeds, Large Breeds |
| Toy Type | Games & Puzzles | Games & Puzzles | Games & Puzzles | Games & Puzzles | Games & Puzzles |
| Lifestage | Adult | Adult | Adult | Adult | Adult |
---
Questions & Answers
1 Customer Questions
---
What kind of treats do you use???
Answer by • Aug 29, 2021
This toy can be used with your pet's favorite dry food or treats. It can hold up to 1 cup of food.
---
---
By JMFerg on Jun 10, 2022
Not for larger dogs
I got this for my ABPT since the level two was getting too easy for him, but the idea is that he should shift the pieces with his nose and find the treats this happened at first but then he discovered that ripping the squares out was much faster and more fun. Having to put the pieces back in to rebuild the toy is a pain so I threw it away.
---
By tdubmky on May 23, 2022
too difficult, sadly
Unfortunately my dogs don't understand this one. They struggle with sliding each piece, which is only allowed if it's next to the open square. They just use their nails and teeth to try to yank out the covers. My small dog can even get her jaw hung underneath it trying to remove a cover. For smarter dogs, I'd for sure make sure this one is supervised very closely. The easy puzzles are too easy though, so I'm going to continue looking for something in between.
---
By Crosby on May 7, 2022
My dog doesn't get it!!
This is the first "Game" my Goldendoodle just doesn't get. He tries to use his paw to push/open/slide the compartments to no avail. We tried to train him to use his paw..which is just too big for the little compartments.
---
By Stella2 on Mar 14, 2022
My dog destroys everything
This product is amazing! It normally takes Stella less than 10 minutes to break or put a hole in ANYTHING we give her. She LOVES this! She insists on moving the pieces with her teeth but the puzzle is still in tact and she seems to have fun looking for the treats. Usually when she gets down to a couple treats left she looks at me like she's asking for help to find them. It's so adorable! If your dog destroys everything I encourage you to try this! Very impressed!
---
By Kate on Mar 10, 2022
Challenging Puzzle
I've purchased a few outward hound puzzles that have all been nice quality but this is by far the best challenge for my corgi! This is the most excited he has been for a puzzle, took him longer to figure out (he's improving each go around), and keeps him occupied and engaged. This is also easier to load with treats or clean off since it has a drawer.
---
By CorgiMom on Feb 8, 2022
Best Puzzle for My Corgi
My corgi loves treat puzzles but I have trouble finding ones that are challenging for her. This one is the best so far. She is figuring out how to slide the tiles and is getting faster. The first time it took her about 15 minutes and was a little frustrating for her. It now takes her about 5-7 minutes to get all the food. Part of the frustration is that she stands on the tiles which obviously will not allow the tiles to slide. If I try to help her move the tile, she will push my hand out of the way so I need to be more patient and let her figure it out. We both love this puzzle!
---
By Finnsmom on Jan 22, 2022
More Challenging Than it Looks
This toy is great for burning off nervous energy when bad weather restricts your walks. It's made of smooth plastic with no sharp edges. It's rated Level 3 which is the most challenging. The sliding motion required didn't come naturally to my dog. I Found it best to start by teaching him to slide the doors with just one door at at time until he got the hang of it. He likes this best when I sit with him and fill a few cups at a time. He gets so excited that after a 20- 30 minute session he's ready for a nap. Tip: Baby carrot slices make a great (non-messy) treat to use with this puzzle.
---
By EmWolf on Feb 18, 2022
not for strong puppies
this toy was absolutely fantastic for the 10 minutes that it lasted. my dog had it figured out pretty quickly, and absolutely loved it, but started digging at it in frustration and the whole thing completely fell apart. I tried to put the pieces back together again, but.... well, it's definitely not the same to it was 10 minutes before.
---
By Lucy on Jan 22, 2022
Hours of entertainment
Lucy loves this puzzle treat toy. I showed her one time how to slide the pieces and she jumped right in. She "plays" with it for several minutes at a time, coming back to it 3 or 4 times before she "solves" the whole puzzle. I put a mini treat and some kibble in each compartment. Seems very durable too. BTW...Lucy is a one year old Toy Fox terrier.
---
By Anna on Jan 6, 2022
Challenging, durable, and great for food-motivated dogs
My dog is a little over a year old with tons of energy that multiple walks a day don't tire him out. So I went straight to the hard puzzle game. The first time I had to give him hints and show him how to slide the pieces, but after a few times, he can solve it all by himself and it definitely burns off his energy. He's super excited and snuffling the entire time (avg. 20 minutes to solve). It's also durable - my dog has "dug" at it and uses his teeth to the move the pieces, but it hasn't broken. I will say my dog is food motivated so he sticks with it even when he gets frustrated.
---