PATPET P301 1000ft Remote Dog Bark Control & Training Shock Collar
---
---
Try This Similar Item By Chewy
---
---
About This Item
Choose between loud beeps, 8 levels of vibration and 16 levels of mild electric shock to help discourage bad behavior.
A warning at more than 8 levels of stimulation lets you know if the intensity may be getting too high.
Features a 1000-foot transmission range and is suitable for most outdoor use.
Durable, reflective nylon collar strap fits breeds that weigh up to 120 pounds and have a neck size of up to 25 inches.
Innovative design allows you to train up to 2 dogs at the same time.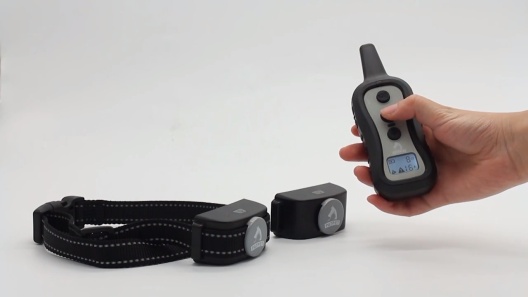 Learn More About PATPET From Our Team of Experts
---
Compare Similar Items
| | | | | | |
| --- | --- | --- | --- | --- | --- |
| | | | | | |
| Customer Rating | | | | | |
| Price | | | | | |
| Collar Type | Remote Training - Static, Remote Training - Vibration, Remote Training - Noise... | Remote Training - Vibration | Remote Training - Static, Remote Training - Vibration, Remote Training - Noise... | Remote Training - Vibration, Remote Training - Static, Remote Training - Noise... | Remote Training - Static, Remote Training - Noise, Remote Training - Vibration... |
| Breed Size | Medium Breeds, Large Breeds | Small Breeds, Medium Breeds, Large Breeds | Medium Breeds, Large Breeds | Small Breeds, Medium Breeds, Large Breeds, All Breeds | All Breeds |
| Material | Plastic | Nylon, Plastic, Synthetic Fabric | Plastic | Nylon, Plastic, Silicone, Synthetic Fabric | Plastic, Nylon, Synthetic Fabric |
| Lifestage | Adult | Adult | Adult | Puppy, Adult, Senior | Adult, Puppy, Senior |
| Compatibility | Battery Powered | Battery Powered | Rechargeable | Rechargeable | Rechargeable |
| Leash & Collar Feature | Reflective, Long Prongs | Multi-Dog System | Reflective | Multi-Dog System | Waterproof |
| Closure Type | Buckle | Buckle | Buckle | Buckle | Quick Release |
---
Questions & Answers
41 Customer Questions
---
Does this come in small breed size
Answer by AllSizes • Jan 06, 2022
you adjust the collar length
---
How do u change the batteries on the collar?
Answer by • Oct 05, 2020
Please click on the attached photo to reference instructions on how to set up the receiver.
---
Are the shock, vibration and tone adjustable from low to high? Does the collar come with directions?
Answer by • Oct 25, 2020
This training collar features 0-16 levels of customization for vibration, shock,and beep mode. It will include a manual, which may also be found by clicking the link within the "Instructions" tab, on the product page.
---
does this collar give a beep/buzz/shock automatically when they bark, or only when you press the button on the handheld device?
Answer by • Feb 01, 2021
This collar uses a user-friendly remote control that help send signals to your dog when they are doing something that is not okay. The collar will not activate with barking and needs the control to initiate irritating beeps, vibrations or mild electric shocks.
---
---
---
By MelissaD93 on Jun 26, 2022
I'd give it 10 stars if I could
This training collar was a huge game changer for behavior in our dog. He would bark and bark and bark, not come when called, dart out of our yard when another dog would walk by. He is super friendly, but that's the problem he is so anxious and wants to know everything and everyone. We have only had to use the shock setting a handful of times after using the method of 3 strikes you are out. We use the beep to discipline at first, if he does not listen he gets the vibrate, we attempt to command again and vibrate for a 3rd warning if he continues to not be obedient he gets the shock which we also only have turned up half way and he is 70lbs. Our dog walks beside us,follows voice and hand commands, without hardly having to use the remote any longer and this only took about 2 months to work. We have about 5 family members and friends who have also purchased this product because of how amazing it is. They all love it as well and thank us all the time for the info. You must be putting in the time to teach your dog to obey not just use it because you do not want to out in the work. Owning a pet requires patience and time. It's just like having a child, if they spill things or misbehave you don't automatically punish them. You have to teach them what they have done wrong and how they should behave. Overall great product and the price you can't beat. It makes pet ownership possible for the average working person. The only suggestion would be that it could be out on his regular collar instead of wearing 2.
---
By Beni on Jun 17, 2022
Great training collar
Our dog was a stray and we took him in. He wanted to get on the road and got hit by a car. We thought he was dead. He made it through and is back to his old self wanting to chase motorcycles. The collar is great because he wouldn't respond to voice commands. Now all we have to do is use the vibrate and he will stop immediately. The collar may save his life. I highly recommend it for training.
---
By Doingit4dogs on Jun 20, 2022
Works great
I tried a vibrating & beep anti-bark collar on my cheeky 45-lb mixed breed. Did not work. The new vibrating & shock collar works. The vibrations are a lot stronger; and when that doesn't work, a quick shock does. Mind you, this was the last resort so we can stay in our home in a community that doesn't take kindly to dogs barking.
---
By Joeyvyko on Jun 4, 2022
Never have to shock
The vibration function is enough to scare my pup anytime she gets out of line, the tone is a great warning for training boundaries. Long story short she doesn't try to go in the road or out of the yard anymore. Highly recommend. Only downside is the clip comes undone sometimes when she rolls in the grass, she's always leashed so I don't worry but it's definitely not something they're supposed to wear all the time anyway.
---
By Nina on May 11, 2022
Pitbull Mix
I have a very stubborn Pitbull. She eats pain for breakfast so this collar may be suitable for other dogs, mine is not reacting to it the way I had hoped. I've only had it for roughly two weeks so I'm hoping to train her reactiveness (she barks at passing trucks, people walking and wild animals. All non-threatening). I started with the beep, graduated to the vibrate and then resorted to the shock when both failed but she was unfazed by all. I'm assuming her extremely tough mentality is to blame for the collar not working. I would definitely recommend this as a training device on younger dogs.
---
By Mikaela on May 31, 2022
Unpairs and wont repair
I had high hopes for this collar, however almost every single day it unpairs and I have a lot of trouble getting it to pair again. I have followed the instructions but those do not work. It is not worth the money if I have to pair it to the collar multiple times a day. it also defeats the purpose if it stops working while I am trying to train my dog. Bad product.
---
By bunniesbutts on Jun 3, 2022
buy this, forget the expensive models
The TL:DR version included at end of part 1 What you need to know: easy to use, affordable, well-constructed, effective, humane, all the features you need at a fraction of the cost. Takes AAA batteries and the batteries last over a month. Read on if you want the deep dive This collar is sturdy, infinitely adjustable for every size dog, it comes with a remote that has easy to read display and self-explanatory button labels. There is a setting for dog 1 and dog 2. It's probably the only setting you could possibly mess up. Check the dog icon on the display and it shows either a 1 or a 2. Side button will correct it if you set it to a second dog accidentally as I did. (I have one dog). The shock on lowest level is barely noticeable (like a drop of water hitting your skin); it will not hurt any creature. Intensity can be turned up, and it feels gradually more annoying. There is a beep and a vibrate button, both can be set to very lowest strength, you can use either or both, it generally gets the dogs attention and I use the beep to call her to me and the vibrate as a warning if she is having bad behavior. Batteries can be either a pro or con, but I find it very convenient and only needed to change battery (2 AAA) after 5 weeks of round the clock wearing. I prefer it to charging and no cables or downtime. Effective? A big YES, my rebellious and stubborn rescue is very compliant now. I had tried lots of training, with professional help and this use the single most effective and fast way to turn her behavior around. It's such a pleasure to be with my dog now that she's no longer aggressive to other dogs, no longer whining and rarely barking. I think what is the best way to describe is each mode (beep, vibrate or shock) is noticeable even by a highly agitated dog, so while your verbal commands may not be noticed, the beep will get their attention, and if the beep isn't enough, then you can go to the vibrate, and lastly to the shock. Use your verbal "no" or "stop" type command so your dog remembers if he ignores the verbal, it will be followed with the beep, and so on. Eventually your dog will give more attention to your verbal commands and you will need the collar functions less. I assumed I would go with an "upgrade" if the collar worked, but I'm so very satisfied with this inexpensive model that I recommend it 100% and please give this one a chance. Your dog will thank you and yo can use the extra $$$ for treats and toys. Don't let the price fool you, this collar is amazing and you will not be disappointed. Don't be tempted to overspend on a training collar, this one is amazing and just as good as one 10 times the price.
---
By Alex on May 26, 2022
Great training color
Works perfect for my dog never had any issues never have to use the shock on him the bell and vibrate have worked perfectly for him as soon as it's on he's a new dog all over again I will always pick chewy to order anything for my animals always forever thank you chewy for being good to my dog
---
By Daisy on Jun 23, 2022
Helped a lot!
My dog used to run out of our gated fence some how, and ever since i got this collar she has not ran out since i don't even have to use the shock button that much because the vibrations scare her easily
---
By Nanny on Jun 5, 2022
God bless chewy
I have not used the shock yet but the beep works fine. My baby is stubborn and alot of times will do anything for attention,the vibes get his attention at those times. I have already recommended chewy to friends and this collar also. Thanks chewy.
---