PATPET P301 1000ft Remote Dog Bark Control & Training Shock Collar
---
---
Try This Similar Item By Chewy
---
---
About This Item
Choose between loud beeps, 8 levels of vibration and 16 levels of mild electric shock to help discourage bad behavior.
A warning at more than 8 levels of stimulation lets you know if the intensity may be getting too high.
Features a 1000-foot transmission range and is suitable for most outdoor use.
Durable, reflective nylon collar strap fits breeds that weigh up to 120 pounds and have a neck size of up to 25 inches.
Innovative design allows you to train up to 2 dogs at the same time.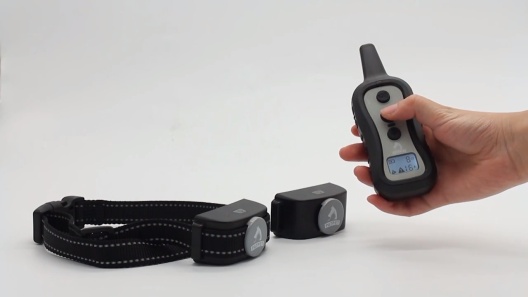 Learn More About PATPET From Our Team of Experts
---
Compare Similar Items
| | | | | | |
| --- | --- | --- | --- | --- | --- |
| | | | | | |
| Customer Rating | | | | | |
| Price | | | | | |
| Collar Type | Remote Training - Static, Remote Training - Vibration, Remote Training - Noise... | Remote Training - Noise, Remote Training - Vibration, Remote Training - Static... | Remote Training - Vibration | Remote Training - Noise, Remote Training - Vibration | Remote Training - Vibration, Remote Training - Static, Remote Training - Noise... |
| Breed Size | Small Breeds, Medium Breeds | Medium Breeds, Large Breeds | Small Breeds, Medium Breeds, Large Breeds | Medium Breeds, Large Breeds | All Breeds |
| Material | Plastic | Plastic | Nylon, Plastic, Synthetic Fabric | Plastic | Plastic, Nylon |
| Lifestage | Adult | Adult | Adult | Adult | Adult |
| Compatibility | Battery Powered | Rechargeable | Battery Powered | Rechargeable | — |
| Leash & Collar Feature | Reflective, Long Prongs | Reflective, Waterproof | Multi-Dog System | Multi-Dog System | — |
| Closure Type | Buckle | Buckle | Buckle | Buckle | Buckle |
---
Questions & Answers
42 Customer Questions
---
Does this come in small breed size
Answer by AllSizes • Jan 06, 2022
you adjust the collar length
---
How do u change the batteries on the collar?
Answer by • Oct 05, 2020
Please click on the attached photo to reference instructions on how to set up the receiver.
---
does this collar give a beep/buzz/shock automatically when they bark, or only when you press the button on the handheld device?
Answer by • Feb 01, 2021
This collar uses a user-friendly remote control that help send signals to your dog when they are doing something that is not okay. The collar will not activate with barking and needs the control to initiate irritating beeps, vibrations or mild electric shocks.
---
Are the shock, vibration and tone adjustable from low to high? Does the collar come with directions?
Answer by • Oct 25, 2020
This training collar features 0-16 levels of customization for vibration, shock,and beep mode. It will include a manual, which may also be found by clicking the link within the "Instructions" tab, on the product page.
---
---
---
By Jack on Nov 28, 2022
Great collars only 2 flaws
I loved these pat pet collars! They worked great for me. I have them a shih/pug and a boxer pup. Strong vibration, great shock level settings, loud,long beep when it worked. I've had them about 3 months now and all of a sudden my beep option doesn't work. The light on the collar flashes but no sound. Vibration and shock still work fine though. Going to contact customer service and patpet about the lifetime warranty included with the product and try to work something out as I really do love these collars. Only other dislike for me is they shut off after a few minutes to preserve the battery which is good in a way but trying to train my boxer pup and stop her from doing mischievous things is hard when the collar keeps shutting off. All in all though id probably still purchase again if need be. It's the only cost efficient collar I've found that's strong enough to get a reaction from my boxer pup.
---
By Julia on Nov 24, 2022
Used on Mini Aussie and Rottie
I use this collar for training both my Mini Aussie (25lbs) and Rottie (100lbs+). It works well for both. For the Aussie, it will stop him dead in his tracks on a medium setting. However, it's more like an annoying sting for my Rottweiler. Even at the highest setting, if he wants something (like chasing a cat) he will ignore it. For him, I use it more in the house when I want him to drop one of the kids' toys or a bone. I will agree with other reviewers that the battery life is poor but I solve that with rechargeable batteries. Also, the remote unpairs from the collar often. This is solved by taking the batteries out of the remote and putting them back in. All in all, a fairly cheap collar that works well for our purposes.
---
By Shawndeaux on Nov 26, 2022
Totally satisfied
This thing works great. I used it to train my 3 yr old lab to not run away and not jump on anyone. He knows the warning and he knows what comes after the warning. He even swims with the collar on and still works. After it sat up for about a year I pulled it out to use it again and the collar wouldn't come on, replaced the batteries and still wouldn't power up. Removed the batteries and noticed a small amount of rust on the springs where the batteries go and cleaned them up. Works perfect again. So if ur dog swam with the collar on and u had trouble later with it working, may wanna check and see if there's any rust around the battery connectors
---
By Jorden on Oct 23, 2022
dies so quickly
I've been using this on my lab since he was about 6 months old. He's now 15 months, and I barely need to use the shock or vibrate mode because he's learned what comes after the "beep." So for that, I definitely thinks it's easy to use, and a great training tool. It was a little difficult to put together, but a YouTube video helped. My biggest complaint is how many batteries I've gone through. I use it for a total of about 1 hour per day, everyday, and I change the batteries in the receiver at least every two weeks, and at least once a month for the remote. I turn it off in between uses but still I feel like I am constantly going through batteries. I'm going to purchase a rechargeable one to use from now on.
---
By Jean on Oct 1, 2022
It works great
I tried all the settings on myself first and for my very stubborn 85lb dog this does the trick. He now knows beeping is the warning, buzzing is the extra warning, and a zap is the final straw, I do not use it often it is specifically if he is going to hurt himself or is doing something extremely bad like chasing an animal out of my recall zone. This is a very handy training tool and should be taken off when not in use although it does come with conductor covers which I thought was amazing because I have seen some awful shock collars
---
By KatD on Sep 20, 2022
Wow! Excellent Product.
This collar worked way better that I expected. I have a Belgian Malinois. I was aware of the breeds tendency to bark a lot, however, he was barking pretty much non-stop, all hours. I tried other methods of training with limited success but was weary of using a collar as I still wanted him to alert bark and did not want to suppress his instinct to protect. Until, the neighbor nicely came over to discuss his barking. So I ordered this collar and am glad I did. I jumped right into the shock mode on 8. It only took a couple of zaps along with verbal commands for him to stop. He has now toned down a barking quite a bit. With the help of the collar, we have been able to teach him when it is okay to bark and when it is not with near 100% compliance. I have been able to remove the collar for most of the day and I hope that eventually he will not need it at all. The collar was very easy to use. The set up instructions were clear and I like that the product has a lifetime warranty. Excellent product.
---
By Bludaisy on Nov 11, 2022
Great training tool
This was purchased for my 2 Great Dane mix dogs who are 10 Mo Old Instant success when using on my make who wanders too far sometimes. He turned on his heals and zoomed back home. I just use the vibration setting unless in dangerd
---
By ColeAndFrankie on Sep 20, 2022
Will return this
I will be returning this. I took it out of the box and was immediately unhappy with the instructions. I was able to puzzle through them, but portions of them seem as though they were transcribed by a bad auto-translator. The box looks like something sketchy one would buy on Amazon. Overall, I just don't feel safe using this on my dog. This is my own fault for not thinking through the purchase before placing the order. I will continue working with our trainer and not use this. The lowest shock setting hurts me (it encourages you to try it on yourself first), and the beeping or vibrate wouldn't affect my dog anyway.
---
By Benjamin36 on Oct 6, 2022
Worked for a month then stopped!
Terrible collars! Worked for about a month off and on but even now when we replaced the batteries in the collars and the remote they will work for one button push of the sound and then stop working again! Could not send back due to my whole house coming down with Covid so we were stuck here very sick for awhile! Definitely would not recommend to anyone! We really needed these to work for us too! Very sad and disappointed!
---
By Court on Dec 3, 2022
Collar will not pair
I have tried to sync the remote with the collar a hundred times. I have watched video after video. I have replaced batteries and still they will not pair together.
---