PATPET U01 Ultrasonic Pet Behavior Training & Animal Deer Goose Deterrent Remote, White
---
About This Item
Emits an ultrasonic sound that your pet will adapt to.
Extends up to 30 feet, so outdoor time is more of a breeze.
Will not cause physical damage.
Can be used on dogs, cats, horses, rabbits and other pets, too!
Sounds won't affect humans.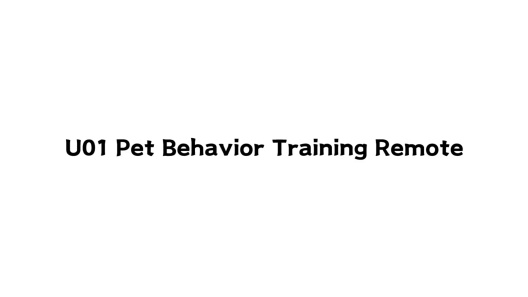 Learn More About PATPET From Our Team of Experts
---
Compare Similar Items
| | | | | | |
| --- | --- | --- | --- | --- | --- |
| | | | | | |
| Customer Rating | | | | | |
| Price | | | | | |
| Collar Type | Bark Control - Noise | Bark Control - Noise | Training | N/A | Remote Training - Vibration |
| Breed Size | Small Breeds, Medium Breeds, Large Breeds | Small Breeds, Medium Breeds, Large Breeds | Large Breeds, Medium Breeds | Small Breeds, Medium Breeds, Large Breeds | Small Breeds |
| Material | Silicone, Plastic | Plastic | N/A, Plastic | Plastic | Plastic |
| Lifestage | Adult | Adult, Puppy, Senior | Adult | Adult, Puppy, Senior | Adult |
| Compatibility | Battery Powered | Battery Powered | N/A | Battery Powered | N/A |
| Closure Type | N/A | Bolt Snap | N/A | Bolt Snap | Bolt Snap |
| Food Flavor | N/A | — | — | — | — |
---
Questions & Answers
16 Customer Questions
---
What are the different buttons for?
Answer by • Jun 02, 2021
For a complete view of components, please see the attached photo for reference:
---
Is a collar needed to use this?
Answer by • Jul 07, 2021
A collar is not needed for this product to work. However, for optimal results, please use the product as a training aid, along with other tools/commands. Please check the video for reference.
---
Is this only used for barking issues? I don't have those but my large puppy is a digger.
Answer by • Dec 19, 2021
This behavior training remote can be used to help train your pet to correct bad habits in general, not only barking. When the dog has unwanted behaviors, you can press the Ultrasonic Button, then your dog will hear a special sound, which will make them a little uncomfortable. After repeating for a few times, they will learn that their unwanted behavior will bring the uncomfortable sound. For optimal results, please use the remote as a training aid, along with other tools/commands.
---
Will the sound affect my pet rabbits ?
Answer by • Sep 07, 2021
The model U01 can affect the rabbits as long as the distance is within 30 feet.
---
---
---
By Cat66 on Jun 8, 2022
Game Changer
Our dog is two years old and had become increasingly stimulated by our cat (barks whenever he sees or hears him). We have used this device in tandem with the command "quiet" for the past two weeks and the reactive barking is almost completely gone. We have only had to press the button a few times and he has understood. We are careful to keep the device hidden in our pocket so he doesn't know where the sound is originating. Our trainer had us use a small air horn in this manner when he was a puppy to train him not to "countersurf". It has been an extremely effective and humane way to get our dog's attention as he is very energetic and often struggles to settle enough to focus.
---
By Cat1 on May 21, 2022
Pitbull Border Collie Mix
I have a pitbull border collie mix that is 3 months old. She is a jumper and biter. I bought this as a last resort to try and stop her from jumping on me and biting me, but it only made her bark at me and continue to try and bite me and the device. She is very hyperactive and at first it seemed to work, but after a couple of hours she had figured it out and only became more agitated when I would use it. It would probably be fine for a different breed but not this little pup. I do love Chewy and will continue to buy from Chewy!
---
By loverlyredmond on Apr 28, 2022
Magic wand
Okay, how did I never know this was a thing before finding this?! It is AH-MAZING! With the first test-click of the high pitch sound, my Jack Russell snapped to attention! We have it hanging in the kitchen in case of any funny business with the barking during nap-times. I feel like the biggest perk of this thing is that when our Jack Russell lets out her tiny little "wait, what was that" bark and inevitably gets the Labradoodle on a huge barking fit, one click of a button subdues BOTH dogs! Two birds, one little rechargeable stone. Will definitely be telling my fellow dog owners about this one! My mother in law and sister in law both have male Goldens that cannot seem to get along — cannot wait to see if it'll work to disrupt their madness, as well!
---
By Bella on Apr 15, 2022
Pat pet! Dog training device
This is INCREDIBLE! I have an incredibly sweet and energetic JACK RUSSELL (terror)TERRIER. I wanted a small breed due to my health and did not do my research! They are extremely rambunctious! However I fell immediately in love and he's my FUR-EVER love! Trouble calming him down and training other than the potty training which he learned quickly! PATPET is so fantastic! He learns things so easily now. It does not hurt him it just gives him a little nudge to let him know it's time to learn. I will be forever grateful! Definitely recommend it to all new owners that need some extra help teaching their pets!
---
By Lisa63 on May 2, 2022
Doesn't work for my dog
I got this to train my dog not to bark when I eat my dinner. I figured it would work because he knows he is not supposed to bark. The problem is he hears it and stops, but the minute the noise is gone he starts again. Also beeping it during his barking instead of after he has barked is difficult and beeping him when he is already done barking teaches him nothing. I guess the noise doesn't bother him enough. I can see this could work for some dogs but not for mine. Returned it.
---
By Kali on Jun 7, 2022
My Ears Go Up!
Whenever I'm in the backyard about to freak out barking at people walking by in the alley behind our fence or the dog next door, I hear mom say "Leave it!" and if I don't, she presses the special button and then I don't want to bark anymore!
---
By BHBH on Apr 8, 2022
Good Training Aid
This remote is helpful and convenient because we do not need to keep up with a collar. We give a warning "no" command and then a beep. If the behavior still does not stop then we utilize the sonic wave option. The sonic wave usually stops the behavior immediately and we pair with a positive "good boy" and a treat. The remote works well for our husky, but our beagle doesn't like it too much. That's fine because our husky is the one with the problematic behavior. Using this remote did help curb our beagle from digging under the fence which we needed.
---
By Mare on Apr 26, 2022
I think this device has solved a serious problem
My Russell Terrier is obsessed with playing with other dogs (goes to doggie daycare 2x/week and wants to live there!). When we walk in town he so enthusiastically approaches other dogs, he scares them; they snap, and in self-defense start to fight! Have just begun to use PATPET device, and it appears to be my salvation! Thank you!!!
---
By ClintM on May 9, 2022
Pleasantly Surprised
I was hesitant at first because none of the bitter items have worked. Once I put the batteries in this and pressed the button an immediate reaction. This definitely got her attention. I was able to correct her and then praise. I have never seen her move that fast.
---
By Bulldog3 on Jun 6, 2022
Ms. Bulldog
We have 3 bulldogs that get into fights. When they were fighting, my husband hit the button on this and instantly they stopped. It was amazing. Worth every cent it cost.
---