Pearhead Clean-Touch Ink Pad
Frequently Bought Together
---
About This Item
Clean-touch ink pad captures your pet's pawprints so you can treasure them forever.
Includes 1 clean-touch ink pad and 2 impression cards.
Clean-touch ink pad is super easy to use and your pet never comes in contact with the ink.
Accommodates paws up to 2.25 inches wide and 3.5 inches high.
Paw-some for both dogs and cats.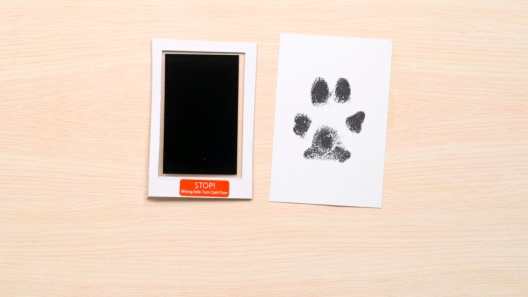 Learn More About Pearhead From Our Team of Experts
---
---
Questions & Answers
9 Customer Questions
---
I have 3 cats, can I use part of the ink pad for each, or would I need 2 kits.?
Answer by • Dec 17, 2020
The ink pad and impression card measure about 4 inches by 5.75 inches. Also, your best friend's paws never make contact with the ink so you should be able to reuse it with more than one pet.
---
Can these be used to transfer to tattoos?
Answer by • Aug 26, 2021
The discretion of whether the clean touch ink pad can be transferred as a tattoo lies in the tattoo artist in question. It is not the intended use of the product but could possibly be used for that desired function. Ultimately, you will have to consult with the artist.
---
Can you use this in their nose? I want a nose print?
Answer by • Jan 13, 2021
Pearhead Clean-Touch Ink Pad is designed for use with your dog or cat's paw.
---
can i use this for my hamsters?
Answer by • Jan 01, 2022
This can be used for pets with paws up to 2.25 inches wide and 3.5 inches high.
---
---
---
By ELMB on May 27, 2022
Great when used correctly
Bought these to get my cats' paw prints for a tattoo. There weren't clear instructions, so I learned by trial and error. When I tried pressing the cats' paws onto the pad, the result was terrible and the cats hated it. When I tried picking up each cat and setting them down with one paw on the pad, they each stood on it for a second and walked off, which was enough to get good prints. While the instructions were sparse (and knowing in advance the best method for getting prints would have been helpful) the product did indicate which side of the pad to put up, so that at least was clear.
---
By Binky on May 2, 2022
Great results!
One of my cats passed away suddenly a few weeks ago and the vet gave me the cutest ink pawprint. It's something that I will cherish forever! I was looking on Chewy and stumbled upon these and ordered a bunch (I wanted extra in case I messed up) but these are super simple to use! It comes with 2 cardstock type papers and an ink card. It tells you which side goes down and you put it on a piece of paper and then have your pet walk across it. My cats didn't really understand their assignment so some of them look a little off but I managed to get some super cute pawprints! You can use the same ink pad a couple of times you just have to be mindful of where you are putting their paw so it doesn't overlap with a previous one (you can tell where they were on the inkpad)
---
By Mulex on May 20, 2022
Not like pictured
I don't know what went wrong when I was trying to get my cat & dog's prints on these ink pads, but it turned out nothing like the photo. The prints looked nothing like paws, but rather chaotic nothing. My pets were very cooperative when I took their prints, so I know they didn't do anything wrong; however, maybe I messed it up. I will just still to clay from now on.
---
By KittenMama on May 8, 2022
Works ok, not great
Got this for my aging cat that was being put down as well as my new kittens. Didn't work great on aging cat. Got partial messy prints. Tried multiple times on each side of the two papers. Haven't tried with kittens and probably won't, as I doubt they'd weigh enough to register. I'd recommend trying other brands of they have good reviews, but if this is all you have it's better than nothing.
---
By Glitch on Apr 27, 2022
Easy and mess free
These worked great for all of my cats! I found the best way to get a clear print was to put the card down on the wood floor and lure my kitties to step on it. It took some time because they did not want to cooperate, but I got lovely paw prints from all of them with some time and patience.
---
By Kelli on Apr 13, 2022
Very easy and no mess
Love this! I got it for my senior cat who was ready to pass away. We did both paws. No mess - it tells you to turn the ink pad over so there's not much instruction for it. So easy. People make this harder than what it is. Thank you Chewy! Fast shipping!
---
By yorkiemom on Mar 9, 2022
NO clear instructions included, makes a mess!
So there are basically NO instructions included in this. I thought that I needed to ink my dog's paw and stick it on the paper. When you are supposed to put their paw on the other side of the inkpad with the paper underneath it so that the ink impression goes directly onto the paper without their paw ever coming in contact with the ink. Too bad I realized this after my dog had an inky messy paw, and the impression got smeared and messed up! I do not recommend this product or this brand.
---
By Ashley on Jan 6, 2022
Worked great with our cats
Got these to make display paw prints with our cats. The product was easy to use, and we were able to get some nice paw prints out of each one. We found the easiest way to get our cats to make a successful print was to lay the product and paper flat on a hard surface and let the cat step down on it for a few seconds. The ink pad is probably intended for one use, but since cat feet are small we could get multiple prints from one ink pad as long as we placed the paws in an unused section. It is kind of small so it might not work as well or yield as many prints for larger pets, but worked great for our cats and we got at least 3-4 prints per ink pad. It comes with two pieces of card stock. My only constructive criticism is that I wish it had more card stock for multiple prints. Really liked this product and worked great with our cats.
---
By regan on Feb 12, 2022
hard to use
I got this because my pet is very sick and I want something to remember him by if anything happens, I was hoping this would be simple and easy but it's not. Leaves smudges very easily and the results just end up ugly. You're honestly just better off drawing a picture of their paw!
---
By Marlena on Mar 17, 2022
Easy to use
I dont understand all of the low reviews! Yeah the instructions aren't super detailed but if you have any amount of common sense you should be fine. I love how my print came out
---