Pearhead Pawprints Dog & Cat Hanging Keepsake
---
About This Item
Create an impression of your pet's paw print to hang on display forever.
Easy-to-use clay allows you to re-do as many prints as needed until you get the perfect impression.
To get the ideal impression, simply press your furry friend's paw into the soft clay and let dry.
Kit includes air-drying clay, plastic shaping ring, rolling pin, plastic hole punch, and ivory and chocolate grosgrain ribbons.
Clay doesn't require any mixing, air dries within 24-48 hours and is 100% safe for your dog or cat.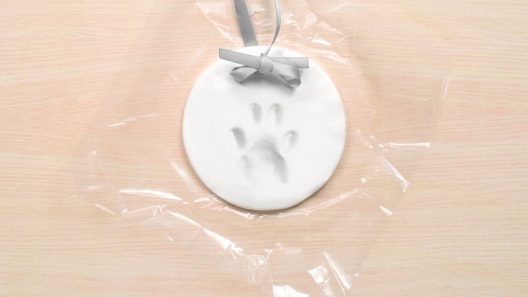 Learn More About Pearhead From Our Team of Experts
---
---
Questions & Answers
1 Customer Questions
---
How many paw print ornaments can you make with one kit? 2?
Answer by • Oct 16, 2017
Each kit is meant to make one ornament.
---
---
By Yournini79 on Mar 18, 2022
Such a great gift
I got a bunch of these for myself and to give as gifts. I've always gotten a paw print from the vet when a pet was put down. It's a nice keepsake but SO depressing that I got it because they passed away. With this I can make my own and do it from puppy to adulthood. And it was easy! I used a cup to cut out the circle because my dogs are small and their prints would like tiny in the huge cookie cutter provided but then I was able to get 2 prints out of 1 box.
---
By Elizabeth on Dec 11, 2021
Easy to use
Made these with our two golden retrievers. The "rolling pin" that comes w/ it can be obnoxious, but you're not using it very long/too much. Easy to do and only a little side-eye from the doggos as I put their paw in to the dough; I did have to wipe some of the white dough off their paws afterwards (guess I didn't get their paws wet enough first). As others have mentioned, it doesn't harden when it dries - it's still soft to the touch, but doesn't have the damp feeling. The circle itself seemed to shrink a little, but the pawprints look the same.
---
By OliverMelville on Dec 27, 2021
My Cat said NO
I can see that this would be a great item for dog owners. But my cat wanted nothing to do with getting his paw wet (!) and then pressed into this rubbery clay-like substance. I tried using a wet paper towel to dampen his paw, which was okay but he didn't love it. When I tried to stick his now damp paw into the clay he ran and hid from me. I ended up throwing it away since the clay had begun to set and he wouldn't come near me if I had it in my hand.
---
By Elentari on Jan 12, 2021
It does not keep the impression
I liked the idea of this because previous kits I used required baking of the molding material (which smelled awful). However, this barely saved the imprint. As it dried, it expanded around the imprint. So by the time it fully cured, you could barely make out my pup's pawprint. I still put it on the tree, but next year I hope to get a kit that works better and do it again (or just make my own).
---
By Monique on Dec 6, 2020
Enough clay for multiple or ornaments
After dividing the dough into thirds, I followed the directions as written. But instead of using the enormous cutter provided i used a smaller biscuit cutter. This allowed for three ornaments out of one kit. If you have a larger animal you may only get two from one kit.
---
By maple on Oct 11, 2020
Beware of Air Bubbles
It says on the package that you can redo it as many times as you need, but be aware that if any dirt or fluff gets on it, you will absolutely get air bubbles when you knead it. I'm planning on painting over it to try and hide the bubbles. It's also still very soft and squishy when it dries, definitely not for outdoor use.
---
By Fiona on Dec 3, 2020
Great product
I was so impressed with this product. My pup is pretty difficult to work with sometimes, but this was so easy! It only took about 5 minutes to get done :)
---
By SChapman on Oct 9, 2020
Easy to use on short hair but not long hair dogs
I love how they turned out for the most part but it kept sticking to my golden retrievers hair. It was really easy to use and is a good keepsake!
---
By hugo on Nov 12, 2017
Great memento
The paw imprinting process was pretty easy, but the ornament didn't dry as hard or smooth as I would have liked. They recommend leaving it on tinfoil, but the back then gets covered in an imprint of the foil's imperfections.
---
By Melky on Sep 30, 2017
Keepsake for dog
I love it and the personalized do it yourself prints. My daughter will have memories of Grace her mini schnauzer forever. Great ornament.
---