Pet Zone Smart Scoop Automatic Self-Cleaning Cat Litter Box
---
About This Item
Automatic litter box is an easy, mess-free and hygienic way to clean up your kitty's waste.
Rugged and reliable design features a quiet motor that smoothly runs the rake over the litter box.
Collects clumps without wasting clean litter and disposes them into the waste compartment. Works with any clumping litter or crystals.
Comes with 6 waste compartment bags that allow you to toss the waste without touching a thing. That's a one month supply!
Included carbon filter neutralizes odors. Easy to assemble and disassemble for cleaning.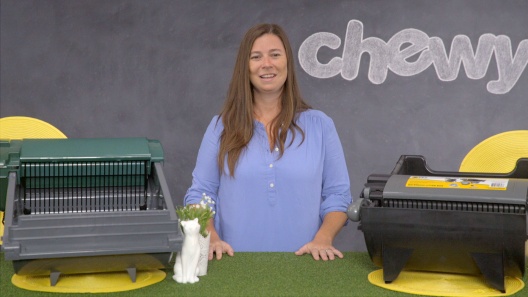 Learn More About Pet Zone From Our Team of Experts
---
Compare Similar Items
| | | | | | |
| --- | --- | --- | --- | --- | --- |
| | | | | | |
| Customer Rating | | | | | |
| Price | | | | | |
| Litter Box Type | Automatic | Automatic | Automatic | Automatic | Pan |
| Material | Plastic | Plastic | Plastic, Silicone | Plastic, Silicone | Plastic |
| Compatibility | Plug-In Power | — | Plug-In Power | Plug-In Power | — |
| Litter Feature | — | — | Odor Control | Odor Control, Non-Clumping, Scented, Natural, Low Tracking | — |
| Lifestage | — | — | Kitten, Adult, Senior | Kitten, Adult, Senior | Senior |
| Assembly Required | — | — | Yes | Yes | — |
| Tools Included | — | — | No Tools Required | No Tools Required | — |
---
Questions & Answers
28 Customer Questions
---
Where do you get the waste bags?
Answer by • Jun 16, 2021
At this time, any additional waste compartment bags can be purchased through the manufacturer's website only.
---
is this good for use in multiple cat home. also how often does it clean the box
Answer by • Oct 12, 2017
This litter box can be used in multiple cat homes and relies on a sensor that activates the cleaning cycle 15 minutes after a cat uses and leaves the box.
---
I have 3 cats, how often would the waste compartment need to be changed?
Answer by • Oct 03, 2017
The manufacturer recommends changing the bag once a week for a single cat household and more often for multi-cat households.
---
Is this motion sensored?
Answer by • Jul 17, 2017
This litter box relies on a sensor that activates the cleaning cycle 15 minutes after a cat uses and leaves the box.
---
---
---
By dhjjjk on Jul 9, 2022
Waste of money
We bought this for our 1 cat. Found out really quick it gets jammed easy. The cat goes in does his business and scratches to cover it up, normal right? The smallest of litter gets on the tracks and it locks up. I spent more time fixing it than it did "self cleaning "! Wouldn't waste your money folks!!
---
By bloomz on May 12, 2022
Great idea, execution???
Have mixed feelings about this, first one, waste receptacle wouldn't snap down...Chewy's most excellent customer service sent me a new one. With that one, I like the motor up where it has the line, and it runs once, then goes back about 1" PAST the line, which means next time it runs it doesn't go totally to the end, and misses smaller pieces. I contacted the manufacturer and tried their troubleshooting, didn't work. So they sent me a new motor and tray, which does the same thing. So I find myself having to watch it and use the scraping paddle to knock the small pieces in. As well as it takes regular scraping the bottom to get the urine clumps that stick to the bottom, and lift them to the top so the rake can grab them and drop them in. I'm not sure about their quality control. But prices was among the lowest, but my kitty is a young growing boy who eats a lot, and produces plenty for it to work with. Anyone else found this or am I an outlier?
---
By Malrenay7 on May 21, 2022
Doesn't clean
This litter box is not worth it. I read the reviews and still bought it and just like all the other reviews, it doesn't work. It does not sense my cat in it so therefore it does not self clean. It also gets stuck. I did use clumping cat litter so when I would manually press the button it worked but that's not the point of an automatic motion sense cleaning litter box.
---
By JessicaC on May 8, 2022
Gets stuck
This cat box started out working well but now it gets stuck. After it scoops the poop, while trying to go back to the starting position, it gets stuck. I have dislodged anything that may be getting in the way but it still gets stuck.
---
By Terrible on Mar 24, 2022
does not self clean
This litter box is very misleading. It doesn't self clean at all. All of the clumped litter goes to the front side of the pan and just keeps breaking up into smaller pieces. The small pieces just slip right through the cracks and it doesn't even go to the front side of the litter pan to scoop up the clumped litter! I'm very disappointed.
---
By RayROnline on Mar 13, 2022
From Best to Worst
I've been using this brand of litter box for 10 years for my one cat. I've had to replace the motor four times. This was the best litter box ever for a while. It was relatively quiet, effective, easy to use, and the cat loved it. But they had some patent strikes in court and sold The company. Since then I purchased a new one, one year ago, it broke yesterday. And it broke worse than all the other ones combined. Previously when the gears failed they replaced the entire motor for free, this time the motor actually snapped. The sad part is it's a great design and if made with quality materials is about as good as you're gonna get for self cleaning litter boxes. But 150 bucks a year to replace it it's just going to bankrupt the new company that's trying to save money cutting corners.
---
By ErinH on Feb 1, 2022
Just works okay
I read reviews on every automatic litter box out there. I choose this one due to price, reviews, friendliness to the environment and continuing supply costs. To start, it was fairly easy to set up. I did have a bit of trouble sliding the motor unit onto the side of the bin. We got it on correctly with a bit of manhandling. My cats took to it reasonably well. I set up it up but left it off for the first few days to let the kitties adjust. I also left the old boxes set up but stopped scooping them. My cats gravitated to using the new clean box. I turned on the new box and left the old ones as is then slowly removed them over a few days. I only saw one "accident" after removing the old litter boxes. I choose not to use a bag in the waste bin just to limit my plastic usage. It's easy just to rinse out when I empty it. We have 3 cats and I empty the bin 1-2 times a day. It does an okay job of scooping. As other users commented - clumps tend to break apart and small pieces are left behind. Also, clumps do tend to get stuck on the rake. When the rake returns to it's resting place, it sits on top of the litter and can not scoop any urine clumps close to that area. I routinely lift the rake and move the litter out from under it. Also the rake tends to push all the litter to the end of the bin and it needs to be spread back out. Right now, I am using Arm & Hammer clumping litter but I plan to change to a light weight litter to see if clumps fall apart less. Overall, I would not buy another one of these boxes. It has decreased the amount of time I spend scooping litter boxes but not by much.
---
By CatsMama on Jan 19, 2022
Doesn't last very long. :(
I purchased this in late Aug but due to moving, I didn't get it ready to use until the beginning of Oct. I had originally planned to switch immediately to this litter box, but decided it was better to make the change after living here for a while. This worked wonderfully for 3 months then started making strange noises. I could not figure out why plus it was still working. Today, I noticed that the green light was no longer on. I unplugged the unit and cleaned it, but it is just not working. Now I have a regular non self-cleaning cat litter box that was quite expensive for what it does. :( 2 stars are because it worked for a few months.
---
By odiesmama on Mar 1, 2022
Supposed to Be Helpful
My cat has kidney disease, so he is peeing very frequently. I bought this litter box hoping to take workload off of having my plate. The lid already broke, and the scraper doesn't get the sides of the box or dig deep enough to get it cleaned very well. This morning it turned red as if there was too much little in the pan, but it wasn't over the "Max" line. I would like to try other brands to see if they're more helpful
---
By sha1081 on Feb 10, 2022
starts great, ends bad
I have had this box for 3 months. It started off working well. A little noisy and the fill line isn't deep enough since it only leaves like 1 inch of litter for the cat to dig. And if they are anything like my cat, they like to dig to China, so they end up peeing on the bottom and the bottom ends up with a cake layer. But we managed. Now after three months, it is having issues. It starts its cycle and will get stuck towards the end and not reset itself. The only way to fix it is to take the motor halfway apart and reset the whole thing manually. Plus, it has a major pop/jump at the end almost like the teeth inside the gears are getting stuck and releasing. Going to contact company and see if they can send a new motor, if that fixes it fine but if it happens again in a couple of months, am going to see it I can just get a refund. Not going to pay this much for something to have to play with and fix it constantly.
---