Petmate Ultra Vari Dog & Cat Kennel, Taupe/Black, 36-in
By Petmate
---
About This Item
Heavy duty plastic shell provides, strength, durability and safety
Durable wire door keeps pets in but allows easy access to pet owner
Portability makes this kennel perfect for trips
360 degree ventilation so your pet gets a healthy airflow
Meets USDA and IATA requirements for shipping live animals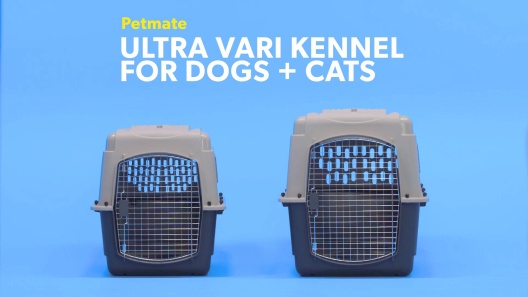 Learn More About Petmate From Our Team of Experts
---
---
A Comfy Place for Rest
Give your canine companion an inviting place to sleep and relax with Petmate's plastic kennels. Each kennel is built with comfort in mind, with rounded edges and a smooth interior designed to help your dog doze as comfortably as you do. Your furry family member deserves the best and nothing less.
A Cozy Canine Safe Space
Dogs have an instinctive desire to be snug and comfortable in a semi-enclosed space of their own. Petmate kennels satisfy that natural denning instinct, giving your pup a place that feels both safe and secure where he can go to relax when he's stressed, out of his comfort zone or just ready for a restorative snooze.
Secure What Matters
Petmate kennels are built for strength and safety, with durable construction designed to keep your pup in the kennel and out of harm's way. Whether you're traveling with your dog somewhere and need to secure him or crating to stop destructive behaviors while you're gone, you can rely on Petmate to provide safety and peace of mind.
For Pups Big and Small
Whether your dog is pint-sized or extra-large, Petmate has a kennel that's the perfect size and shape for your best friend. Made with size-specific details like heavy-duty materials for larger kennels and nice touches like top access on some smaller models, you'll find that each kennel was designed with your pup's unique needs in mind.
Made Right
Petmate kennels are engineered to stand up to rust, bad weather and rough handling to give you many years of trustworthy use. From their durable plastic construction to the hard-as-nails hardware that keeps them together, these kennels will provide a safe and cozy environment for your pup through thick and thin.
Air and Road Trip Approved
These kennels were built with safety in mind and are made to be fully compliant with air and highway travel requirements. That means you can take your furry friend with you anywhere you need to go! Your best friend will love his comfy home away from home on all your journeys, and you'll love knowing he's in a safe and secure place.
About Petmate
Petmate started out making kennels back in 1959 and they haven't stopped since. They now offer a vast line of different products for all sorts of pets and provide trusted solutions for pet parents everywhere. They care about the environment, too, employing eco-friendly manufacturing techniques at their Edison Green Award-winning facility and embracing new technologies to further reduce impacts.
Shop Petmate
Compare Similar Items
| | | | | | |
| --- | --- | --- | --- | --- | --- |
| | | | | | |
| Customer Rating | | | | | |
| Price | | | | | |
| Features | N/A | Rolling, Carry Handle, Water-resistant | N/A | N/A | N/A |
| Material | Plastic, Steel | Plastic | Plastic, Steel | Plastic, Steel | Plastic, Stainless Steel |
| Breed Size | Large Breeds | Large Breeds | Medium Breeds, Large Breeds | Large Breeds | Giant Breeds |
| Assembly Required | Yes | Yes | Yes | Yes | No |
| Tools Included | No Tools Required | No Tools Required | No Tools Required | No Tools Required | No |
---
Questions & Answers
13 Customer Questions
---
What are the inside measurements?
Answer by • Feb 05, 2022
The 19-inch kennel has internal measurements of 16.2 inches long, 12 inches wide and 9 inches high. The 24-inch kennel has internal measurements of 21.5 inches long, 15 inches wide and 13.5 inches high. The 28-inch kennel has internal measurements of 24.25 inches long, 18.25 inches wide and 19.5 inches high. The 32-inch kennel has internal measurements of 29.5 inches long, 19.75 inches wide and 23.5 inches high. The 36-inch kennel has internal measurements of 32.5 inches long, 22.25 inches wide and 26 inches high. The 40-inch kennel has internal measurements of 36.25 inches long, 24.75 inches wide and 28.8 inches high.
---
is there a divider in the for a puppy?
Answer by • Jul 24, 2017
This kennel doesn't come with a divider.
---
Can replacement doors be ordered? I have a Petmate Ultra Vari kennel 36 inch but the lock on the door which never aligned well is now broken.
Answer by • Jan 30, 2019
At this time, replacement parts for this crate are not available for purchase.
---
Can you SWITCH THE DOOR ON THE VARI AND ULTRA VARI KENNEL SO THAT IT CAN OPEN FROM BOTH SIDES
Answer by • Nov 09, 2018
According to reviews, pet parents have reported that they flipped the doors upside down to be able to open it in the other direction.
---
---
---
By Jeff on Mar 25, 2022
Great Job By Chewy / Great Product
As always, the order was correct. It shipped quickly, and we received it within 2 days.
---
By Aimee on Mar 24, 2022
Great product
Great product and price. Had kept my super chewer inside with nothing to destroy
---
By Merlin21 on Jan 31, 2022
Door sucks
Definitely not secured. Dog just pushed the door and broke it. Not sure how it was tested.
---
By JeepMama on Jan 3, 2022
Poncho Pad
Upgrade our older rescue! He needed an upgrade kennel for transport. Fits well in the back of my Jeep!
---
By Rikkii on Nov 20, 2021
Good crate
Our pup is safe and (relatively) happy in it when we need to put her there. It is sturdy and very useable. I recommend it for training a large breed pup.
---
By GigisMom on Jul 23, 2021
Safe& Secure, easy to assemble & take apart
I am very happy with this crate. In my last wire crate, my crazy pup was able to bend and escape, so I needed something much sturdier. This one is nothing crazy special but seems to be very secure and my pup is happy in it; she tries to eat her way out of it and luckily for me she has been unsuccessful! Bolts unscrew and screw back easily to take apart since it is too big to fit into most cars, definitely won't fit in a sedan so keep that in mind if you plan to travel. Overall have been very happy so far!
---
By Taylor on Jul 16, 2021
Poor quality
I'm not sure if we just had bad luck but our dog gets crated 1 day a week (the day our house cleaner comes) and he's able to get out of this crate every week due to the door springs just popping off. I know we put it together properly…either it's bad quality if we got a lemon, either way it's disappointing to have an unusable crate after a couple months.
---
By GerShepMom on Apr 21, 2021
Broken upon receipt
We bought this crate and noticed when we unpacked it that it was broken. This kennel is in our camper. I contacted Chewy and told them about it and sent pictures.... asking if they could send us a new top for it. They said I would have to pack it up and send it back... and then they would send a new one. So... now I have to drag this kennel back home from the camper, pack it back up and be without something to put a 9-week old puppy in until the new one is received and taken back up to the camper. This is the reason I bought it BEFORE we got the pup so we would have something to put him in. My boyfriend is not happy at all... told me we could have gone to a store and had one without all this inconvenience.
---
By Tizsmom2021 on Jul 13, 2021
Secure crate
Excellent crate for dogs with seperation anxiety. Keeps her safe & secure. She is calmer in this crate, over the other that I had been using.
---
By AmBullymom on Feb 12, 2021
good crate but poor quality control
The crate itself is legit, strong and well built. I have an adult american bully and works well for my pup. However, I am unhappy with the condition of the crate I received. The crate comes stacked into 2 large parts (top and bottom) and once I removed the stacked parts to put the crate together, I found 3 long human hair (not mine). Also the barcode sticker that was on the crate has been removed by someone because whoever removed it (or got this crate before me) didn't remove it right so a part of the sticker is on one part of the crate, and the other part of the sticker was on a different part of the crate. Lastly, it doesn't look new at all. It has random scratches and black markings on the crate. I know Chewy doesn't send out returned/used items, but all the things I found on the crate is causing me to believe that it was used. I chatted with Jessica B and she offered to have the crate replaced (after I send the one I got back) but since the new crate won't be available until 3/1 I decided to keep the crate (need it for travel reasons asap). She did kindly refund me $30 for the situation. I would have returned this crate but as all of you know who are trying to buy an airline approved crate, it is sold out everywhere! I am happy with the crate but it was a real bummer to see the crate looking used. Now I will think twice before purchasing something big on chewy.
---