Petstages Dental Cat Chew Toy with Catnip, Color Varies
By Petstages
Buy 2 Get 1 Free - Mix & Match
---
About This Item
Lightweight toys are easy to bat carry and chew with knotted streamers for added fun.
Durable dental toy clean kitty's teeth and massage gums while she chews.
Outer netting and streamers satisfy chewing and crunching instincts while removing soft tartar from your cat's teeth, durable netting won't unravel no matter how hard your kitty chews.
Padded center is filled with catnip and fibrous catnip stalks to releases a catnip aroma your cat can't resist.
Each pack includes one 3-1/2" teardrop-shaped toy and one 5-1/2" triangle-shaped toy. Colors and patterns vary (blue, green, purple, red or orange) and are easily distinguished by pets - color ships at random!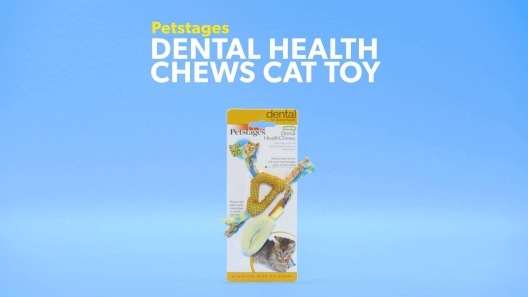 Learn More About Petstages From Our Team of Experts
---
---
About Petstages Toys for Cats
Play Helps Cats Thrive
Cats love to play, and playtime is essential to your cat's health at all life stages. Felines also need to exercise their brains to prevent boredom. You should provide your cat with a healthy amount of attention and stimulation to help avoid bad behavior and unhappiness. Petstages can help keep your cat happily playing. Choose from active toys, calming toys, scratchers, catnip and dental toys!
A World of Fun for Your Cat
Let your cat chew, bat, chase and scratch her way to happiness with Petstages cat toys and products. They can help keep your kitty active and feeling her best.
Catnip And Dental Toys
Great to bat and carry, these toys have catnip and unique netting that helps floss teeth and remove soft tartar as your kitty chews.
Tracks And Chaser Toys
Designed to satisfy your cat's hunting instincts, Petstages ball and track cat toys a fun and interactive way to get indoor cats moving.
Scratchers And Hunting Toys
Scratching is natural for cats, and Petstages offers a variety of scratching and hunting toys to keep cats entertained and nails healthy.
Tower of Tracks
Toys like Petstages' Tower of Tracks are the perfect way to give your curious kitty the mental and physical exercise she needs. Watch your cat paw at the balls and try to dislodge them—but don't worry, the balls won't come loose! Your cat will love the Tower of Tracks no matter how she chooses to use it. It's perfect for solo play or interactive play with you or other cats!
Easy Life Hammock
The Easy Life Hammock doubles as a lounger and a scratcher. Cats stretch their paws to leave their scent and when they stretch, their claws come out and leave their mark. Scratching can also help remove the dead outer layer on your kitty's claws. This lounge scratcher will not only help keep your cat's nails tidy, but it can also help keep her feeling nice and relaxed.
Purr Pillow
If your cat likes to cuddle soft and cozy things, the Purr Pillow may be just what she needs. It has a touch-activated, integrated module that makes a gentle purring noise every time your cat cuddles it. The purring sound lasts for two minutes and can soothe and calm cats of all ages. It is ideal for separation anxiety or any time your feline needs extra comfort.
About Petstages
Petstages is made up of passionate pet lovers. Their mission is to create innovative products that solve everyday problems—whether your dog eats too fast, your cat is scratching something she shouldn't, or you need a little help getting your pup in the water. Whatever you need to make life with your pet a little fuller, Petstages has something for you!
Shop Petstages
Compare Similar Items
| | | | | | |
| --- | --- | --- | --- | --- | --- |
| | | | | | |
| Customer Rating | | | | | |
| Price | | | | | |
| Toy Feature | Dental, Crinkle, Catnip | Dental, Catnip | Dental | Dental | Dental, Crinkle, Catnip, Feather |
| Toy Type | Chew Toys | Mice Toys, Chew Toys | Chew Toys | Chew Toys | Chew Toys |
| Material | Polyester | Polyester | Thermoplastic Rubber | Polyester | Polypropylene |
| Sport Team | N/A | N/A | N/A | N/A | N/A |
| Breed Size | N/A | N/A | N/A | N/A | N/A |
---
Questions & Answers
4 Customer Questions
---
I see this has catnip in it, is this safe for kittens (4 months)?
Answer by • Nov 01, 2018
This toy is designed for cats and kittens. Although catnip is totally harmless and safe around kittens, both to smell and to eat, it isn't necessarily effective.
---
What is inside this? My cat likes chewing on things that crinkle, like when he gets a hold of an empty wrapper.
Answer by • Oct 02, 2019
The toys are made with durable outer netting and streamers while the interior, padded center is filled with catnip and fibrous catnip stalks to releases a catnip aroma your cat can't resist.
---
Do these Petstages cat chews have catnip in them?
Answer by • Aug 13, 2018
These toys feature a padded center filled with catnip and fibrous catnip stalks, which release a catnip aroma your cat can't resist.
---
Made in U.S.A.?
Answer by • Feb 27, 2018
This toy is made in China.
---
---
By LuvinThe253 on Mar 13, 2022
Great for teething kittens
Teething or not, I have one kitten that just likes to chew on everything, especially coming out of anesthesia (which he's unfortunately had to do a few times already in his short life). This & the other teething toy have been extremely helpful to help keeping him from chewing on things he shouldn't. Both kittens like to play with these and carry them around in their mouths! Too cute.
---
By Abby on Feb 13, 2022
No interest
Unfortunately I don't like a lot of catnip...but I love to chew on things. But these are of no interest to me. Mom keeps trying but I just leave them. She said they appear well made though. But hard to tell since i am not liking them. Please bring chew toys without catnip in them.
---
By Tippy on Apr 26, 2022
Cat toys for tippy
My cat loves these toys. I bought these same ones a couple years ago and she wore them out so bought new ones
---
By Rufus on Jan 27, 2022
My cats love these
Tne minute I unpacked these toys, my cats took off with them. I have one cat that was trying to chew on furniture knobs, so I hung one on the knob, and now she takes the toy from the knob and chews on it. That is, until one of the other cats take the toy to play with. I may need to get another pack.
---
By Kathleen on Feb 15, 2022
My cat loves these!
I don't know why, but my cat really likes these little things. She goes to town gnawing on them. If I throw one at her, she'll bat at it and then grab it and chew on it. They hold up well under intense gnawing.
---
By Kitten on Mar 8, 2022
Great for hiding under sofas or who knows where. Hee Hee
Kitten loved these toys! He had me tired of searching under sofa(s) and chairs so much one got lost or buried with others that have disappeared. Hee-hee
---
By Nora on Jan 23, 2022
Not good-waste
My cats would not Pay any attention to them? They will not even play with them no matter what I do with them. I cannot seem to tantalize them enough to get them to look at them? I will buy more loose catnip On these chewing toys. I will not buy these again
---
By Olive on Feb 5, 2022
Triangles.
My cat loves the triangle. Wants nothing to do with the other one but loves the triangle. Rubs her face all over it, rolls around on it. She is usually not into cat nip so I am pleased she likes this.
---
By CATMANDOODOO on Mar 15, 2022
Adult weight control food
Personally I do not ingest the stuff but the cat likes it and his poops are regular. That's what counts
---
By missa on Feb 1, 2022
Chewy toy 2-pack
I bought a few of this sort of toy for my soon-to-be 5-year-old tuxie. He doesn't seem interested, but his 3-year-old brother played with them.
---