SportDOG NoBark 8 Standard Waterproof Dog Bark Collar
By SportDOG
---
About This Item
Anti-bark collar that works right out of the box to train your pup in a safe and effective way.
Features 8 levels of progressive correction to help curb disruptive barking from your paw-tner.
Delivers a consistent, reliable correction with Silent Partner bark-detection technology.
Waterproof and submersible to 25 feet with DryTek technology to withstand the elements.
Ideal for dogs 8 pounds or larger and the battery provides 200 hours of operation.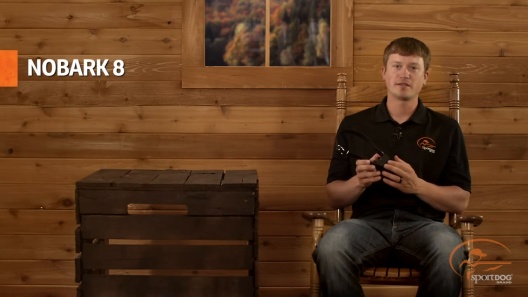 Learn More About SportDOG From Our Team of Experts
---
Compare Similar Items
| | | | | | |
| --- | --- | --- | --- | --- | --- |
| | | | | | |
| Customer Rating | | | | | |
| Price | | | | | |
| Collar Type | Bark Control - Static | Bark Control - Static | Bark Control - Static | Bark Control - Noise, Bark Control - Static, Bark Control - Vibration | Bark Control - Static |
| Breed Size | All Breeds | Small Breeds, Medium Breeds, Large Breeds | All Breeds | Medium Breeds, Large Breeds | Small Breeds, Medium Breeds, Large Breeds, All Breeds |
| Material | Plastic | Plastic, Nylon | Plastic, Nylon | Plastic, Nylon | Plastic |
| Compatibility | Battery Powered | Battery Powered | Battery Powered | N/A | Rechargeable |
| Leash & Collar Feature | Waterproof | Waterproof | Waterproof | Water Resistant | Waterproof |
| Closure Type | Buckle | Quick Release | Quick Release | Buckle | Buckle |
| Technology Feature | N/A | N/A | N/A | N/A | N/A |
---
Questions & Answers
8 Customer Questions
---
What kind of battery?
Answer by • Aug 30, 2019
The collar takes 4LR44 batteries.
---
Is this a shock collar or does it emit noise, vibration, or spray?
Answer by • Nov 27, 2019
This collar delivers static stimulation and features eight levels of progressive correction to help curb disruptive barking.
---
What is the collar made of? My dog chewed off the last fabric bark collar I got.
Answer by • Jan 14, 2020
This collar features a coated nylon strap.
---
Is there a remote or does it automatically make noise when dog starts barking
Answer by • Jan 19, 2021
This Bark Collar does not require a remote and will automatically correct your dog, when they begin barking.
---
---
---
By Saddened on Apr 10, 2022
Really wanted this to work
I have a mini Aussie who barks and barks (and barks)... at the neighbors, neighbor's dogs, squirrels, and even at trees! Heaven forbid anyone walk down the street or come to my front door. He wore this collar during "high bark" hours for several consecutive days and it didn't faze him. There was zero control for the barking. I will admit I haven't trimmed the hair on his neck for it to make better contact (I did part his hair so they were very close), so I haven't completely given up hope for this product yet.
---
By Daisy on Mar 3, 2022
Worth it!!
I did a lot of research on this item & others. So far this collar has been great. After we are done using it we simply turn it off to save on the battery. In the past we've tried the ones with a remote & rechargeable batteries & it just wasn't doing the trick.
---
By SueD on Dec 22, 2021
Actually works!
I must say, I was really amazed this collar works! I put it off for a long time, but I moved and situation changed. My dog barked a lot, but after the move he started constantly barking at absolutely nothing. When a neighbor mentioned it, I knew it had to stop. I ordered the collar as a last ditch effort. When i put it on him, he barked once. That's it. He barked 1 time and stopped. He wasn't hurt, he never flinched or jumped or looked surprised...he just stopped barking. The collar has to be put on tight enough to keep connection with the skin. But if it's on right, i does work. I still can't believe the difference. I highly recommend!!!
---
By Mickie on Jan 16, 2022
Does the job!
This collar is perfect. It fits my chihuahua and works perfectly to stop her barking.
---
By GiGi on Aug 28, 2021
No bark Collar
This collar works but when you have to replace the batteries all the time because of the barking, at times, the screws become stripped and it seems you would have to just buy another one if it wasn't so expensive!!!!!!!!!!!
---
By KYgal on Jan 3, 2021
Buy the rechargeable one
I have a stubborn barker. This collar worked great to help with some of the barking but this dog always needs corrections from the collar, he never learns to just stop. So often that the battery died in two days from the use. So buy the rechargeable one don't waste time on replacing batteries.
---
By aeg27 on Jun 11, 2020
NoBark Collar
This collar is truly the best my 5month old lab would bark starting at like 2AM and wouldn't stop until we got up for work around 4:30AM and for weeks I was getting up to take him potty and then it turned into he didn't have to potty he just wanted to bark for no reason! Well 3 days after wearing this collar he no longer barks at night/early morning its fantastic!
---
By Lisa on Apr 11, 2020
Highly recommend
I was at my wits' end trying to get my dog to stop barking. After a neighbor came over and threatened me if I didn't do something I started researching collars. I've used them before but they've stopped working very quickly, or just worked sporadically. The first time I put this collar on my dog it only took one time for that little static shock to stop him from barking. That was a week ago and I have not been afraid to let him outside ever since. His barking like a maniac has stopped and I think the neighbors will stop their plans to run me out of the neighborhood. I like this collar because it's just a small shock of warning. It startles more than hurts him. It will continue every 30 seconds if he keeps barking, but with my dog it only took the one time. I highly recommend this collar. It may be just a little more expensive than a lot of the other ones. But you get what you pay for.
---
By Amber on Apr 2, 2020
Worth every penny!
I fully recommend this to anyone with a pupper that likes to bark nonstop. We have two dogs (a Lab and a Lhasa Alpso) and the little one literally barks all day and night with no reason and won't stop. Living in a neighborhood, the last thing we want is fussy neighbors with our sweet girls. We tried the collar and she knows immediately not to bark. We followed the super easy instructions and ta-da no more barking. She knows before she goes out she has to put on her "necklace". It has been a wonderful help!
---
By Kath on Feb 2, 2020
did not work at all for my dog
This is the second anti-bark device I have tried for my dog. This one was essentially worthless--did not work at all. Initially, my dog "yipped" the first time she set it off, and then she was oblivious to it. I feel disappointed that I have wasted so much money on anti-bark devices.
---