Suitical Recovery Suit for Cats
Frequently Bought Together
---
About This Item
Comfortable, stress-reducing alternative to the traditional cone is recommended by vets.
Snug fit with rear fastening prevents the pet from wiggling out, and allows for normal litter box use.
Covered areas are kept clean and dry, which prevents bacteria and dirt from causing an infection.
Made from a non-toxic, breathable, 4-way stretch fabric that is machine washable for reuse.
Allows air to circulate around the wound for healing, with built-in pockets for gauze pads.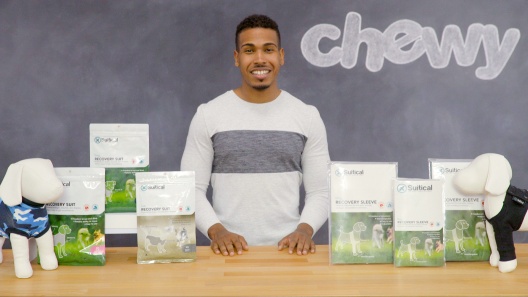 Learn More About Suitical From Our Team of Experts
---
Compare Similar Items
| | | | | | |
| --- | --- | --- | --- | --- | --- |
| | | | | | |
| Customer Rating | | | | | |
| Price | | | | | |
| Autoship | — | — | | — | — |
| Lifestage | Adult | Adult | Adult | Adult | Adult |
| Health Feature | Itch & Redness Remedy, First Aid | First Aid | First Aid | Recovery | First Aid, Itch & Redness Remedy |
| Material | Cotton, Natural Fabric | — | — | Cotton, Natural Fabric | — |
---
Questions & Answers
26 Customer Questions
---
Would this be good for my cat who has open sores from scratching her skin raw?
Answer by • Nov 07, 2017
This product is designed to keep a tight hold on your kitty's skin, it won't keep claws out though.
---
DOes it come in ANY other color? my kitten is a girl and not exactly the camo type.
Answer by • Oct 04, 2017
This suit is only available in one color.
---
Would this be okay to leave my cat in after being spayed when I go to work?
Answer by • May 03, 2019
We'd recommend supervision the first couple of times wearing the suit to see if your cat will be comfortable if left alone.
---
How do I know I did not put it on backwards? Does the tag inside go on the back like human clothes?
Answer by • Mar 23, 2018
The best way to tell this item is not on backwards is that the leg holes are all facing down and your pet steps into the suit.
---
---
---
By TinyWeirdoMom on Nov 21, 2022
Invisible Tiny Weirdo!
User tip - Have your pet practice wearing the suit for increasing time periods about a week before surgery. And with that, our story commences... About 2.5 seconds after her spay, the tiny weirdo refused to be shamed. And although she was still reeling in her drug induced state, she impressively managed to wrestle her cone off. I could only anticipate what I was in for when the drugs finally wore off for good. With this in mind, I thanked my foresight in purchasing this camouflage recovery suit. Before even taking the tiny weirdo home, I had the vet tech help me insert her into her invisible pajamas. I haven't seen my beloved invisible tiny weirdo since, but I know she is here with me from the detritus she leaves behind like a tornado passing through. But seriously though, I do recommend this over the cone of shame. She's kept her suit on with no complaint (once I sized up for comfort) for several days now. It's easy to flip her over, and unsnap and pull up one side to check her incision 2x/day; though a bit trickier to get her buttoned up before she tries to take off again. With her incision out of sight, and unlickable, she leaves it alone. And no trouble using the litterbox whilst pajama encased.
---
By Kayla on Nov 4, 2022
Awesome product!
So glad I ordered this! My 6 month old kitten had to have abdominal surgery and he wasn't doing well with cone at all. He would run into things and couldn't eat very well. Ordered this and it was in the next day. Don't get me wrong he hated wearing this too but he could move around so much better. It covered his belly so he couldn't get to his incision and washed up fabulously. Great buy if you don't want the cone!
---
By Baby on Nov 3, 2022
doesn't get better
Our kitten was neutered and sent home in a contraption of ties and holes for legs and arms. I checked on her at 2 am only to find she was out of this PLUS has pulled out 2 stitched. I called Chewy with an SOS order for this onesie. Bless Chewy, I had it the next day. Baby was very happy in this. Almost acted like a thunder shirt. Her remaining stitches remained intact and she healed Well. This is a MUST for all little ladies getting neutered.
---
By Nicki on Nov 3, 2022
Perfect fit
He had a patch of fur missing and he was licking and causing it to become a wound. Cone of shame he would not eat. This suit he moved more, was still sad but he was able to eat, drink and groom himself for the most part. The only problem I have is the huge hole he licked into the suit. It other than that the suit was great
---
By Michigan on Sep 30, 2022
Suitical - high quality and really works
Our cat had a lung operation and she came home with a cone and took it off 3 times in an hour. Then we put the suitical on and she was way happier than having a cone. XXS for her at 9 pounds fit well. She did not walk straight in in but she did not pick at the incision at all. Putting the suit on was pretty easy and because of the way it way it snaps, she could use the litter box without any issues. She has been wearing the suit for 2 weeks and her incision has healed. I recommend the suitical highly. It worked and she was relatively comfortable in it the whole time. Much better for her compared to a cone. Thanks.
---
By Steph on Oct 17, 2022
Great alternative to the cone
Purchased this recovery suit for my 5 month old kitten Lola who recently had a spay. She had a hard time maneuvering with the cone the vet gave her, (it kept coming off). This was a great option for her. I ordered the xxxs and it was a tad loose initially but I washed and dried item and it shrunk up enough for her to be able to wear it. Lola is 3.5 pounds for reference. She can use the litter box with ease wearing this recovery suit also.
---
By Eleanor on Oct 9, 2022
Great alternative to cone but beware of sizing!
This is a great alternative to a cone or even a soft Elizabethan collar. I did find the size chart to be super inaccurate, so hoping this review will help other cat parents. Our cat is 13.5 inches long, 12lbs, with moderately dense fur. I originally ordered a XXS, sizing up based on instinct despite the size chart suggesting XXXS for her length. XXS arrived but was too short on her. Chewy was kind enough to send the next size up (XS) which fit perfectly. I would size up at least 1 size, and even 2 sizes based on the size chart, depending on fur length.
---
By cindyll on Oct 21, 2022
Great quality!
This suit got my kitten through her spay operation. It is well-made and she tolerated wearing it very well. My sweetheart is very tiny and the suit fit her perfectly. Now that we are done with it, I've washed it and will donate it to a shelter. No plastic e-collars for us!!
---
By Micah on Oct 25, 2022
Not for outdoor cats
This product looked like it would be a good alternative to a cone for my indoor/outdoor cat. She somehow showed up an hour later with no suitical on and it is nowhere to be found! I have no idea how she could have taken it off. Alas, she did. So, if your cat is a hairy houdini...
---
By LilOAnnie on Sep 12, 2022
Great little suit!
My cat got a large scrape on his back and wouldn't stop scratching it, even though the vet had given him medicine to help prevent the itching. Once I put the suit on him he stopped trying to scratch it and it is healing. I don't know why this made a difference for him but it did. Really appreciate the product! Do be careful about the size. I got the Small which was too big and he got out of it the second night. I cut out about 2 inches and resewed and he is doing fine. I have ordered another XS and am hoping it will fit without adjustments. He measured 16".
---