Super Bird Creations Bagel Cascade Bird Toy, Large
Frequently Bought Together
---
About This Item
Fun to peel paper core bagels give your birdie plenty to explore!
Different textures bring physical and mental stimulation to your birdie as he climbs, perches, explores and chews.
Perfect for African Greys, Alexandrines, Amazons, Eclectus, Small Cockatoos, Mini Macaws and similar sized birds.
Easy to refill with replacement toy parts can extend this toy's life further.
Assembled in the USA with bird-safe materials you can trust.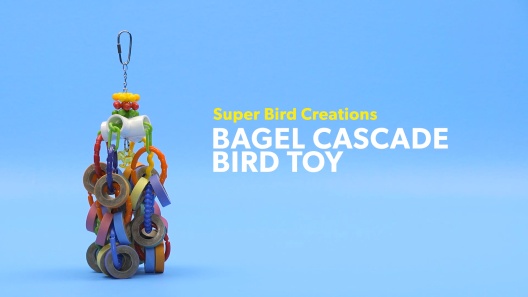 Learn More About Super Bird Creations From Our Team of Experts
---
Compare Similar Items
| | | | | | |
| --- | --- | --- | --- | --- | --- |
| | | | | | |
| Customer Rating | | | | | |
| Price | | | | | |
| Bird Type | African Grey, Amazon, Cockatoo, Macaw, Parrot | African Grey, Macaw, Cockatoo, Amazon, Parrot | African Grey, Amazon, Macaw, Cockatoo, Conure, Parrot, Quaker | African Grey, Amazon, Cockatoo, Macaw, Conure, Parrot, Quaker | Parrot |
| Material | Plastic, Metal, Cardboard / Paper | Plastic, Coated Metal, Metal, Cardboard / Paper | Coated Metal, Plastic, Metal | Plastic, Coated Metal, Metal | Cotton, Plastic, Natural Fabric |
| Toy Type | Chew Toys | Chew Toys | Chew Toys | Chew Toys | Climbing, Chew Toys, Exercise Wheels & Balls |
---
Questions & Answers
4 Customer Questions
---
Where can you purchase the replacement bagels?
Answer by • Sep 15, 2018
At this time, replacement bagels are not available.
---
Where is toy made. United States or import.
Answer by • May 29, 2020
This toy was assembled in the USA.
---
What are the general dimensions of this toy?
Answer by • Oct 20, 2018
This toy measures 12 x 4.5 x 4.5 inches.
---
What is used for adhesive in the bagels ?
Answer by • Sep 07, 2021
The paper bagels use a non-toxic starch based adhesive.
---
---
By Becky on Mar 10, 2022
My Cockatoo loved this toy too much - Destroy!
These cardboard rings are the best for Sunny. Although he went through the toy in about an hour, I could restring the rings he didn't destroy. I've used the plastic rings that held the cardboard rings many times before and they are strong enough to reuse. The top plastic inside the pvc wasn't strong enough and he destroyed.
---
By Stacey on Jan 24, 2022
Cockatoo Approved
I've tried many many different toys for my 7 year old cockatoo and so far this one has been the biggest hit in terms of how much he liked it and how long it lasted. I purchased it because he previously had a love for the donuts, however he was hardly interested in the donuts on this one and wanted nothing but the plastic pieces. Those pieces have kept him so incredibly occupied and overall it gave him about 3 months worth of play before he finally destroyed them to a point where it was time for them to go in the trash. While its a shame that he wasn't interested in all of the pieces, this is now my go to toy for him since it lasts longer than anything I've ever gotten him and he seems to enjoy it the most.
---
By madhen on Nov 28, 2021
Great toy for a feather plucker!
I bought this for my CAG, who enjoys it. But it turns out that my little Hahn's macaw, who does not usually like these types of toys *LOVES* these bagels!! He is almost naked, because he never got over spending the first year or so of his life isolated in a garage with no stimulation or company, and he overpreens himself and anyone/anything who gets close to him. I have never been able to get him to stop, but this toy comes close!! The downside is that he will strip this thing in less than 48 hours, so I am spending a fortune on replacement bagels, but it is worth it, because he actually has let his wing feathers grow back in. (I suspect the rest of his body is just too damaged for feathers to grown back.) I still have to keep the house warm in the winter to keep his little nekkid body warm, and he still loves his thermal perch, but at least his wings are warm again! :)
---
By Birdmama on Jan 17, 2022
Great toy but MESSY
My grey absolutely loves this toy. But be prepared, you will have to clean the cage (or your floor) once your bird is done With it. It's like giving a kid a box full of popcorn box filler. They love it but you will have a giant mess to clean up. In my opinion, totally worth it.
---
By parrot on Nov 6, 2021
Finally a toy my African Grey loves
This is a toy I find worthy of a review. Our African Grey loves shredding the paper bagel rings. The toy is made with those plastic connected links, so it will be easy to simply put some more bagel rings on it (available in bags through Chewy). A happy bird makes happy bird owners. This toy keeps us all happy.
---
By Steph on Oct 30, 2021
African greys favorite toy
This is currently my African Greys fav toy. He's usually a bit scared of new things but he took to this right away. It's nice it includes pieces he can destroy easily like the cardboard rings and pieces that last longer like the plastic rings. You can also hide bits of fresh veggies in the cardboard rings to use for foraging.
---
By CraigH on Nov 1, 2021
Brilliant parrot jungle gym
My African Grey loves this one to pieces. Colorful, shreddable, and always the first to go whenever the new toys arrive. The added bonus is that the shreddings absorb a surprising quantity of droppings and make keeping the cage area presentable even easier. (Just scoop out and reload). Highly recommended!!!
---
By junk on Nov 23, 2021
expensive junk
came in box already falling apart. barely played with it and more of it fell apart.
---
By Donuts on May 10, 2021
Shredder Satisfaction
My African Grey is pretty picky about his toys, he really only likes it if it's easily destroyable, and this thing is not only successfully keeping him entertained shredding the paper donuts...it's refillable! Right now we are going on a week of casual destruction (most maybe last a few hours or a day) and when it's down to just plastic I'll order the refills! Great!
---
By Merrick on Aug 21, 2021
She likes it
My bird loves to chew so this toy she liked it. Chewy usually has good prices too.
---