Tough-1 Easy Breathe Easy Grazing Horse Muzzle, Black
---
About This Item
A poly-nylon adjustable muzzle that features straps to help keep it in place
Features large holes in front which allow your yearling to breathe easier
The nylon muzzle and halter design work together to control over-eating by limiting intake with a small opening at the bottom of the muzzle
Also features an easy-to-use quick grip closures
Closed slotted bottom reduces the horse's access to grass, yet allows unlimited water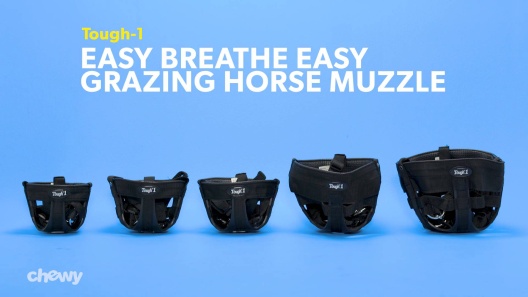 Learn More About Tough-1 From Our Team of Experts
---
Compare Similar Items
| | | | | |
| --- | --- | --- | --- | --- |
| | | | | |
| Customer Rating | | | | |
| Price | | | | |
| Material | Nylon, Polyester, Synthetic Fabric | Neoprene, Rubber | Polyester, Synthetic Fabric | Nylon, Synthetic Fabric |
| Pattern | Solid | Solid | Solid | Solid |
| Tack Type | — | — | Stable Halters | — |
---
Questions & Answers
8 Customer Questions
---
I have a chubby Arabian mare 14.2 who needs a grazing muzzle. She has a fairly small head so what size should I get?
Answer by • Jul 05, 2017
To best select a size, you'll want to measure your mare. All the straps adjust, so you'll want to be sure the muzzle itself fits comfortably. For the Large Horse size the muzzle portion measures approximately 29 inches in circumference and 7 inches in depth. The Horse size is 28 x 6 inches, the Yearling is 23 x 5 inches, the Pony size is 22 x 5 inches, and the Miniature size is 21 x 5 inches.
---
Does this muzzle include the halter? The pictures tell a different story than the video , which looks like a muzzle only.
Answer by • May 20, 2018
The Horse Muzzle also includes the halter.
---
Is this grazing muzzle a breakaway and if so, can replacement parts be purchased? Thanks!
Answer by • May 18, 2018
This muzzle is a breakaway as the crown piece is Velcro. Replacement parts can be purchased through the manufacturer.
---
What size would be best for a mini donkey?
Answer by • Jul 07, 2020
We recommend measuring your pet to find the perfect size. The sizing chart may be located by clicking the "Size" tab, next to the "Description" and "Instructions" tab, just under the product photos.
---
---
---
By Sasha on Aug 14, 2022
Design of product
My horse was happy to see this when it arrived. Although she HATES having to wear it, she seems to like this one better than some of the others we have tried. The holes to breathe through are larger, and the hole to eat grass through is larger. Since we are having a drought in our area, grazing muzzles with smaller holes have been very frustrating to her. My only issue has been that sometimes she gets it off and I have to go searching the pasture to find it.
---
Better than the round hole versions
I only give 4 stars because like others, if you have a horse that's rough on grazing muzzles these may not hold up, especially if used every day over the course of the summer. I only use them intermittently and the horses seem to tolerate them better than the round hole versions. With those they just look at you and won't eat, with these it must be a little easier to get the grass in because after they try to get them off when first left out then they go about eating. The only problem I've encountered is it rubs 2 if my 3 horses chins raw. And I'm mean bad raw. I think it's because they run there face forward and back in the muzzles to get more in, I've seen them. Plus, I think the other horse has a smaller mouth. They also almost need a strap of sorts on the top of the muzzle to secure to a halter at the noseband or poll cause they kind of hang off there face awkwardly. But other than that for lighter use I'd give them a try. For a horse that doesn't like to destroy thing they may hold up all summer. And the price isn't that bad either. And the hole is 1-1/4" x 2" in case anyone wants to know. With the 2" running up and down
---
By rsj15389 on Jul 6, 2022
Tough-1 Easy Breathe Easy Grazing Horse Muzzle
Absolutely love this grazing muzzle for my mini's! Fit perfectly (with numerous places if adjustments are needed) and double velcro as a break-away. Only 1 mini needed the break-away and it worked perfectly. I do wish they came in other colors but not a priority. I highly recommend this muzzle!
---
By Misty on May 4, 2022
Great Product
Chewy stands by the products they sell! I have used this muzzle for @1 year to help a HEAVY horse stay healthier! She generally keeps the muzzle on and the part that usually breaks down over time it the grazing hole in the middle- normal wear and tear! My girl has it on 50% of her day every day. She seems annoyed with the muzzle when it first goes on but then ignores it. I did have a muzzle that the stitching on both sides of the large nose holes pulled out -the FIRST day on! This allowed my girl to easily slip it down off her head and graze away! Chewy replaced with out any hesitation.
---
By MuleMom on Apr 15, 2022
Wow! Great product!!!
I have a rescue miniature horse who had previously foundered. This amazing grass muzzle allows him to get exercise by walking the field and getting little snippets of grass here and there, but not enough grass to harm him. This has been a life-changing situation for him. He had been in a dry lot, but he missed getting to eat a little fresh grass. The problem was that it didn't take much to founder him. This particular muzzle allows him to walk around for 10 hours a day in the field with his friends and get tiny nibbles of grass, and yet stay totally healthy!
---
By goldengate99 on Mar 6, 2022
LASTS ABOUT ONE WEEK
I love the size of the hole in this muzzle, but it does not hold up, the side straps detach almost immediately and other than a rivet there is no way to reattach the nylon to the thick rubber sides. I bought 2 and they were both ruined in one week.
---
By Terrible on Nov 4, 2021
Not very sturdy
I find it ironic that this is called Tough-1. I have purchased many muzzles and most last me a full year sometimes two. This one ripped where the sides attach to the muzzle in less than 2 days. I tacked them back up so I would not have to buy another one for this year. The straps that adjust, do not stay adjusted. My girl came in with it gone or as a necklace. The slightest pressure and she was able to loosen it. All I can say is I am happy we have had two frosts and muzzle season is over. This was terrible.
---
By Dyas on Oct 25, 2021
Grazing muzzle
Nice muzzle plenty of room to breathe and she seems very comfortable but it did not hold up well, the rubber in the grazing area broke away in just a couple of months. I guess for the comfort I'll just consider it disposable
---
By Judi on Aug 14, 2021
Grazing muzzle does the job
I hated the idea of putting a grazing muzzle on my mare, but the vet says she is 200# overweight, and I'd rather have her out to pasture with her friends than standing in her stall. She's only been wearing it for 10 days, but she has adjusted, has no problem drinking water or getting a little grass. It comes off for several hours a day when she is inside. With luck in another week we can just put it on her every other day or so. This is a large. She is a 16.1 Friesian TB cross. Fits comfortably. I put it over her fly mask to reduce the little bit of rubbing she has on the sides of her face from it.
---
By Dolly on Sep 18, 2021
Muzzle review
I purchased this muzzle and it arrived about 2 weeks ago. My mare wears it almost 24/7. It seems the velcro is stronger than the sewing. While the velcro did give way, the basket part also ripped. This is not a chewey issue. Its the muzzle issue
---