API Proper pH 7.0 Aquarium Water Treatment, 8.8-oz bottle
Autoship
(Save an extra 5%)
Choose Autoship at checkout for regular deliveries.
Why Autoship?
FREE access to chat with licensed vets 7 days a week.
Save 5% on all future Autoship orders.
No fees, no commitments - cancel Autoship anytime.
Frequently Bought Together
---
About This Item
Formulated to help set and stabilize pH at 7.0 for fish who thrive off of this level.
Helps to remove chlorine and detoxify heavy metals, for a more habitable environment for your finned friends.
Specifically designed to help modify and maintain pH levels in freshwater aquariums.
Easy to use, fast dissolving and is ideal to use during setup and water changes.
Contains aloe vera to help heal and regenerate damaged tissue, plus electrolytes to help prevent electrolyte imbalance.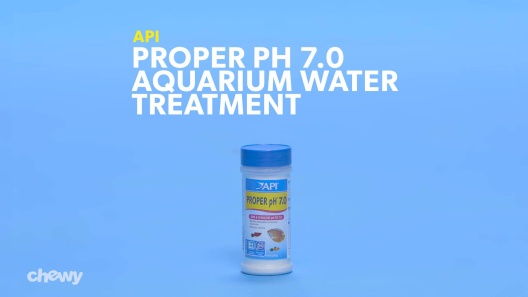 Learn More About API From Our Team of Experts
---
---
About API Water Conditioners
It's Smart To Be Proactive!
The best way to keep your aquarium clean is to maintain good water quality. This will help keep your fish strong and vibrant and prevent disease. Water conditioners and test kits from API can help you keep your aquarium water safe and healthy.
How Do I Maintain a Healthy Environment?
It is important to test your aquarium water weekly to ensure it stays healthy for your fish. In addition, a bi-weekly partial water change of no more than 25% will help reduce toxic buildup, remove debris the filter missed, and replenish the oxygen available to your fish.
Feed Twice Daily and Test Water Weekly
Feed your fish twice a day, check their water temperature, and observe them to make sure they are active. You should also test water quality weekly for optimal safety. For fish to thrive, their water must closely match that of their natural environment—poor water quality can cause stress, illness and even fish loss. The 6 important parameters for healthy aquarium water are ammonia, nitrite, nitrate, pH and water hardness (GH & KH). All of these can vary over time and are invisible to the eye.
Change Water and Restore the Ecosystem
In a closed aquarium environment, there are no natural rivers or streams to carry away debris and other waste materials. That is why you should replace 25% of your aquarium water every two weeks, making sure to add water conditioner to your tap water to make it safe for your fish. You should also change your filter media and clean your gravel monthly. Adding beneficial nitrifying bacteria with API Quick Start when you do will help restore your aquarium's fragile ecosystem and avoid disruption.
What Do API Products Do and When Do I Use Them?
API Test Kits
Use test kits weekly to monitor water quality parameters, which can vary over time and impact the health of your fish.
API Stress Zyme
Using this every week will help keep your aquarium clean and your gravel and ornaments sludge-free.
API Algaefix
Use weekly to control algae growth and keep aquarium glass, ornaments and plants clean.
API Stress Coat
Use every 2 weeks during water changes to make tap water safe, and when adding fish, or when fish are injured.
About API
The team at API has a passion for fish and understands the rewards and relaxation fishkeeping can bring. For almost 60 years, they have developed premium products with a focus on proven and effective results. API offers a range of testing kits, water conditioners and nutritionally superior fish foods. They are dedicated to making a better underwater world for the benefit of fish and those who keep them.
Shop API
Compare Similar Items
| | | | | | |
| --- | --- | --- | --- | --- | --- |
| | | | | | |
| Customer Rating | | | | | |
| Price | | | | | |
| Autoship | | | | | |
| Fish Type | Tropical Freshwater | Goldfish, Tropical Freshwater | Cichlid, Tropical Freshwater | Cichlid, Marine Fish, Marine Invertebrate, Tropical Freshwater | Tropical Freshwater, Betta, Goldfish, Bottom Feeder, Cichlid |
| Aquarium Type | Freshwater | Freshwater | Freshwater | Freshwater, Saltwater | Freshwater |
---
Questions & Answers
12 Customer Questions
---
I have a betta in my tank already and my pH is .5 off and would like to add this agent. Is it safe to add when my fish is already in the tank? Or is it recommended to take the fish out? If so, how long does it need to be in the tank before I put him back in? I also have a snail.
Answer by • Jan 22, 2018
You use this product with or without fish inside the tank. Use when setting up a new aquarium, adjusting pH in an established aquarium or changing water.
---
Is this safe for aquatic turtles?
Answer by • Apr 08, 2019
This product is safe for use with aquatic turtles.
---
Is this safe for a community fish tank with fish that range between a normal 6.5 to 8 pH
Answer by • Jan 09, 2019
This product is formulated to help set and stabilize pH at 7.0 for fish who thrive off of this level.
---
I'm a boo is but does this test water hardness
Answer by • Feb 04, 2021
API PROPER PH products are pH buffers. They set the pH of aquarium water at a particular level, and also function as a dechlorinator. This means no additional dechlorinator is needed when using these products to treat water.
---
---
18 Customer Reviews
---
Filter by reviews that mention
---
By Melpepsi on Aug 30, 2022
Good product
My PH is back to normal thanks to this! It was high but it finally came down thanks to API.
---
By Ragsanchance on May 23, 2022
Good Stuff!
This has kept Spot healthy for 13 years. Being a large Goldfish, Spot needs regular water changes and his water is always just right!
---
By 404NtFnd on Apr 25, 2021
Works at a cost
The water out of my tap is 8.2pH. I've kept an aquarium for 20 years and recently moved, so having to adjust the pH is new for me. This has vague instructions. Experience says to disolve separately in a bucket of water and add to the aquarium slowly. It worked, bringing my 29 gal aquarium down to 7.0 to 7.2 which most of my fish thrive at. However, the water is no longer crystal clear. At first I thought it was conflicting with the gimmick tablet in the Tetra Whisper filter cartridges that supposedly helps with pH and keeping the aquarium clean of algae growth, but that's not the case. I think I will be looking elsewhere for solutions to reducing the alkalinity of my tap water... (Currently fighting a black beard algea infestation that destroyed most of the plant decor I had...)
---
By Daniel on Apr 23, 2021
Murky gray haze. No pH changes.
I used this pH adjuster in my 10g tank a few times, and it did not increase the pH at all. Even worse, today, the tank was crystal clear all day until I put this in to try and fix the acidic water, and within an hour, it had a horrible gray haze that even a 2/3 water change and clarifiers has not fixed. Had this same odd issue for over two months with regular, significant water changes before it finally cleared up. Now that I realized what was doing it, I will be throwing this out ASAP. Definitely avoid this!
---
By 404NtFnd on Apr 17, 2021
It works but is vague with how to.
Wish there were more instructions on this. The water out of my tap is 8.2 pH. I also use freshwater aquarium salt. The instructions on this are very vague and past experience cautioned that I dissolve the powder compound in a separate bucket before slowly adding it to the aquarium so as to not shock the fish. 29 gal water + 4 teaspoons compound dissolved in 2 quarts of water and added after 20 minutes dropped the pH to 7.2 which is in acceptable range for my fish. There was some slight cloudiness but it cleared up within an hour.
---
By Rich on Apr 13, 2021
NOT FOR USE IN PLANTED AQUARIUMS
It may work fine in non-planted aquariums, but apparently it contains a phosphate buffer which will harm live plants. Hence my 1 star review. I also learned that it is best not to "chase" an idea pH. Better to explore natural products, e.g. peat pellets, that gradually change and hold the pH. I did not see the planted aquarium warning in the description when I ordered it. I am going to attempt a return with Customer Service.
---
By dezibo77 on Feb 27, 2021
Doesn't work
I have used this in my 30g hospital tank multiple times to increase my pH. Never increased my pH once. Tank is still at 6.6. very disappointing product.
---
By ethanmom on Jan 10, 2021
Instant Solution
did exactly what I needed done, no fuss, no muss i didn't have to empty the tank, didn't hurt the fish - just perfect!
---
By Papa on Mar 12, 2021
PH Water Treatment
The Only Thing That I Could Say Is The Product Works & Works Well
---
By Matthew on Jan 24, 2021
Awesome product
Worked like a charm. tested it with 3 different testing kits all came out 7.0
---