Calm Paws Calming Dog E-Collar
---
About This Item
Safe and humane way to prevent pets from aggravating a healing wound or injury.
Also helps break the lick/bite and itch/scratch cycles that some pets with skin conditions prone to.
Lightweight and adjustable design features a comfort edge so dogs can go about their normal routine.
Use with the Calm Paws Calming Gel Patch to help soothe and support pets with essential oils.
Small fits neck sizes 5.75 to 9.5"; medium fits 7.25 to 12.25"; large fits 9.5" to 15.5"; x-large fits 12.25" to 21"; xx-large fits 15.25 to 25".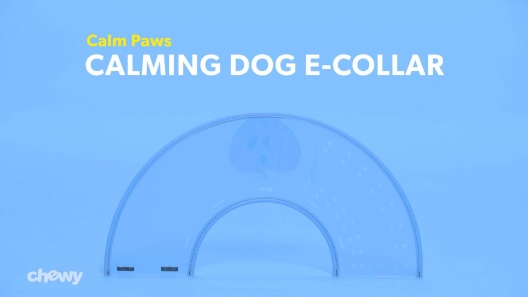 Learn More About Calm Paws From Our Team of Experts
---
Compare Similar Items
| | | | | | |
| --- | --- | --- | --- | --- | --- |
| | | | | | |
| Customer Rating | | | | | |
| Price | | | | | |
| Autoship | — | — | — | | — |
| Breed Size | Medium Breeds | Small Breeds, Medium Breeds | Extra Small Breeds | Medium Breeds, Small Breeds | Giant Breeds |
| Health Feature | Calming, First Aid | First Aid | First Aid | Recovery | Recovery |
| Lifestage | Adult | Adult | Adult | Adult | Adult |
| Material | — | Plastic | — | Foam | Plastic |
---
Questions & Answers
6 Customer Questions
---
What is the length of the xxl frim neck to snout. My dog had surgery on his hind leg.
Answer by • Jul 12, 2022
From neck to snout, the Small measures 4.5 inches deep, the Medium measures 5.25 inches deep, the Large measures 7.25 inches deep, the X-Large measures 9.25 inches deep, and the XX-Large measures 12 inches deep.
---
Does this come with the calming gel patch, or is it sold separately?
Answer by • Sep 20, 2022
The Calm Paws Calming Gel Patch is sold separately.
---
Is this appropriate for a post-surgical collar?
Answer by • Jun 18, 2020
This collar is ideal to use post surgery and for prevention of licking, hot spots, irritation and self inflicted wounds.
---
I'm on my third one of these (calming e collar)The actual collar holds up but the plastic pins used to secure it shear off. Is it possible to just buy replacement pins.
Answer by • Mar 30, 2020
At this time, replacement parts are not available for this collar.
---
---
24 Customer Reviews
---
Filter by reviews that mention
---
By izero on Aug 25, 2022
Probably works for smaller dogs/sizes
Purchased for a 120 lb very active dog who had hot spots on her neck and was scratching them raw as I looked for the right medicine and food for her. The good: 1) It is more flexible than the traditional plastic and stiff elizabethan collars of the past. It had a little give when she ran into the doorways and walls. 2) It has a pocket for a small gel pack (has to be purchased separately) which is great for "hot" dogs, like mine. And it would have been in the perfect spot for her hot spots. 3) I love the color. The Not-so-good (for my girl) 1) While it's easy to put on with clips, it's also easy to pop off. She popped it off everytime it was put on her because she ran into doorways. So she couldn't use it. In summary, the clips that fasten it together are rather small and very easily come undone. There are many of them on the xtra large size purchased. The smaller sizes are probably much more secure. Adding velcro would help also and I'll do that if I use it again. I'm keeping it in case anyone else here develops hot spots next year. Lastly, the gel pack is sold separately and that should be noted prominently in the listing for us frantic humans looking for quick relief for our companions. While this didn't work out of the box for my very large, very active dog, I will add velcro to secure it and keep it from popping off in the future should we need it again. If I was shopping for a much smaller dog, this product would probably be my choice in the future.
---
By DeeL on Jan 24, 2022
Calming E-Collar
I love these e-collars, I just wish they made a chew proof one. We go through one e-collar every two or three days LOL!
---
By Ainge on Mar 16, 2021
Great pet item
My kitty Tiger had surgery on March 1st. She was spaded and she kept licking her stomach. So I placed an order with Chewy to order her a small e collar. It arrived in 2 days which was great. A friend of mine bought me a e collar from a pet store to use for Tiger. She really needed a e collar to stop her from licking her stomach. It was a little big and Tiger was struggling to eat her food. So I was happy when the e collar I ordered from Chewy's arrived. So I switched the other e collar with her new e collar from Chewy's. At first Tiger struggled and fought with me cause she didn't want this e collar on. She wore it for 14 days. I took it off of her for a couple of minutes several times a day. So she could groom herself, then it went back on. I recommend buying this e collar when your pet is scheduled for surgery especially if the surgery is on their stomach. Tiger is free now, she doesn't have to wear her e collar. She's a happy kitty. LOL
---
By Collar on Mar 3, 2021
Calming collar review
The collar was ordered after Myla, our toy poodle, had surgery to be spayed. She was afraid of the collar so she only wore it twice. I put a onesie on her which worked good. She weighs only 5 pounds so it was almost as big as her. Surgery is over, sutures are out and she it back to being our little girl again. I do not have an issue with the product. Couldn't know in advance she would be afraid
---
By 3xdoggs on Jan 8, 2021
works as it should
We have this cone for our Great Pyrenees, it's worked great for when she had a hot spot by her tail as well as when she had her spay/gastropexy...she doesn't mind this cone and sits nicely for us to put it on, the calming patch is pleasant to us and seems to soothe her a bit. She's able to eat and drink and can also do stairs with this on. We've had it a year so far and clasps are holding up very well to being put on and off often the times we've needed it (we give her supervised time daily to be fine free). When the clasps or holes do eventually wear down to the point we need to replace the e-collar we will see if the calm paws soft caring collar is available in her size as we love that one for our mini poodle but this one certainly is better than other cones we've used in the past.
---
By brownie on Sep 13, 2020
don't recommend very disappointed
First of all that she doesn't even fit into it her snout is longer than the cone secondly it's very uncomfortable I will give this a 0 star rate very unhappy
---
By greatbed on Feb 9, 2020
best e collar
My Aussie came home from the vet with this on in an XXL, it was huge. I downsized to the XL (he's about 45 lbs) and he is able to still eat and drink while wearing it.
---
By Diesel on Oct 22, 2019
Good for bully breeds
So far this product seems to be working well for my sons very large knecked muscular pitbull. He has easily damaged other cones its holding up great after a week. Next i want to try the inflatable one.
---
By Lolly on Oct 14, 2019
To small to keep my 6lb morkie from reaching her sutures
6lb morkie could reach her sutures with it on so it was never used, but luckily id bought the lion head collar so we had a backup which was perfect.
---
By KMKH on May 19, 2019
Fantastic Cone
We have a 7 month puppy who just got spayed. She was instantly at her stitches at the vet so they sent her home with a standard cone. She hated it to say the least - it was sized properly but was so long and wide that she would catch it on the ground when she was trying to walk because it was heavy, and she would smash into everything because it was so wide. It also wasn't adjustable - it had a string tying it to her neck which we were desperately afraid she would eat. She eventually found a way to get her mouth under the edge of the cone and eat away at the plastic which left us desperately searching for a better solution. This cone is perfect. It's shorter and stays closer to her face because it's adjustable with snaps which make it so easy to take on and off or adjust sizing. The edges have soft leather so it doesn't dig into her neck or damage anything if she runs into it. She seems to sleep much better with this cone versus the other one and I definitely don't notice her trying to take it off as much. It's much lighter and she walks around normally, has a much easier time eating and drinking with it on, and overall seems much happier. The only thing she can reach if she tries hard enough is her leg area. Just be aware if your pup has a lower leg injury that you need a cone for - but for spaying purposes it is perfect. We didn't use the calming patch for this so I can't comment on that but the rest has worked out great.
---