CatTwig Silver Vine Stick Cat Chew Toy, 6 count
Frequently Bought Together
---
About This Item
Made with all-natural 100% organic Silver Vine.
Bark exfoliates plaque, keeping teeth and gums clean and healthy.
High potency effects last 20-30 minutes, much longer than catnip.
Promotes play and exercise in lethargic and lazy cats.
Relieves stress but inducing a state of calm and relaxation.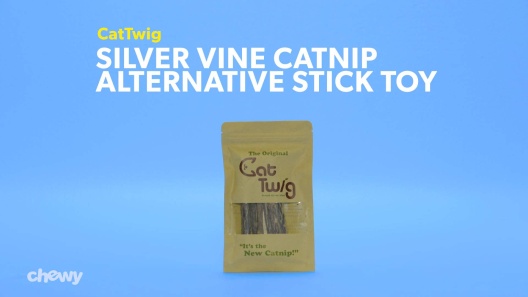 Learn More About CatTwig From Our Team of Experts
---
Compare Similar Items
| | | | |
| --- | --- | --- | --- |
| | | | |
| Customer Rating | | | |
| Price | | | |
| Material | Grass / Hay, Plant Material | Rope | Thermoplastic Rubber, Polyester, Synthetic Fabric, Rubber |
| Toy Feature | Tough Chewer, Dental, Teething | Catnip | Catnip, Crinkle |
| Toy Type | Chew Toys | Chew Toys, Chasers | Plush Toys, Chew Toys |
| Lifestage | Adult | Adult | Adult |
---
Questions & Answers
12 Customer Questions
---
Is this safe for the cat to ingest?
Answer by • Aug 31, 2017
This product is made with bark from the Silver Vine plant so it's intended to be used as a toy, not eaten.
---
how many uses can we get out of one stick? Or will they just chew it up in one sitting?
Answer by • Jul 23, 2018
The effects of silver vine generally last from 20-30 minutes. Your cat may revisit their silver vine several times throughout the day. We recommend letting your cat enjoy silver vine 2-3 times per week. Some cats can become desensitized to it after extended exposure. This can be reversed by taking it away for an extended period of time.
---
Do they chew it up til it's completely gone or do you have to take it away once it gets to a certain size?
Answer by • Oct 20, 2018
Some cats will thoroughly chew the sticks while others do not. We always recommend supervision during any play or chewing session. If your pet is able to chew or break off any pieces that could pose a safety risk, we recommend throwing those pieces away.
---
Is it safe for kittens?
Answer by • Jul 15, 2018
These sticks are safe for cats of all life stages.
---
---
---
By Piratemom on Jun 10, 2022
Great solution for chewers
We had a foster who preferred to chew on the wand part of his wand toys more than he enjoyed playing with the toys at the end of them, so we tried these. Perfect! Instead of chewing on plastic and destroying toys he went for these instead. Bonus: our resident cat loves them too! He doesn't really go for catnip but he'll play for an hour with one of these twigs. They don't last long but that's ok: they're sticks.
---
By Teri on May 18, 2022
Not so much
My 3 year old cat chews stuff, destructively - chairs, woodwork, rugs, lamp shades etc. I thought this might help and although she does chew on these sticks, they make a mess and splinter so I'm not comfortable letting her chew on them when I'm not watching. It seems that she could choke. I'll carefully let her chew on these twigs but won't re-order. They don't appear to be anything more than twigs you can get off a tree. Maybe they taste good. Maybe I'll have her teeth pulled!
---
By SoJo on Jun 9, 2022
He loves it
I got this for my cat after trying catnip and other "cat herbs". He has been indifferent to any that I've tried in the past. This, however....!!! I gave it to him intending to just let him sample it but after he got ahold of it, there was no taking it back. He loved it!
---
By Maxie on May 9, 2022
Hoping for more excitement
After reading the reviews, I figured my two cats would either love them or hate them. One cat sniffed the two sticks I brought out for a few moments, and then had a disappointed look on her face. The other cat sniffed for a few moments and then actually chomped on one of his sticks several times and then lost interest. Not much success, but still worth a try at this price, I'd say. Anything for our kitties, right?!
---
By Hailstorm on Jun 2, 2022
Great cat toy
This was an instant hit for my cats. 2 out of the 3 immediately grabbed it and attacked it. They enjoy chewing it and rolling around. The third enjoys smelling it and occasionally she bites it if I shake it for her.
---
By Skyler on Apr 11, 2022
Bengal approved!
My bengal boy Taz doesn't react to cat nip at all. Before I even got these out of the bag the first time he was so interested in them! Shrugged it off as curiosity since he knows the chewy boxes but the second I gave him one it was a battle zone with how wild he got!! Complete hit and he looks for them constantly because he also loses them constantly! Worth the money if your cat likes them, just try to ration them if you can to get the most out of them.
---
By Lisa on Mar 26, 2022
My Little Man "Happy Gilmore" LOVES These Twigs !!!
My handsome little man, Happy Gilmore, just loves these twigs ! As soon as I opened the bag and gave him one, he immediately took it and started chewing away at it ! He was showing these twigs no mercy ! Even if the twig has lost its "scent" of catnip, I still use them as toys as he swats them around and plays with them. Good for his teeth too !
---
By Drew on Apr 3, 2022
The purrfect alternative to catnip!
My cat Noodle isn't affected much at all by catnip, but silvervine works wonders on him. He absolutely loves sniffing, playing with, bunny kicking, pouncing on, rolling over, face rubbing, and cleaning his teeth chewing on these sticks. Each stick lasted for about a week or a little more before losing its effectiveness and needing to be replaced. They make my Noodle very happy, and that alone means everything. I'll definitely be ordering more when he runs out.
---
By Terri on Apr 19, 2022
Not For me
I have a cat, Butters, who likes to chew on anything plastic. I ordered these for her. All of my cats really liked the smell and rolled on them but none of them will chew on it. Im sure this product is fine for other cats but mine did not like it.
---
By Jimmie on Mar 6, 2022
It's a stick
Had to try these out for something different for my cat. He really doesn't react to them like catnip but does have a little reaction to them. He seems to try to play with them but in the end they are just sticks. I drilled a hole through one and hung it up for him but his play time is really limited. He does play with them but not a lot of interest. Good one off purchase but I wouldn't buy them a second time.
---