Comfort Zone Multi-Cat Calming Diffuser for Cats, 30 day
Frequently Bought Together
---
About This Item
A veterinarian-recommended solution for keeping your cat companions happy, safe and calm.
The Opticalm diffuser's modern design allows the bottom outlet to remain open for other devices and appliances.
The Opticalm diffuser releases Comfort Zone's trusted pheromone formula, which helps cats feel safe and happy by signaling an area is familiar.
Promotes a sense of calm in households that have one cat or multiple cats!
Helps reduce tension, fighting and stress in homes with multiple cat companions, so they can live in harmony.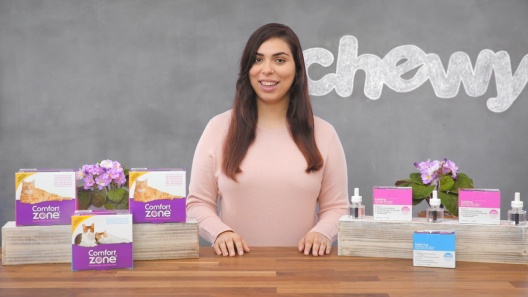 Learn More About Comfort Zone From Our Team of Experts
---
Compare Similar Items
| | | | | | |
| --- | --- | --- | --- | --- | --- |
| | | | | | |
| Customer Rating | | | | | |
| Price | | | | | |
| Autoship | — | — | — | | |
| Top Ingredients | Isoparaffinic Hydrocarbon (a petroleum distillate) 45.00% Analogue of Feline Pheromone 5.00% Other Ingredients 50.00%... | Analogue of Maternal Cat Pheromone (2%), Isoparaffinic Hydrocarbon (100g).... | Analogue of Maternal Cat Pheromone (2%), Isoparaffinic Hydrocarbon (100g).... | Analogue of Feline Facial Pheromone: 2%. Excipients to: 100g | Analogue of Feline Facial Pheromone: 2%. Exipients to: 100g |
| Lifestage | Adult | Adult | Adult | Adult | Adult |
| Closure Type | N/A | N/A | N/A | N/A | N/A |
| Health Feature | Calming | Calming | Calming | Calming | Calming |
---
Questions & Answers
11 Customer Questions
---
What's the difference between the new and old multi-cat formulas? The percentage of pheromones is the same in both and that's what is supposed to create the calming effect.
Answer by • Jul 15, 2019
The new formula contains 2 times more calming pheromones, an improved odor profile, and a more consistent month-long diffusion than the previous formula.
---
The picture shows 3 diffusers and 6 refills. The box also shows this. The desription says 1 diffuser and 1 refill. That you get 3. So which is it?
Answer by • Jul 14, 2019
There are two options within this product. The first option is the 1 pack, which includes one diffuser, and one refill. The second option is the 3 pack, which includes three diffusers, and six refills.
---
What is the difference between Multicat Pheromone and the Calming Diffuser if they both have the same top ingredients?
Answer by • Jan 26, 2021
The Multicat Diffuser uses pheromones to reduce tension and fighting between your feline friends. The Calming Diffuser uses soothing pheromones to keep your cat calm which can help reduce urine marking and scratching inside your home.
---
Can I use the old diffuser with the new comfort zone 2x refills?
Answer by • Nov 10, 2019
It is recommended to use the new model of diffuser. The new diffuser technology includes the following- Visible Vapor: At times your Comfort Zone® Diffuser may emit a vapor from the top of the diffuser. This is a normal occurrence and reinforces that the diffuser technology is working. Detectable Odor: Although the diffuser is unscented, in rare instances you may sense a slight odor from the diffusing pheromones. This too is normal and poses no harm to the family, the pets or the home. Heat: The diffuser may feel warm to the touch, which is normal and safe. The manufacturer has also added a new auto-shut-off feature to the new diffuser for an added layer of protection and security.
---
---
---
By Mary on Dec 9, 2021
Oil all over the wall
I tried this because I brought a new cat into the house and one of the older cats hissed constantly. Older cat continues to hiss so it doesn't appear to be effective. But worse than that, this thing diffused oil up my wall and behind the picture hanging on the wall! I thought a pipe broke in the wall until I realized it was oil. The photo is fuzzy but you can see the streak going right up the wall over the diffuser unit. And there are oil stains all over the back of my picture. Not a good design at all!
---
By v2v2 on Jan 1, 2022
Didn't work for our household
Your rescue male 4-year-old cat had an extremely bad reaction to this. I really thought he was going to attack us. I was very frightened. He hissed and growled like never before. Really strange. So, this does not always works as stated. As soon as we unplugged the device, he returned to normal. The results were hard to ignore. Take that into consideration. Some cats may be worse with this.
---
By Hello on Feb 25, 2022
Doesn't Work
Seemed to have quite an opposite effect amongst my cats. Wouldn't purchase again & wouldn't recommend.
---
By Savior on Oct 17, 2021
Cat Calmer
I have four cats, and I really need Multi-cat Comfort Zone to keep them all calm. Sometimes, I forget to replace the fully evaporated one with a new one; but they remind me by having a good fight with hairs flying every where and screeching and all. Then I immediately have to plug in a fresh one to keep them relax. I put one in each of room (bedrooms, living room, etc.).
---
By Chrissy on Aug 20, 2021
Calms them down
Took awhile for the plug in to actually work but we got it going now and it really seems to work. My babies rajah and sugar have finally stopped the real ruff playing. Gonna keep it up. Much more peaceful.
---
By catdogpackdad on Jul 8, 2021
High, high hopes for a livin' ...
Upon opening, I wished I had received the new model of diffuser--so that I could use the other socket in the outlet. I was sent the older model. I had high hopes this would resolve the tension between my territorial cat and my bully cat. If anything, in past weeks I have noticed more cat fights involving the bully with the other 3 cats (4 in total).
---
By Kelly on Aug 4, 2021
Works Okay
I got this to introduce a new cat to my home, I have two other adult cats and it seemed to help them adjust a little easier. However, the diffuser gets really hot and the paint started falling off so I'm not sure I want to get a refill.
---
By 4catmom on May 15, 2021
Seems to help
I tried this because I was having numerous problems with Feliway's diffusers running out of product too quick. This was a quality control issue since the I didn't have a problem with the previous diffusers ( the company says to change them every 6 months) Chewy's customer service was very helpful but Feliway's was not, they were rude & dismissive ! I decided to try the comfort zone and I'm not going through product in 2 weeks the way I was with feliway so at least the diffusers work and it's less expensive. I think I have found a good replacement
---
By SandyL on May 15, 2021
Interesting
This does seem to really work and noticed a better demeanor with my two cats immediately. One other review mentioned the bottle emitting a crayon smell once half used and I had the same experience. With that said I plan to purchase an additional set. I give the product a 5 star rating and the 1 star off is because of the problem I ran into with the bottle or diffuser not working property at the 50% used range.
---
By Leekenzie on Jun 12, 2021
Life Saver
This works so well. Has stopped my kitty form peeing on my bed!! I think she was so stressed about the addition of a new dog to our family and this has been a life saver.
---