Dog Mate Large Fresh Water Plastic Dog & Cat Fountain, 192-oz
---
---
Try This Similar Item By Chewy
---
---
About This Item
Provides a source of clean, fresh flowing water for your cat or dog to keep him well hydrated.
Cleans water continuously with a replaceable filter made with polymers and activated carbon (includes one).
Large water capacity of up to 1.6 gallons so it's perfect for larger dog breeds and multiple pets.
Features an adjustable pump flow, two drinking heights, and convenient water ramp to keep water in the fountain.
The pump works on only 2 watts of power so it's ultra-energy efficient and super quiet.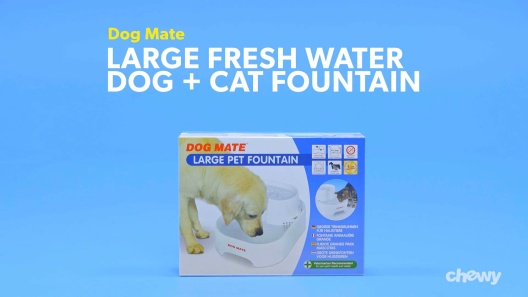 Learn More About Dog Mate From Our Team of Experts
---
Compare Similar Items
| | | | | | |
| --- | --- | --- | --- | --- | --- |
| | | | | | |
| Customer Rating | | | | | |
| Price | | | | | |
| Breed Size | Large Breeds, Giant Breeds | Large Breeds, Giant Breeds | Large Breeds, Giant Breeds | Medium Breeds, Small Breeds | Medium Breeds, Large Breeds |
| Lifestage | Adult | Puppy, Kitten, Adult, Senior | Puppy, Kitten, Adult, Senior | Adult | Puppy, Kitten, Adult, Senior |
| Bowl & Storage Feature | Non-Skid, Dishwasher-Safe, BPA-Free, Lead-Free, Tip-Resistant | N/A | N/A | Dishwasher-Safe, BPA-Free, Lead-Free, Tip-Resistant | N/A |
| Material | Plastic | Plastic | Plastic | Plastic | Plastic |
| Capacity (Max) | 192-oz | 168-oz | 128-oz | 67.6-oz | 64-oz |
| Assembly Required | Yes | Yes | Yes | No | Yes |
| Compatibility | Plug-In Power | Plug-In Power | Plug-In Power | Plug-In Power | Plug-In Power |
---
Questions & Answers
29 Customer Questions
---
how easy is this to clean
Answer by • Aug 20, 2018
Maintenance is simple as the bowls are dishwasher safe and the replacement cartridge easily slides into position. Only use Dog Mate/Cat Mate branded filter cartridges to prolong the life of your pump. The pump should also be disassembled (no tools required) and cleaned every few weeks (or more frequently in hard water areas) to prevent lime scale build-up. Full easy to follow instructions on how to do this are included with the fountain.
---
Can you pour the water directly into the Fountain - or do you have to remove a part and bring that part to the sink in order to fill the Fountain?
Answer by • Jun 15, 2018
You can pour the water directly in to the fountain.
---
Can you provide the dimensions of this water fountain?
Answer by • Dec 10, 2020
This fountain measures approximately 14.5 inches long x 10.6 inches wide x 6.5 inches tall.
---
How often do you need to change the filter?
Answer by • Apr 11, 2018
It is recommended the filter be replaced every 2 to 4 week and more frequently if multiple pets are using the fountain.
---
---
---
By JessDVT on May 7, 2022
Filtration a joke
We purchased this because we need running water for a picky hound AND a filter to help our other furry friends, because our hound eats and drinks and leaves crumbs in the water dish. There is no filter to protect the pump from getting debris in it. The 2 grates that remove on the sides, the holes are so big everything goes through. It would have to be the size of a quarter not to slip through. There were no filters to purchase for these side grates. The pump is not strong enough to suck in all the debris left behind either. We found we had to wash this DAILY with our messy eater which would be a lot easier with a single water dish then disassembling this daily to make sure we don't kill the pump with the little bits of food debris it manages to suck in. A big waste of time and money! Very disappointed! And despite our vigilance in keeping this clean and keeping this filled above the line (which is harder than one would think). The pump has officially died. I will never purchase a fountain like this again. When shopping for a fountain be sure to check out the strength of the pump, and whether it has filters to protect it from sucking hair and debris IN or just filters for water going out. I am finding most of these pumps are identical, and most are too weak to actually do what they claim! Very disappointing! I would spend more money to get a good product but have yet to find one that satisifies our needs! I am sure a cat owner would find this fountain suitable, or a cleaner dog. If yoy have the normal messy dog who gets food in the water dish, this is not for you!
---
By JenC on Jun 29, 2022
Motor already died and only one month old
At first I thought this was really cool with constant fresh water for my two dogs and cat but I'm so bummed because it's 5 weeks old and the motor already quit working.
---
By DonnaO on Apr 16, 2022
Huge Disappointment
I purchased this fountain after purchasing the Cat Mate fountain which is a great fountain! I thought it strange that the pumps were the same size, even though the Dog Mate fountain is 3x the size. Well, although the Cat Mate fountain has great water flow, the Dog Mate hardly had any, even right out of the box. Also, the pump stopped working after 4 months, even though it was cleaned regularly. I replaced the fountain with the Drinkwell 360 and I'm very pleased with that one.
---
By BuyerOfStuff on Apr 12, 2022
Fountain lasted 3 months, manufacturer not interested in resolving
Received this as a gift in December. We clean in regularly (because, as others have mentioned, bacteria builds up very quickly... significantly more so than the regular ceramic bowl this replaced in the same location for the same pets. Unit started getting VERY loud (much louder than the annoying level it normally was), and then died. Several attempts to get the manufacturer to resolve have failed. The company is simply unwilling to assist, so here we are. $40+ for 3 months use is pretty terrible.
---
By jess on May 15, 2022
Water pump sucks
Very poor water circulation with the water pump that comes with it. First one broke after a few days, and replacement worked just as poorly- the water is practically still, and it's not beneficial.
---
By Ozzy on May 21, 2022
Mildew beware
Dogmate left black sut and red mildew within the bowl. It left a lot of bacteria behind even after multiple washes. Now using it as just a bowl. Disappointed.
---
By Rorie on Feb 25, 2022
Large capacity, strong pump
I bought a large capacity water fountain from a different manufacturer. I've always had problems with the pump not working, getting clogged or jammed. This large capacity water fountain always keeps the water Crystal clean. It's not very loud which I like. And I've never had problems with the pump. It's a great height for cats. I recommend it for both cats and dogs.
---
By ZooFountain on Apr 4, 2022
Water fountain
I purchased this in July 2021 and this is April 2022 and the bubbler part stopped working. I clean it regularly each week and the animals loved it. Truly am disappointed.
---
By MJAuby on Mar 9, 2022
Junk, junk, junk
Thought this was a great idea. Started using it in mid mid December. It's now the 1st part of March and it's already quit working. We changed the water regularly and changed the filter once a month. Do not waste your money.
---
By Blondie137 on Dec 20, 2021
Holds a lot of water but does not filter debris very well
I have multiple cats and dogs who go thru a lot of water so I got 2 of these. I like that it holds a lot of water so I'm not constantly refilling. And I like that this model can't leak all over the floor like some of the other fountains that have water bottles on the back. However, it does not filter debris out very well. Pet fur just rotates round and round in the bowl. There are 2 areas where it sucks in water to go thru the filter and I think it is too big of an area for a small motor. I blocked off one side so the water gets sucked in thru just one side. That seems to increase the filtering capability a bit. Also I wish the fountain part flowed a little stronger. It is basically a dribble over the edge. Some of my cats like the moving water part of fountains--like the drip out of the faucet. I wish there was a little lip there to make more of a faucet-like fountain. However, they still prefer this large fountain over the smaller fountain.
---