EasyCare Easyboot Cloud Horse Boot
---
About This Item
Therapeutic support for horses with thin soles, abscesses, founder and laminitic stages.
Makes a great boot for shipping and trailering.
Ideal for horses stalled on hard surfaces, too!
Available in 10 sizes, ranging from size 00 to 8.
Aids horses in recovery after workouts.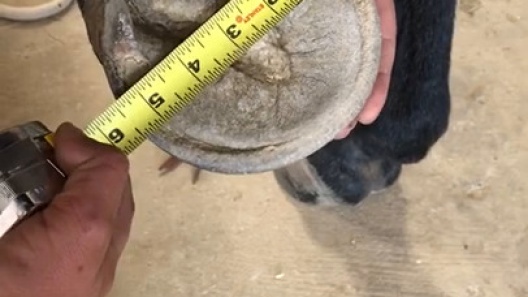 Learn More About EasyCare From Our Team of Experts
---
Compare Similar Items
| | | | |
| --- | --- | --- | --- |
| | | | |
| Customer Rating | | | |
| Price | | | |
| Material | Latex, Rubber | Latex, Rubber | Neoprene, Rubber |
| Tack Type | Hoof Boots | Therapeutic Boots | Sport Boots |
---
Questions & Answers
6 Customer Questions
---
Do the pads you put inside, come with ?
Answer by • Sep 10, 2021
This boot does come with the EVA comfort pad.
---
How many boots does this include?
Answer by • Jan 16, 2021
This comes with one boot. You change the number of boots you want by selecting the quantity from the drop down.
---
Is it a set of 2 boots
Answer by • Aug 25, 2021
This comes as one. To select more that one boot please select the quantity drop down on the product page.
---
Can these boots be worn for endurance rides? Are the price on these per pair or single?
Answer by • Nov 11, 2020
This therapeutic hoof boot is designed to give support and relief to horses dealing with serious limb and hoof issues, including hoof stress due to regular wear and tear. It is not intended to be used for endurance rides and is ideal for horses suffering from thin soles, abscesses, founder, laminitic stages, chronic lameness and general lower limb or hoof problems.
---
---
---
By Katjoy on Nov 2, 2022
Amazing Difference
My daugthers horse had laminitis and requires special shoes from the farrier. She kept loosing one or both shoes earlier than his rotation. She ended up lame and in pain. Our vet suggested these boots. Honestly, I didn't have alot of hope as her mare was not walking and didn't want too. After a few days I saw an improvement, after a week she was moving good. Fast forward a month and we now have purchased a second pair. We keep her mare in them for 2-3 days, checking them everyday (stuff does sometimes get in the boot like shavings, grass etc and they do get wet from the dew). We take them off for 12-24 hours, wash the boots in dawn and cool water and place them on our porch to dry (they do have a bad smell but this is normal - check out the boot manufactrer site for tips). We put the dry pair on while the first is drying. She is now walking GREAT!! I HIGHLY recommend these shoes.
---
By Tammy on Nov 3, 2022
Seem comfortable for the horse and work well
My mare got a touch of laminitis this fall. I purchased the other brand of therapeutic boots on the advice of my vet, but after a week they rubbed sores on her coronary bands so my farrier had me try these. She has worn these for two weeks with no issues.
---
By Mustangs5 on Dec 3, 2022
Great product
Easyboots are sturdy and provide great comfort. Chewy has the best price and free shipping.
---
By Suebcoop on Aug 19, 2022
Only good in stall !
I bought these for a horse going through mild laminitis. They have not held up well at all. He goes from his stall to a very small paddock area for a few hours a day. He barely walks around, and they are falling apart in less than 2 months
---
By Trigs on Jul 16, 2022
Can't believe the difference.
There was 180° Difference between my horse walking into the barn without boots and walking out of the barn with cloud boots on. WOW. The boots worked great and they were recommended by my Farrier after a mild bout of laminitis. After seeing the difference I highly recommend them.
---
By TonyMom on May 26, 2022
Great results
These saved my 32-year-old pony's life. He developed laminitis and I feared I would need to euthanize him because he was in so much pain. After wearing the boots for an hour he was IMMEDIATELY up on his feet and acting like he felt so much better. My vet and I left him in the boots for 4 weeks (taking off to check feet every couple days) and then tried him without them. He didn't need them anymore. He is taking a Cushing's medication and low-impact pain meds daily, and getting regular farrier trims, and hasn't acted like he's in pain since. I will keep them just in case. The boots have literally bought him a longer lifetime. Well worth the price. Easy on and off. I bought the next size up since reviews sounded like they were tight, and that proved to be correct. Thanks EasyCare!
---
By ajjk on May 13, 2022
Not Very Impressed
I purchased these Cloud Boots for my horse going thru a severe laminitic episode. They took about a week to arrive which is not the usual Chewy speedy service. Then after having used them for about 4 days one had a rather good size hole in the back and 2 days later so did the other. These boots offer awesome cushion to horses in pain, are very easy to get on, do NOT rub, stay on, and came highly recommended by many people. That said, I can not afford $100 a boot for a weeks worth of wear. This is obviously a quality manufacturing issue and at that cost can not recommend this boot to others. I unfortunately am not able to add pictures due to size restrictions.
---
By FoxHILL on Apr 29, 2022
Think twice before you buy!
After a slight laminates episode, my horse did get relief when we put on his Easyboot Clouds on his front hooves. But it took him only five days to chew through the Velcro tabs that keep the boot on. We tried covering the tabs with Duct tape, that didn't work. So the boots are useless without the Velcro tabs that hold the boot on!
---
By Julie on Sep 13, 2021
EasyCare Horse Boots
Our big thoroughbred mare foundered and these boots seem to be providing some comfort for her. I was grateful that Chewy had these in stock in a wide variety of sizes and I ordered two sizes, to ensure we got the right ones, and Chewy was good enough to allow me to return the ones we did not need. Thank you, Chewy, for your inventory and for your excellent customer service. You never fail to meet our needs!
---
By Malena on Aug 11, 2021
These boots are a game changer
I recently purchased a pair if these boots for my one Standardbred horse whom I recently rescued. In addition to lack of proper care and groceries he was also involved in a wreck and is under going rehabilitation including chiropractic care. He has tender feet and recently had two abcesses. We apply these boots for his turn out and the impact is life changing. He is feeling better and enjoying turn out as the boots eliminate his foot pain. He's rolling and trotting like a young colt. Prior walking on gravel was very painful for him. He knows the boots are the reason his feet no longer hurt and he likes showing off his new kicks. They were worth every penny.
---