Ethical Pet Laser Exerciser Original 2 in 1 Dog & Cat Toy
---
About This Item
LED light are safe for animals and humans
Allows your pet chase their elusive prey
Can be used indoors or outdoors
Send your pet on a wild chase to catch a bouncing laser dot
Prevent boredom while exercising your pet's mind and body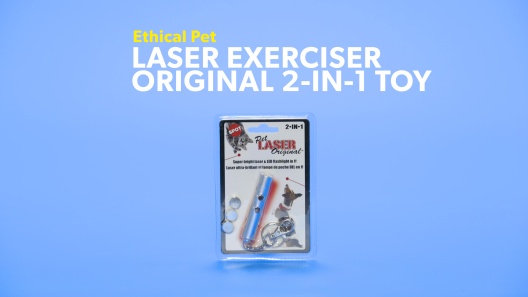 Learn More About Ethical Pet From Our Team of Experts
---
Compare Similar Items
| | | | |
| --- | --- | --- | --- |
| | | | |
| Customer Rating | | | |
| Price | | | |
| Toy Feature | Glowing & Light-Up, Exercise | Glowing & Light-Up, Exercise | Glowing & Light-Up, Exercise |
| Breed Size | Small Breeds, Medium Breeds, Large Breeds | Small Breeds | Small Breeds |
| Material | Coated Metal | Coated Metal | Coated Metal |
| Toy Type | Lasers | Lasers | Lasers |
| Lifestage | Adult | Adult | Adult |
---
Questions & Answers
14 Customer Questions
---
What color is the light? We had one that you could change from a white light to a red one. If we told our dog red dot she knew what we were getting. Thanks
Answer by • Aug 30, 2018
This has a red laser pointer as well as a white light that's safe for humans.
---
How far does the beam extend?
Answer by • Jan 22, 2018
Although an exact measurement is unavailable, this laser meets classifications of a Class 3A laser.
---
Do you have to press a button constantly to keep it on? I want one that just clicks on and off so I don't have to kill my finger holding that button down.
Answer by • May 30, 2019
The button must be held down to operate. This is a safety feature so the light won't stay on when not in use.
---
What dose the lazier do
Answer by • Oct 08, 2018
You point the laser at the floor or wall and send your pet on a wild chase to catch a bouncing laser dot.
---
---
---
By Baillie on Feb 16, 2022
Works well, however.
My kitty at first liked this laser toy, but after a few times of putting her paws on the light and not having anything tangible to catch, she got confused and actually left the living room to sit in the kitchen, not wanting to even come to me. Autumn is a very smart cat, and I really think she felt she was being made a fool of (LOL) with this toy, as if to say "you aren't fooling me, there is nothing there to chase". So, I saved it as a small flashlight, which is nice to have, but went back to her little mouse on a flexible rod which I got from Chewy a few years ago, which she loves to chase and actually catch it with her paws. That is why I gave 3 stars instead of 5. It is a good toy and works just as it should, but some kitties may not enjoy just chasing and not actually catching.
---
By Phoenix on Feb 26, 2022
Save your money!
Don't waste your money on this item, mine busted the same night I put it together. The top doesn't screw on correctly, so the batteries kept popping out... and the top is thin metal. I've gotten better ones at the dollar store. Save your money! Definitely not worth it. Highly disappointed
---
By Jenny on Mar 7, 2022
Works for about 2 days
The batteries last for only about 2 days before the light gets so faint that it's nearly impossible to use. I've had laser pointers for other jobs that were far superior. These battery types are hard to find anyway, so spare yourself the trouble and skip this.
---
By catmama on Dec 28, 2021
Not rechargeable
Bought one of these on a whim since I thoughtt was inexpensive add-on for my cat cart. Fast forward after 3 weeks of (infrequent) use, I notice that the button for the light was getting less responsive and the laser intensity was diminishing. The laser comes with batteries but the small water batteries that are difficult to find anywhere but online. I went and found a rechargeable 3-in-1 laser pointer on another website and would highly recommend going that route if you find that your pet loves laser toys. I would probably recommend this as a starter toy to see if your pet is into lasers but wouldn't advertise this as a product with durability or reliability.
---
By MaggiesMom on Jan 9, 2022
At Last .....
Our Baby Maggie Mae was a tiny little rescue with no mother. She developed Hyper-esthesia & Rolling Back Syndrome. All being neurological. This cheap little laser helps so much along with Composure treats & Felway on each floor of our house. She is calmer now & other than keeping her calm she can have a work out with the laser to keep her fit. With all this she doesn't need medication.
---
By Pennysmom on Feb 9, 2022
Defective and basically unusable
Mine came with the rubber piece for the button half sticking out. Fixed it, but the light also doesn't stay on and fades in and out as you're pressing it. I've had many laser pointers for my cats in my life, and this is the worst.
---
By BobsYerUncle on Nov 21, 2021
Clicker Training Hack!
Within minutes, my cat knew the sound of the soft button press on this! She also figured out the sound it makes when I pick it up, seems she hears it from anywhere in the house and comes running! She also knows where I keep it, stands on her hind legs and reaches gently with her paw and looks at me, "come on, let's play!". My sweet little seven year old rescue has had ataxia since her rescue, most likely damage from having kittens when she was just five months of age. She's also developed hyperesthesia (FHS), and has 'episodes' where she has hugely dilated pupils, acts lost and can become quite distressed. This silly little laser has been great indoor exercise for her without overstimulating her FHS. I'm no expert, but I swear this helps her in so many ways! I bought two, I'll be buying more soon!
---
By Funnymonkey on Mar 6, 2022
The Solution
My cat is VERY energetic, & bores easily with toys. He loves the laser light!! And I like the flashlight, so I can find toys he pushes under furniture!
---
By Compact on Apr 24, 2022
Doesn't last.
These never last. The battery. I bought on that has a uSB charge. Much sturdier and lasts
---
By Luca on Jan 1, 2022
Didn't work
Got it in the mail and it came with batteries and I put them in the way it said to on the packaging and the laser and the light didn't work so I flipped them maybe thinking I put them in the wrong way. Nope didn't work that way either. It doesn't even look like there's a laser or anything in the body of it.
---