Frequently Bought Together
---
About This Item
An essential terrarium accessory for any tree-dwelling reptile or amphibian
Provide an interesting and three-dimensional climbing structure, but they also add visual appeal to your terrarium
Resembles an aged hardwood branch that can be found in tropical forests or desert environments
Easy to adapt to any terrarium setup, especially great for rainforest and desert terrariums
Heat-treated natural branches come in several sizes to give your pet the ideal spot for exercising and climbing, essentials for tree-dwelling reptiles and amphibians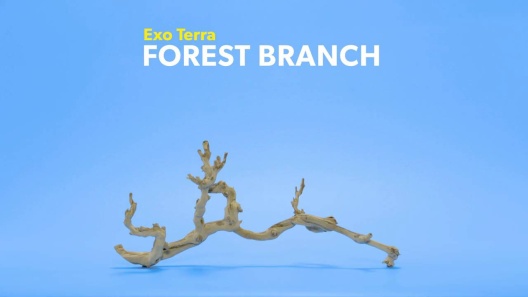 Learn More About Exo Terra From Our Team of Experts
---
---
Questions & Answers
21 Customer Questions
---
Can these be used to make a parrot stand
Answer by • Aug 20, 2019
While intended for tree-dwelling reptiles and amphibians, other pet parents have reported using this branch as a bird perch.
---
Can you get any branches that are much bigger like 5ftlong and 5ftwide?
Answer by • Aug 03, 2018
The Large size is the largest that Exo Terra manufactures at this time.
---
Is this safe for crested geckos
Answer by • May 01, 2018
This Branch is an essential terrarium accessory for any tree-dwelling reptile or amphibian.
---
Are the branches "interesting" and twisty like photographed?
Answer by • Nov 14, 2017
The Exo Terra Forest Branch resembles an aged hardwood branch that can be found in tropical forests or desert environments.
---
---
---
By Tray on Nov 13, 2021
Don't waste your money on the branches
The branches were literally just sticks. Nothing branching off from them. I bought two medium branches and I regret it. Save your money and anticipation, and just go get one from the local store. You can at least choose which ones you want. Chewy is great and quick, just didn't have luck with these branches.
---
By mason on Oct 2, 2021
Decent for what you pay
I got one piece and it's a decent and interesting one. It's for my leopard gecko to have some low climbing enrichment, and I think it's perfect for that.
---
By Branch on Oct 5, 2021
Wish I hadn't bought
This product just useless not worth even buying honestly wish I had my money back
---
By Jamballer03 on Aug 29, 2021
NOT WORTH 5$
Tiny branch labeled medium. Bought for a squirrel cage. It didn't have any branches coming off the only branch.
---
By Chris on May 10, 2021
Nothing like the picture.
I ordered the medium first and then the large. I ordered the medium which came as just a stick, no branches coming off whatsoever it's just a stick. So I figured that maybe it was because I ordered the medium. Then I ordered the large hoping maybe it would look more like the picture. But the large was just a thicker stick. No branching at all. If chewy is going to continue to sell this product, they really need to update their picture with a more realistic representation of the product.
---
By CalicoCrazy on Mar 9, 2021
Overall happy with it
I almost gave it 3 stars just because I had to sand it down completely, and it took me a long while to do that by hand. I get that it's a natural product but it'd be better if the company did it since they are charging us money after all. There was lots of sharp little areas that I was concerned he could cut himself on otherwise. But it was well worth the effort in my case! The branch was a perfect length, it almost goes completely across the length of my 20 gallon tank diagonally, which was exactly what I was hoping for. And my ball python absolutely loves it. He's pretty much constantly on it when he's not sleeping. It warms my heart to see him all stretched out on it, and he's getting lots of great exercise by climbing. Overall, I don't regret my purchase cuz it's being put to perfect use, and it looks super cool. But honestly, I'll probably go out and forage for a beach next time and sanitize and sand it myself, cuz either way I had to put some elbow grease in it.
---
By Jenna on Apr 1, 2021
As advertised
I ordered a small hoping it would be bigger based on previous reviews saying their pieces were larger than they expected, but mine was not large. I am still giving 5 stars because feel that isn't a problem based on the listing though, I got what I ordered, I just had the wrong expectation. So if you buy small, expect it to be that. Mine is about 10 inches long. It's a solid piece of wood and still very pretty, so I'm sure my hamster will love it!
---
By Marisol on Apr 14, 2021
It's better than expected
I honestly recommend getting this product for your tortoise or any reptile. It is pretty smooth, and my tortoise loves climbing it! Keep in mind these branches come in different sizes.
---
By kenz on Feb 27, 2021
NOT for high humidity
I thought that because it could be used in aquariums and it came up as a supply for high humidity geckos this would be safe for my crested gecko. I was wrong, this branch molded overnight and I'm not talking about like one little dot of mold. The entire branch was covered in fuzzy mold that seriously wasn't there when I went to bed the night before. I wondered why my gecko wasn't enjoying the branch, now I'm wondering if he needs to see a vet. I don't mean to be overly dramatic or anything but I'm so angry and upset that he was in a tank with that super moldy branch and could have ingested it. I trusted Exo Terra because their stuff is always recommended to me for my gecko. I really could not recommend this any less.
---
By Sophie on May 20, 2021
Khalilovebird
Awesomeeeeee khali was enjoying good material look nice in my living room she love everything in Chewy me too thank you so much
---