Fluker's Hermit Beach Sand Substrate
Must enter code FALL2022 at checkout to redeem
Frequently Bought Together
---
About This Item
Premium blend of natural sand, coconut fiber, calcium carbonate, sea salt mix and probiotics is the superior choice for healthy land hermit crabs
Promote natural tunnel digging & healthy molting. Hermit crabs dig to hunt for food and when it is time to molt. It is very important to fill your crab's habitat with enough moist sand for the molting process. The deep moist sand protects your crab during the molting process and prevents dehydration, which is vital for your crab's longevity.
Silica sand packs well and the coconut fiber helps with water retention. Calcium and sea salt replicate the exact sand hermit crabs find in their natural environment. Probiotics (beneficial bacteria) help maintain a clean environment.
Non-stick blend won't cling to your crab like calcium carbonate "sand"
No harmful colors or dyes added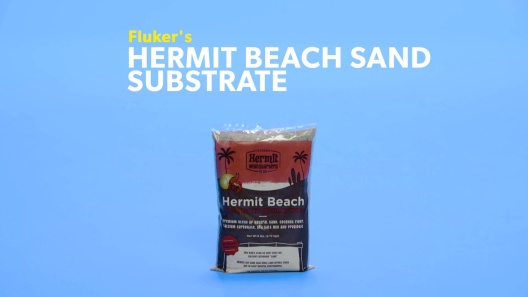 Learn More About Fluker's From Our Team of Experts
---
---
Questions & Answers
10 Customer Questions
---
How much sand to fill a 20 gal. Tank
Answer by • Dec 26, 2017
You should fill the tank evenly with Fluker's Premium Sand. The minimum depth should be at least three times the size of your largest hermit crab. Moisten the sand with purified water so it packs well. (The consistency should be what you would use to build a sand castle.) Once installed, you should check the substrate periodically to ensure that it stays moist.
---
How does this compare with the sand that I could collect from my local beach?
Answer by • Oct 27, 2020
Unlike the calcium carbonate "sand" often sold as hermit crab substrate, Fluker's Premium Sand for Hermit Crabs is a perfect blend of all-natural sand, coconut fiber, sea salt and probiotic. The silica sand packs swell and the coconut fiber helps with water retention. Calcium and sea salt are added to replicate the exact sand hermit crabs find in their natural environment. Finally, probiotic has been introduced to help maintain a clean environment.
---
How many pounds?
Answer by • Sep 04, 2019
This substrate comes in a 6 pound bag.
---
Can this be used for a hamster sand bath?
Answer by • May 27, 2020
This substrate is not designed for use as a hamster bath.
---
---
---
By Carolina723 on Jun 23, 2022
hermit crab sand
I just started and this one was the most recommended. I'm super satisfied and my crabbies are too.
---
By Lily on Mar 10, 2022
Crabby Potter and Friends
I've used this sand for years, my hermit crabs seem to like it.
---
By crabby on Oct 13, 2021
Extra non-sand ingredients
I bought this not knowing it was not 100% sand. My hermit crabs are not burrowing into it. For years they have hidden under the sand/coconut mix but this time they stay on top. I have to presume there is something they dont like about it.
---
By Cara on Oct 10, 2021
Excellent mix
This sand is perfect for mixing with soft substrate for hermit crabs. It doesn't clump and it's safe.
---
By MamaBurgy on Apr 18, 2021
Hermit Heaven!
I read the reviews of this and didn't really believe sand could make that big of a difference. I'd always gotten the blue or red calcium type sand from the local pet store. Rex had never really dug in the sand before and I wondered about that. He is 8 years old now and my kids are older and it's mostly me caring for him now, so I decided to spoil him with some new sand! I tried a bag of this sand on one side of the tank and the usual blue sand on the other side of the tank, as I didn't want to shock him and was a little worried about changing things up. Rex did a good job of mixing them, but seemed to prefer this beach sand. So, the next month I got another bag and just added it to the other sand so it was nice and deep. Oh my goodness, it's like I have a new crab! His tank is in the hallway and we all heard him during the night, we were like "whoa Rex is having a party in there!" He went on this way for a week and also ate more. then sort of tunneled through the sand and buried himself and has been under the sand for over 2 weeks now! This sand is amazing and I really feel like it has made my crab feel more at home. Love it!
---
By Mags on Apr 14, 2021
great substrate
this sand mix is great, i know it will not get hard and the added probiotics help with any waste smells from the crabs, our tank smells like a damp salty beach, perfect
---
By crab on Nov 23, 2020
Helps with bug + odor issues
I travel periodically and must have my family take care of my crabs while away. They are not very good about cleaning up old food - thus I struggle with odor and insect infestation issues. For whatever reason (I'm guessing the probiotics) this sand has helped tremendously compared to all other substrates. Way less odor and NO bugs in the sand since I started mixing this in with standard sand/coconut fiber. Also - I have price checked sand across the internet, and Chewy's listing of Fluker's sand is the cheapest pre-disinfected sand I have come across. Only thing cheaper is industrial sand, but that must be washed first and mixed with calcium etc., which is a major hassle. Roughly $1/lb versus $1.50/lb+
---
By KimmySue on Dec 29, 2020
Hermit Crab Beach Sand
My crabbies love this substrate! I've been using it for years and haven't had any problems.
---
By Dominique on Jun 21, 2020
I love Fluker's sand as much as my Hermits do!
I am so satisfied with my product, arrival time, packaging, and cost. Thank you for the wonderful customer care you offered me, Chewy staff. I wasn't able to find this particular brand and product anywhere and was so nervous about ordering online. "Shelly" and "Brownie" are having the time of their lives burrowing and exploring safely today! I trust Fluker's Hermit Beach Substrate and am so grateful to be a member of the Chewy family! Thumbs up, can't thank you enough for carrying a quality product with such quality care and pricing!!! I look forward to do business in the future and encourage pet lovers to do so too!!! <3
---
By Ashley on Oct 28, 2020
Hermit crab Beach sand
Enjoy this sand just wished they also had the white sand to order and the color sand it to expensive
---