Frisco Animal Series Cat Condo, Sloth
Frequently Bought Together
---
About This Item
Available in three fun animal designs— check out the whimsical unicorn, lovable llama and super-cute sloth.
Includes all the kitty amenities—a scratching post, a private condo and a perch at the top.
Helps satisfy a cat's core desires for play, scratching, privacy, comfort and elevation.
Fully wrapped sisal post promotes satisfying scratching and healthy kitty nails.
Cushion inside the condo is reversible, removable and machine washable for easy cleaning.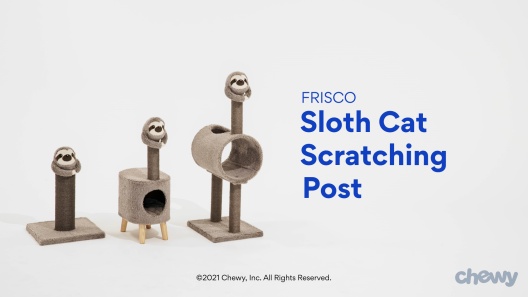 Learn More About Frisco From Our Team of Experts
---
Compare Similar Items
| | | | | | |
| --- | --- | --- | --- | --- | --- |
| | | | | | |
| Customer Rating | | | — | | |
| Price | | | | | |
| Cover Material | Faux Fur, Synthetic Fabric | Faux Fur, Synthetic Fabric | Carpet, Faux Fur | Felt, Synthetic Fabric | Faux Fleece, Sisal, Plant Material, Synthetic Fabric |
| Furniture Features | Condo | Condo | Condo, Hanging Toys | Condo, Hanging Toys | Condo, Hanging Toys, Removable Bed |
| Furniture Frame Material | Engineered Wood, Wood | Engineered Wood, Wood | Engineered Wood, Wood | Engineered Wood, Wood | Engineered Wood, Wood |
| Height Range | 31 inches to 59 inches | 31 inches to 59 inches | 30 inches & under | 30 inches & under | 30 inches & under |
| Tools Included | Yes | Yes | No | Yes | No |
| Number Of Condos | N/A | N/A | 1 condo | 1 condo | 1 condo |
| Furniture Mount Type | Free Standing | Free Standing | Free Standing | Free Standing | Free Standing |
---
Questions & Answers
Be the first to ask a question.
---
---
---
By Missy on Jun 26, 2022
Not for heavy or playful cats
I did not get this product for free so this is an honest review. It's cute, it does not take up much room. The cats enjoy napping inside it. But when the two of them get to playing on it it's just not heavy enough to stay upright. Or when they attempt to use the scratching post from the ground, they can pull it right over. Also I don't have a lot of faith that the cloth covering is going to last long at all. All cat trees I've ever purchased were wrapped in carpeting. The best way I could describe this is a this fuzzy blanket material. If you have a calmer senior cat this product would be good but for younger or more playful kitties I would spent the couple extra dollars to get something sturdier.
---
By Talex on Jun 23, 2022
It's okay.
To no fault of the product itself, my cat doesn't sleep or go into the little cubby, so that part is kind of a waste. What's annoying is that it's not heavy enough to stay standing up when he claws at the pole, it falls over because the product is so light, scaring the day lights out of him. So I have to put books inside of the cubby to keep it from flipping over when he scratches or pounces hard on it, which isn't a big deal because he doesn't use the cubby anyway. But if he used the cubby it would be a huge inconvenience to shove things in there just to keep it weighted down so the cat could use it. If I were to go back, I would get something else. But it's not worth the hassle sending it back. It is an adorable piece that doesn't take up too much room, just wish it were heavier and it's not practical for felines who tend to use it fully.
---
By Tiff on Jun 26, 2022
Super cute with a vinager- pickell smell!
Received my sloth item for my 2 month old kitten today. Looks super cute. As soon as you take it out of the box it's wrapped in thick plastic but has a ridiculous vinager- pockets smell. It was hard putting it together with the smell but after it was together it was cute but I had to spray it with Febreeze. Even after spraying, our room still stinks like pickells!!
---
By love on Apr 3, 2022
Our 3 cats love!
We bought this YESTERDAY and it was delivered today! That was awesome and it's so cute! We didn't want something that looked tacky and we went with this and love it. The cats love it too.
---
By Lmaldo6477 on Dec 23, 2021
completely wrapped in a thick, soft carpet
#ReceivedFreeProduct was so impressed with the high quality feel of the materials in this sloth cat condo. It's completely wrapped in a thick, soft carpet, and inside the condo is a very comfortable, machine-washable cushion. It has four strong wooden legs with anti-slip rubber pads. There's a perch on top of the condo with a cat post wrapped in high quality sisal, and at the top of the post sits an adorable sloth. My cat is enjoying her condo to the fullest. At first, she was getting to know the condo. Slowly but surely, she got comfortable, and now she's in heaven. She loves playing at the top with her post and sloth, getting good exercise. When she's ready to relax from a long, playful day, she lays on the perch or She loves to hide out and take her naps in the condo.
---
By DebbieC8118 on Dec 31, 2021
So Adorable
#ReceivedFreeProduct My cat loves this condo! He's a large cat and I wasn't sure if he could fit inside but he fits perfectly. We have it placed by the window so he can also lay on top and look out. The built in scratching post is phenomenal, he tended to scratch on the carpet and furniture before. The sloth head is adorable and his little arms can be open or closed with Velcro, my son likes to give him hugs lol. There is a pillow that goes inside the condo that is fluffy and soft. It will add character to any home.
---
By mharrell07 on Jan 11, 2022
Absolutely love
#ReceivedFreeProduct So happy with this sloth cat condo and so is my cat! It was very easy to assemble and not too big that it wouldn't fit in most rooms. I love that it have compartment with the pillow for cats to go lay in as well as that it has part for them to lay on top and has a scratching post! Very well made cat condo and price isn't too steep is a bonus as well. My cat has thoroughly enjoyed this!
---
By Bx04 on Dec 23, 2021
Super cute
#ReceivedFreeProduct How cute is this! The sloth design is adorable. It even has a tail. This cat condo was extremely easy to assemble. It sits low enough that my older cats have no issues getting in and out. The fabric is super soft and furry. The sisal scratcher is great quality. The cushion for the inside is soft and cozy. I love that it can be removed to wash. My cats are all quite large. All of them are 14+ lbs and can fit inside this condo comfortably. I am beyond pleased with the quality and design of this cat condo.
---
By David475 on Dec 22, 2021
Adorable kitty condo
#ReceivedFreeProduct I definitely recommend the Frisco brand, and specifically this sloth condo. It was really easy to assemble and came with all the required tools/parts and great instructions. The four feet sit very securely on the ground, and the condo sits up a little bit. My cats love jumping inside the condo or just standing on the top. The sloth on top is super cute, and actually has a small sisal-covered scratching post which, so far, is holding up really well. My 17 pound cat fits inside the condo, so it's a good size.
---
By Morgan on Dec 22, 2021
Very cute small cat condo
#ReceivedFreeProduct I'll start by saying this product had easy to read instructions and ridiculously easy assembly. I think the sloth is adorable and it looks really nice in my bedroom for the cats. My only complaint with it is that it topples over a lot because my cats are on the bigger side I'm I'm worried they will get trapped so I had to anchor it down. I wish it had a heavier bottom to ensure it stays upright for cats of all sizes. Otherwise for kittens or smaller cats thumbs up!
---