Frisco Collapsible Cat Carrier Bag
Frequently Bought Together
---
About This Item
Chic, stylish cat carrier bag available in an animal sketch pattern or black-and-white plaid.
Collapsible design easily folds flat for storage in a cabinet, under your car seat or wherever.
Lightweight design made with sturdy fabric for durability and pet safety.
Features an extra-large ventilation window in the shape of a cat head, complete with ears.
Designed to accommodate cats up to 17 pounds.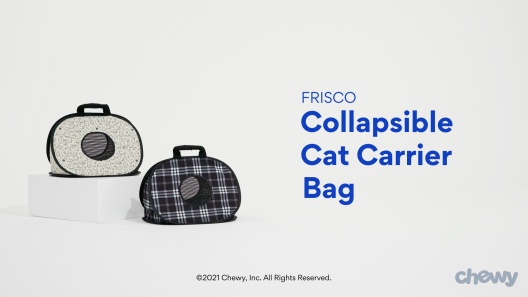 Learn More About Frisco From Our Team of Experts
---
---
Questions & Answers
4 Customer Questions
---
size of carrier
Answer by • Apr 02, 2022
For the complete sizing chart, click the "Size" tab, next to the "Instructions" tab, just under the product photos.
---
What's the weight limit?
Answer by • May 10, 2022
This carrier can hold up to 17 pounds.
---
How does this carrier seal? Does it have a zipper across the top?
Answer by • Mar 21, 2022
This carrier seals with the zipper across the top.
---
Will this carrier fit two young kittens?
Answer by • Jun 12, 2022
This carrier is designed to accommodate up to 17 pounds.
---
---
By qbertm on Aug 7, 2022
limited use
I bought 5 of these based on the good reviews I read. It was a complete waste of money. I got 2 uses out of 1 of them and 3 uses out of 2 more. Out of the 5 I bought only 2 are left and we've only used them 3 times. The zippers easily break and the fabric windows are so flimsy that one of my kittens was tearing holes in it. Spend a little more and buy something else.
---
By JAZZY on Aug 15, 2022
CAT CARRIER
I GOT THIS SEVERAL MONTHS AGO MY CAT LOVES IT I PUT IT ON THE FLOOR WITH TOYS AND TREATS SHE WOULD GO IN AND OUT NO PROBLEM LIKE A HARD CARRIER. SHE WOULDNT GO NEAR I THINK SHE LIKES THE WINDOWS SO I WANTED TO GET THE SAME PRINT AS BEFORE BUT THE PRICE DOUBLED ON THAT PRINT SO I BOUGHT 3 OF THESE TO GIVE AS GIFTS
---
By Tom87 on Jul 10, 2022
Best. Carrier. Ever!
I've always favored the idea of soft decided carriers, but most of them have no structure and collapse in. However this one has a wonderful structure to keep everything stable. My foster kitten jumped in right away and loved playing from both inside and outside. No animal likes to be captured but, even after he's been in it for transport, he still played in it when I was left open. And his new furever home the other cats also go in it to play. I've never seen this of any other type of carrier. Plus if they go into this carrier you don't have to worry about a door closing them in or them getting stuck. The little windows are perfect for playtime and to keep them calm during travel.
---
Love this - but don't twist it up to make smaller
LOVE this - I mainly love how it doesn't take up tons of space when storing. However, don't twist it up to make smaller like instructions show just lay it flat. If you twist it up to make it smaller it ruins it & wire gets all messed up & the carrier will no longer hold it's shape - I ruined mine by doing this. Also, I feel this isn't for cats over 10lbs - definitely not enough support for up to 17lbs., but for smaller cats this is perfect.
---
By Babysmommy on Jun 25, 2022
Cat Carrier.
When I opened the carrier, baby of course sniffed all around it. Then she proceeded to run and slide on it. The first couple hours, she would lay on it, as if to let me know, it belongs to her. She then began to run and slide on it, having lots of fun doing this. The next few days, she would go inside, only to grab a treat, and come right back out. Yesterday, a new surprise occurred. She actually climbed in and laid down. All I could see out the opening, was the white on her nose. It was amazing. She was so contented in there and that made me very happy. Next experiment it to walk around in the apartment, with her inside. All in preparation for a trip to the vent.
---
By Missy on Jul 18, 2022
Fabulous Item
I love this carrier It's light weight and has a sturdy floor board to transport my kitten and she loves to just sit and hide in it . It also folds up conveniently when not in use and you don't have storage space in your home my kitty loves it. The price was great I also bought one for my granddaughters kitten to transport her where she has to go.
---
By debikm on Jul 10, 2022
Just-in-case carrier
Excellent price for a collapsible carrier. It is sufficient for our needs and Vinnie has already slept in it as he loves little cubbies to sleep in.
---
By Conjl on Jul 6, 2022
Convenient
Just what I wanted. Folds flat for storage. I just use for short trips and use more substantial carrier for longer periods.
---
By Cattyman on May 18, 2022
Very filmsy
I would not recommend this carrier. This lasted one trip with my cat for about 25 min. before he was able to bust out of the mesh. I repaired it with a needle and thread. It's cheap but you get what you paid for.
---
By Amyk on May 21, 2022
Great! A look so got compliments
I've used it twice for my kittens . Prob too big but it's ok. I love it zips open on top etc so you don't have to drag a cat out of a cave( traditional carrier). They love playing in it when not in use .
---