Frisco Metal Pattern Extra Tall Auto-close Dog Gate
---
About This Item
Measures 41 inches in height and with the included 6.9-inch extension, this gate can fit openings of 30-32 inches and 37-39 inches.
Assembly is effortless and requires just a screwdriver or a drill and a pencil. The pressure-mount system makes it easy to install and take-down is even faster.
Double-lock safety release system and self-closing door provide security and convenience. If opened more than 90 degrees, the door stays open. If opened less than 90 degrees, it automatically closes.
Gate features a lightweight and durable metal construction—with a stylish geometric pattern that looks great in your home—for easy storage and portability.
Lets you turn any room of your home into a safe place for your pet to stay, play and lounge.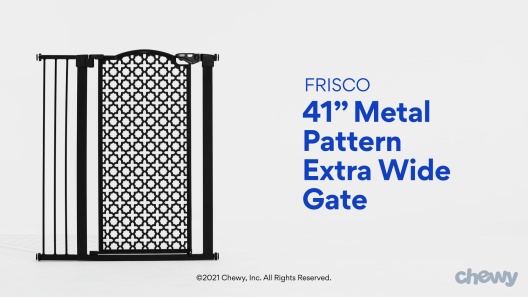 Learn More About Frisco From Our Team of Experts
Note: A drill or screwdriver will be required for wall mounting if not using the stickers included. For pet use only. Must install with the included wall cups. Bar spacing is between 2-2.4 inches. Determined pets may be able to jump over gate.
Shop Prescription Medications from Chewy Pharmacy
---
Compare Similar Items
| | | | | | |
| --- | --- | --- | --- | --- | --- |
| | | | | | |
| Customer Rating | | | | | |
| Price | | | | | |
| Breed Size | Small Breeds, Medium Breeds, Large Breeds | Small Breeds, Medium Breeds, Large Breeds | Small Breeds, Medium Breeds, Large Breeds | All Breeds | Small Breeds, Medium Breeds, Large Breeds |
| Material | Steel, Plastic, Metal | Plastic, Steel, Metal | Steel, Plastic, Wood, Metal | Steel, Plastic, Metal | Steel, Plastic, Wood, Metal |
| Gate Feature | Walk-Through | N/A | Walk-Through | N/A | N/A |
| Gate Type | Pressure Mounted | Pressure Mounted | Pressure Mounted | Pressure Mounted | Pressure Mounted |
| Assembly Required | Yes | N/A | Yes | N/A | N/A |
| Lifestage | Adult | N/A | N/A | N/A | N/A |
---
Questions & Answers
12 Customer Questions
---
How big are the openings between the bars? I need to determine if my kittens can squeeze through.
Answer by • Nov 27, 2021
The bar spacing is between 2-2.4 inches.
---
Will this fit 35.5 - 36 inch wide door opening?
Answer by • Nov 14, 2021
This pet gate fits openings between 29-32 inches, and with the included 6.9-inch extension it fits 36-38.5 inches.
---
where can I purchase additional extensions?
Answer by • Feb 02, 2022
This gate includes one 6.9 inch extension. At this time, additional extensions are not available for separate purchase.
---
Can you buy an extra extension?
Answer by • Oct 05, 2021
This pet gate includes a 6.9-inch extension. At this time, extra extensions are not available for this pet gate.
---
---
---
By Renee on May 23, 2022
Quality Gate & Aesthetically Pleasing. Highly Recommend!
I have four large dogs. A Golden Retriever, Alaskan Malamute, German Shepherd, and Wolfdog. My dogs like to hang out in my home office while I'm working but I don't want them to have free reign of the house. This gate is sturdy and tall enough to keep them contained but it's also decorative, which is an added bonus. Some great features are that it swings in both directions (unless you spin one of the locking tabs to only allow for one-way swing in either direction), it closes automatically behind you and if you open it past 90 degrees, it will remain open until you pull it closed. I purchased it in black and feel that the dark color gives it a higher end look and it's more subtle than the stark white. Of course, it depends what sort of look you're going for. It comes with double sided adhesive pads to affix to the cups if you'd rather not screw the cups in. I've never had an issue with just using the adhesive pads, but if your dogs are large like mine and are really trying to push through the gate, I'd recommend screwing the cups in, just to be on safe side. Also, I can still shut my office door, with the gate installed. I highly recommend this gate. The malamute weighs just under 100 lbs, to give you an idea of his size as compared to the gate.
---
By Dani on May 18, 2022
Love this so much!
Our kitten loves to come on our porch with us but we worried about the opening to the stairs (we live on a busy road). The installation was super easy, we were able to set ours up without the use of power tools just using the resistance like a shower curtain rod. Having this gate has eased our anxiety that he can be on the porch with us and no worries about him escaping. Highly recommended.
---
By Fargodoghouse on May 1, 2022
It's so-so
Not super sturdy. The clasp design of the gate is not ideal as it's plastic and big dogs jumping up against the gate will eventually cause the metal on the gate to bend and bow. The auto close works very nicely. The gate is very tall. Despite the pressurized concept to hold the gates in a doorway, screws are still required to hold pressured pieces in place.
---
By Sarah on Apr 7, 2022
NOPE- worthless
I need to sturdy gate to keep large dogs out of cat and small dog area- My door way is 34 inches wide- When I inserted the wall cups and tightened the screws, there was very very little screw in the actual gate so the gate has fallen down several times- The doorway isn't wide enough to insert the extender which would give it a more snug fit. When you press the corner of the gate, the gate buckles away from the wall- Completely useless.
---
By 3Dogs on May 12, 2022
Perfect Gate!
Have purchased so many gates over the last 20 years and this is by far the best gate. Spring loaded hinge is helpful to ensure the gate closes behind you. Super happy with this one! We have 2 GSDs and a Mini schnauzer. Big and small dogs approved. :)
---
By Erika on Apr 3, 2022
This gate can fit openings of 30-32 inches and 37-39 inches.
They aren't kidding about the range of doorways this fits. That said, it is a tall gate with a nice one-handed mechanism. I'm using it for older cats so tall is the most important feature. It is sufficiently intimidating to them that they haven't tried to jump.
---
By KarenE on Apr 2, 2022
Perfect for our Mastador
This gate was perfect for our Mastador. He's easily cleared several other gates and homemade blockades. He probably could jump over this one but he hasn't even tried. Quality construction, heavy duty - we're very satisfied with this purchase.
---
By FantomDave on Feb 2, 2022
Fits perfectly!
#ReceivedFreeProduct Wow, this is so perfect. We have been through 3 other gates like this, and all 3 we had to use an extender that made them a bit wonky. This one fits perfectly in our slightly extra wide doorway into the kitchen. Our 3 year old figured out how to unlock it right away, but thats ok, its more for our dog so he doesn't run outside when the front door is open. The auto close feature is nice and we use it occasionally, but most of the time the gate stays open so we love the fact that it also has a stay-open feature. Overall we are super happy with this gate.
---
By PJones on Feb 15, 2022
Keeps cat out of the kitchen
We needed something to prevent our cat from walking all through the kitchen at night (especially on countertops). Most gates were too low and he could easily jump over, but this gate has done a great job so far of keeping him out of the kitchen. It's also very easy to use, set up, and the black color is pretty stylish. I would definitely recommend!
---
By Nini on Feb 17, 2022
Extra Tall Pet Gate
This gate was a bit tricky to put together. Actually, I had my neighbor help me with it. He did most of the work. But it has worked wonderfully. My dog has not even tried to get into my study. Prior to the gate, he got on top of my desk an kicked everything onto the floor including my modem. I am very pleased.
---