---
About This Item
Crafted in the USA for exceptional quality, this double braided nylon leash has tensile strength up to 3,700 lbs, which is strong enough to hold a boat.
Soft texture with no hard edges or buckles reduces chafing and doesn't irritate skin.
Movable rubber stops adjust harness to any size and easily straps onto and off of your dog when it's time for a walk.
Quick and easy to clean, just machine wash and hang to dry.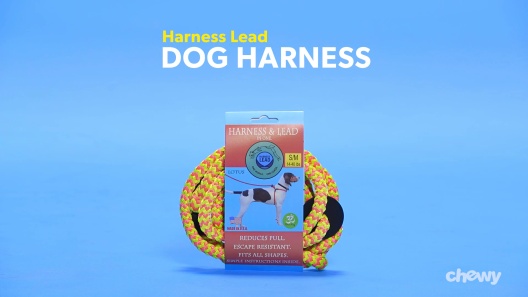 Learn More About Harness Lead From Our Team of Experts
---
Compare Similar Items
| | | | | | |
| --- | --- | --- | --- | --- | --- |
| | | | | | |
| Customer Rating | | | | | |
| Price | | | | | |
| Breed Size | Large Breeds | Small Breeds | Large Breeds, Giant Breeds | Large Breeds, Giant Breeds | Large Breeds, Giant Breeds |
| Leash & Collar Feature | Reflective, Leash / Harness | Reflective | Training, Waterproof | Training, Waterproof | Training, Waterproof |
| Material | Polyester | Rope | Polypropylene, Rope | Polypropylene, Rope | Polypropylene, Rope |
| Pattern | Solid | Solid | Geometric | Camouflage | Geometric |
| Closure Type | Slip On | Slip On | Slip On | Slip On | Slip On |
| Leash Length | 6 feet | 6 feet | 6 feet | 4 feet | 4 feet |
| Leash Type | Slip Lead | Slip Lead | Slip Lead | Slip Lead | Slip Lead |
---
Questions & Answers
25 Customer Questions
---
Plz post a video of how you put the harness leash on the dog.
Answer by • Jan 12, 2019
Please see the video below for reference.
---
Our chihuahua cross only weighs about 12 pounds, but he has a deep chest and long legs. Do you think the small size would be okay for him? Love the design!
Answer by • Dec 06, 2017
Just gently tighten the harness around your dog's torso.
---
Can this be used with a tether in the car, or would there be a choking danger?
Answer by • Oct 20, 2017
The harness lead must be used properly and according to instructions. If the black stops are too far forward it will be too tight on the neck and if it's too far back the leash will fall back by the stomach.
---
Does this leash float? I am looking for a swim leash for my dogs, and the company I found that makes a similar product, specifically stated to float, will take over 3 weeks to arrive.
Answer by • Oct 19, 2017
The Harness Lead Dog Harness does not float.
---
---
---
By Sasha on Apr 30, 2022
Love it and needed it
I was nervous lol I never used a harness on my pitt and I was just convinced it wouldn't work! Ha I'm wrong it's amazing and chewy you're awesome for helping with delivery issues I had , thanks for your amazing customer service
---
By Amanda on Mar 19, 2022
Miracle leash
I have two large huskies who usually take me on a drag rather than me walking them. It's normally a full body workout for me to hold on while they pull. This leash made my bigger husky stop in his tracks whenever he tried to pull and then he just strolled! For my other husky he still pulled to the side to sniff but after two tries of pulling forwards he stopped doing so. This will make walking enjoyable for once!
---
By Kozmo on Feb 11, 2022
There really are no words!
This Harness Lead No Pull is amazing. I have an 8 month old Chocolate Lab that I walk 4-5 miles 6 days a week. He was pulling me all over the place and became to strong for me to walk (had to let go of the leash a few times - not good!) I purchased this No Pull Lead and it's a miracle. Night and day from our walks before. I even have some slack in the leash at times. I was so elated after our first walk with the Lead that I wanted to pop open a bottle of champagne. Thank you to whoever came up with this idea, it really works!
---
By SJROONEY on Feb 15, 2022
Incredible
I can now walk my 2 large dogs at the same time! I have a Husky and a German Sheperd/Husky mix and have never been able to walk them together because one of them inevitably would pull me down. I ordered one and used it on the strongest dog and it was miraculous; so I ordered a second one for the other dog. It is so wonderful to be able to get some exercise for myself instead of our daily dog park routine!
---
By Hamilton1 on Feb 18, 2022
Answer to Pulling
Only problem is there are not directions on the package. Fixed loop goes over the head and leash end wraps under the chest and through the loop. My dog is 85lbs and he pulls constantly. Once this leash was on him he stopped. I no longer have to worry that he might pull me over. I highly recommend this leash!
---
By Aida on Jan 20, 2022
Miracle Dog Harness
I have two energetic hound dogs and it was very difficult to take them for daily walks because of their pulling. Could only take them to the dog park where they could run free. The No Pull Dog Harness is a miracle harness. It has a good fit and they will not pull. I am able to take them for daily walks again. It also feels very good when you are holding it as other leashes cut into your hand, but this one is soft. I highly recommend it. Both my dogs are approximately 60 pound range.
---
By Lovemydog on Jan 18, 2022
We could never figure how to use it
The headline says it all. The directions were very limited. Tried to find online ones, but weren't successful. At one point of time, we were concerned that our dog will be hurt in the process of putting it on. On average, we have enough intelligence, I hope, but just gave up trying once we found a product that works great and is super easy to put on and take off. I am sorry it didn't work for us.
---
By Brady on Dec 16, 2021
HIGHLY Recommend!
I very rarely write a review, but just had to on this item. We recently adopted a pit/lab mix, who is very strong and has issues with other dogs while on our walks. I tried three other harnesses, and he hated them, because they looked like straight jackets and I'm sure were uncomfortable. I hated taking him on walks until I tried this harness. He doesn't mind me putting it on, I have so much more control when we come across other dogs and it must be comfortable because we walk 3-4 miles and he's happy. I also like that the leash is longer than a standard leash so that he can be far ahead of me without me worrying about tripping over him. It's also so easy to put on. This harness saved our walks.
---
By Rose on Dec 26, 2021
Simple, Stylish, and Works
We have the black one. It's really simple and stylish, easy to put on, and has made a huge difference with our walks. Our dog usually pulls moderately on walks, but since we have been using this, I feel so much more in control of her. And it seems like she's comfortable and doesn't mind it at all.
---
By HappyDog1 on Nov 7, 2021
Best Harness for Houdini Dogs
I swiped this lead from the shelter when I got my dog. (Actually, I agreed to replace it which I did.) So so glad I did. It turns out that my pup is Houdini. I haven't found a harness yet that my dog can't slip out of—except this one. Because it tightens when the dog pulls, it's like finger cuffs. The more they pull, the tighter the Harness Lead gets. So, the dog decides how comfortable it wants to be. The only draw back is that dogs with strong prey drive will choke themselves trying to get that rabbit half way down the block. So, I'm fashioning a clip-on strap that attaches the rib cage loop up the chest to the bottom of the neck loop. That will hold the neck look lower on the chest to prevent choking. Would be cool if Harness Lead made one out of the same line as the lead with soft shackles at each end to attach to underside of neck and rib cage loops. This makes the Harness Lead just about perfect. Also, considering you don't have to buy a harness and a leash, the price is amazing.
---