---
About This Item
Motor-driven pet door automatically opens upwards instead of outwards with the High Tech Pet Microsonic Collar. No pushing to open!
Made from bulletproof resin with an automatic deadbolt locking feature for superior security against intruders.
4-way control with in-only, out-only, full-access, or closed-and-locked options lets you set your pet's level of accessibility.
Opens only when pet is approaching and dual-range controls allow you to set independent inside and outside activation distances.
Airtight, weatherproof, windproof closure cannot be kicked out and is easily mounted flush to the wall. Fits large pets up to 100 pounds.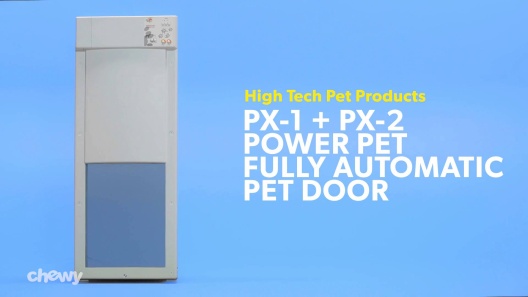 Learn More About High Tech Pet Products From Our Team of Experts
Please Note: a WA-2 Large Wall Adapter is needed for wall installation.
Related Item
Replacement Batteries: Battery Charger Kit, 2 Pack and B12V-1.3 Rechargeable Battery
Shop Prescription Medications from Chewy Pharmacy
---
Compare Similar Items
| | | | | | |
| --- | --- | --- | --- | --- | --- |
| | | | | | |
| Customer Rating | | | | | — |
| Price | | | | | |
| Breed Size | Medium Breeds, Large Breeds | Extra Small & Toy Breeds, Small Breeds, Medium Breeds | Large Breeds | Small Breeds, Medium Breeds, Large Breeds | All Breeds |
| Material | Plastic | Plastic | Aluminum | Plastic | Aluminum |
| Features | N/A | N/A | N/A | N/A | N/A |
| Door Type | Electronic | Electronic | Electronic | Electronic | Electronic |
| Assembly Required | Yes | Yes | Yes | Yes | Yes |
| Compatibility | Plug-In Power, Battery Powered | Plug-In Power, Battery Powered | N/A | Wi-Fi | N/A |
| Technology Feature | Microchip / RFID | Microchip / RFID | N/A | N/A | N/A |
---
Questions & Answers
46 Customer Questions
---
Would my inside cat be able to follow my dog through this door when she goes outside?
Answer by • Feb 06, 2018
This pet door opens only when a pet wearing the High Tech Pet Microsonic Collar approaches. This product has dual-range controls that allow you to set independent inside and outside activation distances.
---
I am interested in purchasing this door, but am wondering if there is a place for a backup-battery in case the power goes out in the house?
Answer by • Dec 16, 2020
The High Tech Pet Products B12V-1.3 Rechargeable Battery for this pet door is available for purchase. It will act as a backup when attached and will allow the door to function even during a power outage.
---
What is the difference in the Px1 and Px2
Answer by • Sep 30, 2017
The High Tech Pet Products PX-1 Power Pet Fully Automatic Pet Door is made for smaller dogs and the High Tech Pet Products PX-2 Power Pet Fully Automatic Pet Door is made for larger dogs.
---
Can the unit be hooked up direct to power
Answer by • Oct 31, 2017
This product does include a 110 volt AC Adapter.
---
---
---
By Ellie on May 14, 2022
RUN AWAY FROM THIS DOOR!!
If I could give this door a NEGATIVE ONE MILLION - I would! We have tried this company, not once, but TWO times. So I am talking with experience here. We live in Florida, so we know rain and humidity well. Please believe us that this door does NOT work at all when we have rain or high humidity. Which is often in the summer. It can take up to 48 hours to start working again to work. Remember, this is out of the two doors that we have bought from this company (one dog and she is only 15 pounds). We have done everything under the sun to try to fix this dog door. We had paid for it to be put in - two different times. Then we hired 3 different people to come out and work on the door, praying that it could be fixed. I do NOT recommend this door and we will not purchase another one. Our dog is so fed up with it as well. She will go and lay next to it, and cry, letting us know she wants out. The door does not work. Yes, we have bought new batteries for her collar (many of them) and six different collars - which are made cheap and break. This dog dog is a piece of trash and not well made. DON'T WASTE YOUR MONEY!
---
By Albinomite on May 17, 2022
Service Sucks
Batteries in the collar last a maximum 3 months. They are a specialized battery you can only get from them and they are expensive! After spending nearly $800 on the door, the provided door latch has worn out. To replace just the one little piece, you have to buy a whole kit. Off the piece cost more than $5 I would be surprised. Should be simple and quick, though they're such a big corporation, they can't seem to grab simplicity and customer service. Willing to pay for the part, just not the whole kit, just to get one sub quality piece of sheet metal. These guys can't even update their product for years later.
---
By 11111 on Nov 28, 2021
Pretty happy
The door itself is expensive but very convenient. It was easy to install. The collars for the door could use some work. I bought multiple collars. They eat batteries quickly and one is no longer working after 3 months.
---
By Boyd79 on Oct 4, 2021
Best Doggie Door
Works just as described. We have two small dogs, four inside cats and three outside male cats. Everyone is fixed, but one of the male cats comes in and sprays EVERYWHERE. This door keeps him out 95% of the time. He has learned to wait for it to open and hops on through. Wish they made a collar to lock him out. Lol. That being said... love it!
---
By Quacker on Oct 9, 2021
Pet Automatic Door
Best item I have ever ordered. I had it installed but, the guy said it was a piece of cake to put in. Works like a charm and I no longer have to get up at night to let my pet out. He learned it almost immediately. Clean looking and very quiet.
---
By Lisa on Aug 22, 2021
Do Not Recommend - malfunctions often, not worth it
I am a single mom of four children, and I purchased this door a year ago when we moved into our new home. I bought this door to help us feel safe and to help make my life easier. It has done the absolute opposite. I have had to purchase four new collars since I had the door installed because the collars break so easily. The door itself has broken numerous times. I have had to get two refurbished doors to replace broken doors. I have missed work days because my dog could not get in and out of the house all day while I'm at work. I have spent hours sending emails trying to get this situation rectified. I am at a point now where I am simply going to take the door out, which will leave me with drywall repairs amongst many other things. Please take my word for it, do Not purchase this door. Do not waste thousands of dollars like I have. It seems like a great thing but, for me at least, it has been an enormous time and money suck. Lastly hi tech does not have technical support to come out to your home to look at the door. Therefore I have been left to hire random people to help me with this, none of which have been successful.
---
By GaryD on Sep 9, 2021
It's great
This is great, our puppy was going through it after being coaxed three times, he now does it without being told to and he loves it, he's only 6 moths old. I do wish it came with the battery, you would think at this price it would include the battery.
---
By BrutusandMarty on Jun 24, 2021
Lifechanging!
The first 2 days I tried to install this door, I was incredibly frustrated and wished I had not attempted it.Then I learned a little and was able to place the door through a wall with the wall adapter. It looks great and works perfectly! It gives our 2 dogs more freedom, saves cooling energy and prevents insects from getting in. Plus we don't have to attend to the human door continually and my kids don't leave it open.
---
By DogMom on Jun 2, 2021
Our dog actually uses it.
This was easy to install. We also purchased the wall extension. She uses the door without any issues. We have had the door open on it's own - even having the sensitivity turned all the way down. Our only concern with that really is the cats getting out. But overall, it has been a good purchase...she can go in and out while we are at work. She's about 90 lbs so this size works for larger dogs. We weren't sure she would use it, but she likes having the freedom to go out whenever she wants or needs to.
---
By GreyhoundMom on Mar 16, 2021
Love it!!!
Love the convenience it has. I have 2 greyhounds. One goes out as long as she knows I'm watching. However she wont come in on her own unless I am out there not giving her any other options. Now the other one really does not want anything to do with it. I have to get him to the door and stand there until he makes his way out. Again he'll stay out all day before he'll come through that door on his own. I think its more the sound it makes going up but I'm sure they'll have no issues with some more work.
---