Kitty Holster Cat Harness
Color: Blazin Red Bandana
---
Temporarily Out of Stock
Get notified when this item is back in stock.
Compare Similar Items
| | | | | | |
| --- | --- | --- | --- | --- | --- |
| | | | | | |
| Customer Rating | | | | | |
| Price | | | | | |
| Material | Cotton, Natural Fabric | Cotton, Natural Fabric, Vinyl / PVC | Cotton, Natural Fabric, Vinyl / PVC | Nylon, Synthetic Fabric | Nylon, Synthetic Fabric |
| Closure Type | Slip On | Buckle | Buckle | Bolt Snap | Quick Release |
| Lifestage | Adult | Adult | Adult | Adult | Adult |
| Pattern | Paisley | Geometric | Polka Dots | Solid | Solid |
| Harness Type | Back Clip | Back Clip | Back Clip | Front Clip | Back Clip |
| Leash Type | Standard | — | Standard | Standard | Standard |
| Leash & Collar Feature | — | — | Leash / Harness | Bell, Leash / Harness | Bungee, Leash / Harness, Waterproof |
---
About This Item
This award-winning walking vest is easy to put on but difficult for your cat to get out of on his own.
Soft and made from 100% breathable cotton with an undyed cotton lining which i especially great for cats with allergies.
Putting it on your kitty is less stressful than your average harness because it secures quickly with two fuzzy fastener closures.
A good option for indoor cats to explore the outdoor world, get more exercise or go on trips with more freedom to move around safely.
Harness is machine washable, which makes it easy to clean before the next adventure with your furry feline explorer.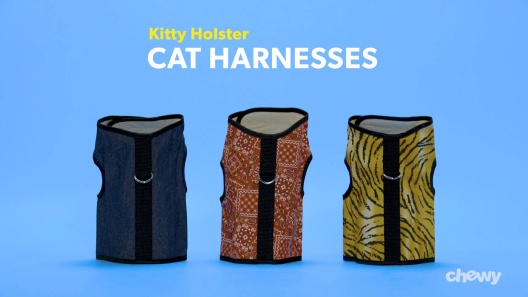 Learn More About Kitty Holster From Our Team of Experts
---
---
Questions & Answers
23 Customer Questions
---
With the velcro closure, is this harness a problem for long haired cats?
---
I have 2 house kittens, who have never been on a leash or harness. How should I go about helping them to adjust to your harnesses
Answer by • May 23, 2019
When first showing your cat the harness, allow them to sniff and play with it before attempting to put it on. While spending time with or in the harness, give them plenty of treats to reinforce positive associations. Once you buckle the harness, allow your cat to move around the house freely and get comfortable before attaching a leash or attempting to explore outdoors.
---
Wouldn't the velcro release when the cat pulls? I have an easily spooked cat we want to try with a harness since she does terrible in the crate.
Answer by • Feb 28, 2018
The velcro is strong enough that when properly fitted, will not allow your cat to break free.
---
What is the material on the inside of the harness? We have a sphinx kitten and want to make sure it's soft for his skin. Thanks!
Answer by • Dec 19, 2018
The Kitty Holster Cat Harness is soft and made from 100% breathable cotton with an undyed cotton lining that's especially great for cats with allergies.
---
---
---
By Shannon on Jul 7, 2022
Amazing fit!
I have 2 feral rescues that are indoor cats now. They weight about 8 pounds and have gotten out if my last 2harnesses. This one is the EASIEST to put on correctly to e sure fit and it doesn't loosen when they run with it. They are adjusting to Velcro sound but treats are helping that quickly. I bought xs and small since they measured in between (they are long and lanky but thin). Xs perfect for them but holding onto one of the small ones because my guess is that one will fatten up since she ALWAYS eats both their food. I'm working on that ;).
---
By Ricardo on Jul 6, 2022
The Only way to walk a cat
This is the 3rd Kitty Holster we have purchased: 2 for our previous cat and one for our newest member of our family. She has only been with us for 3 weeks and hasn't taken to it, yet! We just need to go slowly. Our previous cat took to walking with a kitty holster the first time we ever laid it on his back. He never tried to pull out of it and we usually were able to walk with a loose leash. He used it for 5 years before passing on. We love this product!
---
By MyKatApproves on Jul 5, 2022
Don't Quite Know Yet
It fits my Kat well but when I took him out in it he crumpled up onto the groynd & would not move. Will have to continue training to see if he will use it. High quality. A little pricey and the collar is uncomfortable around the neck but very safe. I know Kat won't wiggle out of it. You should try it and see how your Kat reacts.
---
By Malcolm on Jul 10, 2022
Hoping the magic continues!
This harness may look a little flimsy, but its magical! So easy to put on and so far my escape kitty has not gotten out of it. Its also proving to be calming for my boy, normal he throws a fit when its time to go in. Now I can pick him up while he's snug in his harness. I highly recommend this!!
---
By HappyCatster on Jun 11, 2022
Excellent Harness
I have a 21 pound cat that my vet describes as, "BIG, not fat". As such, when I have to put him in his Pet Taxi to take him to the vet's, I have a REALLY HEAVY LOAD to carry. I finally decided if I bought him a cat harness and taught him how to walk on a leash, I could walk him to my detached garage (where his Pet Taxi was awaiting in my car), put him in the taxi, and be on my way. This would make the distance I had to actually carry him much, much shorter. The only problem was I couldn't find a cat harness that would fit him, UNTIL I found this harness. It was well-made, fit him comfortably, and - after training him to get used to it - served its purpose well. I no longer have to carry a heavy cat, in a heavy Pet Taxi to my detached garage. Purrrrrrfect!!!
---
By Lucysmom on Jul 12, 2022
It's wonderful!
Lucy wants to go outside with us and her dog brother, but we want Lucy to be safe. This harness is a very fashionable answer. She's still getting acclimated to it. She wears it indoors right now. But we are confident she'll be joining us in the yard soon,
---
By CCL4 on Jul 4, 2022
it actually works
I've probably tried 5 or 6 other hardness systems for my escape artist cat that loves to sit outside with me. This is the first one he has not been able to wriggle out of. Regarding size: my advice is size down if you are on the fence about it.
---
By Tasha on Jun 10, 2022
Best vest for big cat
My cat's measurements are right in between the M/L and XL sizes so I ordered XL. He seems very comfortable and he can not wiggle out of it. The neck strap looks thick, but it doesn't seem to impede movement. I used a similar harness with smaller straps and less velcro before this one and it came open often; this is the way to go.
---
By JosephS on Jul 5, 2022
Not Working Out Yet
I followed the instructions, I put the harness where my cat often sleeps. I bought the treats. But I've not come close to getting the harness on my cat, All I've gotten so far are bloodied hands the two times I tried.
---
By JKatz on Jun 14, 2022
Loving the weather!
We've purchased 5 different harnesses and our 2 year old 14 pound feral rescue has wiggled out of each one. We're thrilled with this innovative escape proof harness. He's so comfortable in it that he doesn't even try to get out of it. Success at last. #lovingtheweather. Thanks Chewy!!
---