KONG EZ Soft Collar for Dogs & Cats
Must enter code FALL2022 at checkout to redeem
Frequently Bought Together
---
About This Item
Lycra neckline comfortably helps support dogs with injuries, rashes or post-surgery.
Flexstay technology maintains collar shape while soft, flexible fabric make it less likely for your pet to get stuck.
The cinch-tight toggle allows for adaptable sizing
The flexible collar won't knock things over or make noise when bumped against furniture and doorways.
Durable, machine-washable material helps your pal heal—available in XS and Small.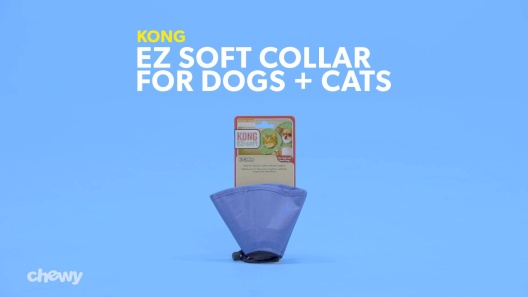 Learn More About KONG From Our Team of Experts
---
---
Questions & Answers
12 Customer Questions
---
Does this work at preventing scratching a head wound?
Answer by • Oct 17, 2017
This product is great for injuries, rashes and post-surgery.
---
Is this good to use after my cat gets neutered?
Answer by • Feb 14, 2018
This is perfect for use after your pet has been spayed or neutered.
---
Does this Kong EZ soft collar contain any natural rubber latex?
Answer by • Jul 05, 2017
The KONG EZ Collar does not contact any latex or rubber.
---
is this good for cats? if so what size fits cats better the small or XS?
Answer by • Sep 20, 2019
This recovery collar is suitable for both dogs and cats. To find the best fit, it's recommended to measure pet's neck size.
---
---
---
By catface on Sep 13, 2022
Completely Useless
I bought the x-small, which came folded in half and then folded in half again. There is a piece of plastic under the fabric that cannot be flattened out or unfolded once it's been creased. These are now permanently folded and creased into an unusable shape. Not round, not cone shaped, but flat and folded up to fit into the smallest envelope possible for shipping.
---
By BeeGee on Jul 8, 2022
Not exactly functional
My cat licks a lot, so we typically keep her in a softer collar. I was hoping to find a Chewy solution so I gave this a shot. This collar is extremely stiff, hard plastic covered in a soft blue fabric with a small ring near the base that is a stretchy knit with a bungie tie. It's so stiff that after unfolding it upon receiving it took a full month stuffed with material before it would actually keep it's shape and not immediately fold back up around the cat and it's still got a kink that creases around her head. Even as a "small" it's HUGE and too heavy and very awkward for my large-ish cat, even though she is used to collars. The bungie closure and soft fabric at the neck made the whole shape flop and she wriggled out of it. I was disappointed in the product as a product for a cat and found another solution elsewhere. 2 stars because it's a functioning collar, and I think it might be perfect for a short haired dog with a larger head. But definitely not great for cats.
---
By Sonya on Apr 10, 2022
Works great!
I purchased the extra small for my small kitten ( 6 months old) for recovery from spaying. I had to put it on her backwards because it's too long for her to see to navigate or drink properly. I did end up having to cut and re-tie the pull strings because they were rather long and would frighten her when walking as they would touch her feet! She's just small enough that having it backwards stops her from reaching her tummy. Potty in the litter box is a struggle so I usually take it off momentarily when I see her attempting to go potty. Overall I am satisfied with the purchase and would recommend this over a hard plastic cone any day!
---
By WooWoo on Feb 10, 2022
Does The Job
I got the x-small for my kitty even though her neck measures aproximately 10-11 inches around. When I first put it on her my 2 year old panicked. She vomited, pooped, & fell off the window sill. She didn't recognize her sister! It was a sin! I turned the collar around the other way so she could see that it wasn't Michael Myers or Jason! It worked, but my kitty was able to reach the spots that she wasn't supposed to lick. I put it back on the regular way, but I did it in front of the kitten so she could see it was still her sister. I tied the string leaving a 2 finger space, but her other sister likes to play with string and keeps untying it. When she pulls on the string it tightens the space around her neck which is sooo not a good thing lol! I ended up going back to the plastic collar with a small ribbon that her sister can't kill her with! It's a good collar & I do recommend it if you don't have a homicidal kitty in the house, or a kitty that watches horror movies! She never pried it off the way kitties do with the plastic ones.
---
By ecollar on Aug 17, 2022
kitten sized collar
Much too small for an adult cat who needs to not scratch ears
---
By newcatowner on Feb 6, 2022
So much better than the hard plastic one
We got this for our 6 month old kitten after he was neutered. The one from the vet had to be super tight or he'd get it off, so his ears were squished and he couldn't eat or drink much with it on. He eventually learned he couldn't get it off, so when we got this one, he didn't try too hard to do it, so we could keep it looser. It's softer and more flared than the plastic one, so he can eat and drink on it easily (maybe a little messy), and his ears are fine. The extra small was perfect, though in the future we'll definitely need to size up if we need another cone. Highly recommend.
---
By Bunny on Feb 17, 2022
Perfect so stop licking paw
This soft halo collar is perfect for my Bichon that needs her paw covered for a few weeks. It is soft and flexible allowing her to sleep with it on. It does limit her side vision but she accepts it. It tight spots it flexes to allow her to pass unlike the clear plastic ones that are uncomfortable. Well worth the price.
---
By Mary on Feb 16, 2022
Not really functional.
The cone came in a folded-into-quarters shape and it was impossible to return it to the shape of a cone. Poor purchase. Not up to Kong';s standards. Never used. I love chewy but this item should, to be carried by chewy.
---
By KongCollar on Dec 23, 2021
Loved it!!
This e-collar was absolutely perfect for my cat. So much better than those uncomfortable, awkward plastic collars. I purchased the extra small for my kitty and it worked out perfectly! He got around so much easier and was able to sleep in it more comfortably. It also has a soft material collar that sits around the neck and doesn't cut in to the skin. Highly recommend this collar.
---
By Shye on Feb 1, 2022
Too small for toy poodle
My tiny poodle mix was still able to stick her head out so the vet ended up charging us for the uncomfortable plastic cone instead. Unfortunately, will have to return or donate and use a recovery suit instead
---