Frequently Bought Together
---
About This Item
Protects passengers and cargo from roaming dogs.
Protects dog from launching forward during quick stops.
No need to remove when passengers or cargo are in backseat.
Universal fit for most vehicles from a compact to a SUV .
Simple installation/removal and the front seat stays clean of dog hair.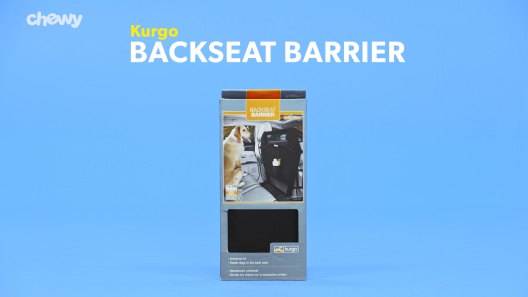 Learn More About Kurgo From Our Team of Experts
---
---
Go Together
Dogs are so important to our lives – they're not just pets, but those with whom we share life's adventures together. Whether you're summiting a mountain or walking your local trails, every excursion is better when shared with your furry sidekick. Kurgo's goal is to create gear that makes venturing outdoors with your pup easier, safer and more enjoyable.
Guaranteed To Go The Distance
Kurgo stands behind the quality and durability of our products with a lifetime warranty.
Go Confidently With Kurgo
Kurgo uses high-quality, durable, outdoor-inspired materials that stand up to nature and to all the miles you go with your dog.
Harnesses
Built for dogs on the go. Kurgo constructs every harness to be both strong and comfortable.
Seat Protection
Kurgo offers smart solutions for protecting your vehicle from wear and tear when you travel with your dog.
Outdoor Gear
Dogs naturally love to explore outdoors, so Kurgo builds gear to make every adventure more comfortable and accessible.
Backpacks
Built for pets who want to adventure, but still need a lift!
About Kurgo Gear
Kurgo believes that your dog deserves to go everywhere you go, safely and comfortably. Way back in the early 2000s, before dog travel gear was a thing, Kurgo set out to solve a problem: how to keep the family dog from jumping in the front seat of the car. After lots of brainstorming and prototypes, their Backseat Barrier was born. Twenty plus years later, they're still finding new ways for you and your dog to go together in confidence.
Shop Kurgo
Compare Similar Items
| | | | | | |
| --- | --- | --- | --- | --- | --- |
| | | | | | |
| Customer Rating | | | | | |
| Price | | | | | |
| Material | Mesh, Nylon, Synthetic Fabric | Mesh, Synthetic Fabric | Mesh, Synthetic Fabric | Cotton, Mesh, Synthetic Fabric, Natural Fabric | Polyester, Nylon, Synthetic Fabric |
| Breed Size | All Breeds | All Breeds | All Breeds | All Breeds | All Breeds |
| Features | Pockets, Water-resistant | Pockets | Carry Bag | — | Pockets, Water-resistant |
---
Questions & Answers
3 Customer Questions
---
Has anyone successfully used this in a Corolla?
Answer by • Jul 15, 2020
This product features a universal fit for most vehicles from a compact to an SUV. The Backseat Barrier is 22 inches at its widest point and 27 inches high. To ensure this product will fit your vehicle we recommend measuring it.
---
Is this made for the cargo area & the backseat or just for in between front & rear seats?
Answer by • Sep 23, 2019
This barrier is primarily designed to separate the front seat from the back seat. If your vehicle has bucket seats in the 2nd row, then this barrier may be used to separate the row from the cargo area.
---
can you adjust the driver's seat after the barrier is installed? my husband and I share a car and the seat is constantly moved.
Answer by • Sep 26, 2019
You should be able to adjust the Backseat Barrier so it will work if one seat is up further than the other.
---
---
By k425 on Dec 2, 2022
effective barrier
Works well. Doesn't quite fit our car. I think it is better suited to fit a sedan. But it does the trick and was easy to install.
---
By Ladyalice on Nov 28, 2022
Excellent product
Very good for keeping our border collie in back seat.
---
By Daisy on May 3, 2022
Good in Theory...
I thought this would be a nice barrier to prevent my 70 pound Bassador from jumping into the front seat while I was driving. It took awhile to install properly, since a lot of strap adjustments had to be made before the whole thing was taut across the seat gap. Unfortunately, she did manage to jump over it and into the front seats while the car was parked and I was inside a store. In the process, one of the webbing loop seams came apart, which caused one entire side to fall down. The flaw was in the stitching. In her effort to return to the back, she stepped on the center horizontal rod and bent it. It will take me awhile to repair, it doesn't seem worth the hassle of returning. In all, the workmanship on this item was not great, causing it to fail. The center horizontal rod should instead be a bar like those on the sides. And the stitching at key junction points should be improved.
---
By Shesh on Apr 10, 2022
No more yelling, "Get in the back!!"
As time goes on our 8-month-old puppy ignores us more and more when we tell her "Back" or "Get in the back." This backseat barrier totally took care of that. She can no longer put her feet on the console and kiss us. Nor can she move forward and get her head close to the window. We totally recommend this. But we miss the kisses!
---
By CrystalD on Feb 23, 2022
Well made, but did not work
I bought this with very high hopes. I was very impressed with the construction and quality of materials. Unfortunately, it did not keep my dog from jumping back and forth from the back to front seat
---
By Woot on Apr 26, 2022
Kurgo backseat barrier
Does the trick; keeps me in the backseat when my people leave the car.
---
By Vona on Aug 8, 2021
Functional barrier
This is a functional barrier. If your dog wants to get over it, they will. The top portion of the barrier broke on both sides when my dog jumped over it (75# Pitsky) after being frightened by a motorcycle popping wheelies behind us. The stitching couldn't hole, however we were able to run the strap back through the fastener. This is a better option if you'd just like to forgo the D-ring set up. The area is on the top strap of the barrier.
---
By Jacque on Nov 9, 2021
Keeps them away from my French fries!!!!
Keeps my beggars away while I'm traveling and trying to eat!!!
---
By Jill on Mar 29, 2021
Works great event for my giant puppy
I tried several other things previously (seatbelt harness, 2 other lower barriers) to keep my giant breed puppy (100+ lbs currently) restrained to the backseat and they hadn't worked out, but we are very happy with this barrier. Its high enough that my pup doesn't try to jump it and happily sits or lays in the back now. Easy to install as well!
---
By Banjo on Feb 12, 2021
Wonderful Solution
Our exuberant Dalmatian thinks kissing us is appropriate behavior on car rides. With the barrier installed life is safer. We can even have a snack without him snatching some for himself. I will say it didn't fit as designed in our Ram 1500. We made it work. Highly recommend
---