Marshall 2-in-1 Hanging Ferret Bed, Green
Frequently Bought Together
---
About This Item
Ferrets are very sensitive to heat and hammocks provide a comfortable and cool place to snooze
Comes in an attractive striped pattern and is made with an extra soft fleece fabric stuffed with a lightweight fill
Includes two adjustable nylon straps that attach easily inside or outside any cage
Big enough to hold two ferrets or other small pets
Bed is machine washable, keeping it easy to clean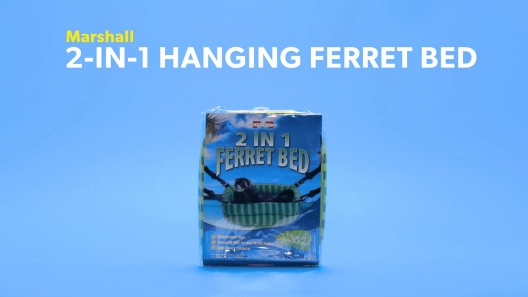 Learn More About Marshall From Our Team of Experts
---
---
Questions & Answers
6 Customer Questions
---
How big is this?
Answer by • Mar 04, 2021
This ferret bed measures 11 inches long x 9 inches wide x 3.5 inches high.
---
How many ferrets can this comfortably fit?
Answer by • Oct 18, 2019
This hanging ferret bed can comfortably fit 1-3 ferrets, depending on the size and cuddliness of the ferrets.
---
Can this be used for an adult guinea pig too?
Answer by • Oct 05, 2018
This product was specifically designed for ferrets and other small pets such as hamsters and guinea pigs.
---
How do I clean it
Answer by • Jun 20, 2018
The Marshall 2-in-1 Hanging Ferret Bed should be washed in cold water and hung to dry.
---
---
---
By Sheena on Sep 16, 2021
Ferret in love!
My little guy absolutely loves this. He now prefers this over his hammocks. He is however not a fan of the little pad that comes with it. He normally flips it up on top of him or out of the bed.
---
By SpudBrothers on Feb 17, 2021
Ratties love
I have 4 boy rats that have a small cage for transportation and to have during playtime in another room. I was using a TShirt as a hammock in the little cage but it was too small for them. This hammock/bed is so nice and big enough for them to all squeeze in to. I have big chewers and that's why I do not put it in there big cage.
---
By Carli on Mar 19, 2021
It's nice fir a comfortable spot
My ferret likes this the cover though he just can't get it to keep him covered up
---
By Cathy on Sep 30, 2020
Plastic Clips
I wish the clips that you used to suspend the bed were metal. Also the fabric inside on the bottom was not attached and the first thing my ferret did is take it out and throw it in her litter.
---
By why3 on Jul 17, 2020
Does not last more than a month for ferrets
Not worth $25 lasted under a month for 3 baby ferrets they love sleeping in it just doesn't last as long as I thought it would paying $25 if it was cheaper I would buy it again but can't see paying that much for something that won't last if it were $10 cheaper it would be worth it but will have to find something better
---
By DebK on Jul 31, 2019
Good size for chinchilla
My chinchillas love this. The adjustable straps are nice for getting the right height in their enclosure. But oh my how quickly they chewed through the cage clips. Replaced with metal ones and it is better. This is my second and I learned the first time to scrap the insert immediately because it just ends up on the bottom of the cage, covered in urine. I have thrown in the washing machine and it came out ok.
---
By Summer on Jun 21, 2019
Not for agressive chewers
This is a super cute hanging bed. My rattie boys love it and they both fit comfortably. The only downside is it doesn't last if you have aggressive chewers. My boys chewed through all 4 straps on the first day and now it is a bed that sits on the platform floor of their cage. Still a great purchase though. Suppose I can buy more straps somewhere.
---
By Mimi on Mar 25, 2019
works for rats
I have two female rats and they both fit if they want to. They like being covered when they sleep, but they do like to chill out in this when they want to be separate from each other. The lining of the bed is definitely removable, as they took that and put it in their other hammock, so it must be cozy!
---
By TheRatDragon on Dec 18, 2018
Very well made! Much bigger than I thought!
I bought this little bed hammock for my 4 baby Rats in their cage. It's so much bigger than I imagined and can easily fit 2 adult Rats or a smaller Ferret. The colors are cute and the hammock is very well made! The straps are thick and you can even take the fleece padding out if it needs cleaning, or just throw the whole thing in the washer! Luckily, my Rats haven't thought of chewing it yet, so let's hope it stays here a long time...
---
By SteveN1 on Dec 15, 2018
If I could give zero I would
This product is terrible I don't understand how a company that is supposed to specialize in everything about ferrets be so bad at making products for ferrets this thing didn't even last a month all my ferrets did was sleep in it no chewing my 2 boys like to sleep together 1 strap broke so I fixed it no problem then another and another it was just a waste of my 8 bucks every time I buy a Marshell product it breaks or I find out its not healthy for my ferries
---