MidWest Universal Crate Caster
---
About This Item
2-pack universal locking casters.
Fits all wire cages.
Very easy to install.
2-inch easy-roll locking casters.
Make any crate mobile by adding these casters.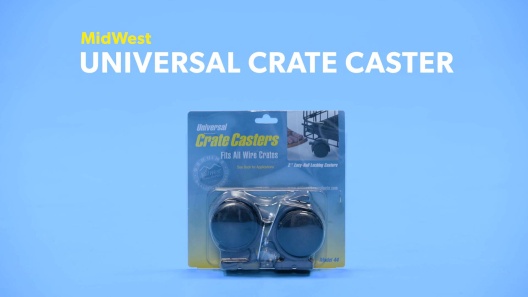 Learn More About MidWest From Our Team of Experts
---
---
Questions & Answers
6 Customer Questions
---
I have 2 MidWest Solutions Series XX-Large Heavy Duty Double Door Dog Crate, 54". These crates are being used to house my Great Dane pups, who are currently 3 months old. I was wanting to use the MidWest Universal Casters for these crates, but will they hold up to an adult Great Dane weight?
Answer by • Sep 25, 2017
The weight capacity depends on the type of MidWest crate you have. MidWest suggests that you use only four casters on crates 30 inches or smaller, however on crates 36 inches and higher, six casters may be necessary in order to support the additional weight.
---
I transport my crates into hotels, shows. Would these work on the edges of the crates to be able to roll them when folded?
Answer by • Oct 26, 2018
These attach to the crate's wire, if placed a point that is toward the floor when folded these could be used.
---
Will these work on a pro-concepts kennel crate for a 75-80lb old English Bulldogge?
Answer by • Nov 18, 2019
These casters are designed to fit most wire crates by attaching to the intersection of any two cross wires.
---
Will these casters work for a Midwest critter nation bottom?
Answer by • Jun 28, 2021
This is a universal unit. MidWest suggests that you use only four casters on crates 30 inches or smaller, however on crates 36 inches and higher, six casters may be necessary in order to support the additional weight.
---
---
---
By Linzey on Sep 30, 2022
Universal Crate Casters for 36 inch crate
These are amazing to use in a small space, so pups crate can easily glide across floor when needed to wash floors....dog has not moved crate while inside at night and they have stops you can use....using on tile floor... no scratches or mars on floor!! wish we had, had sooner!!!
---
By Marshy on Oct 21, 2021
Crate casters
This were exactly what I was looking for to put on my dog's crate to make it easier to move. Excellent product
---
By Kelsey on Jul 26, 2021
Daschundmom
Doesn't fit on all crates, look at the bottom to make sure that where the wheels hook wont make the crate too wobbly. (My crate all 4 would be in the center) I purchased after my daschund had back surgery to make moving the cage room to room easier but couldn't because of this.
---
By Mark on Aug 28, 2021
Crate casters
Screws are too short to mount to our crate, so I can't use the casters. I will have to go to the hardware store to see if I can find longer screws.
---
By daytonarose on Feb 14, 2021
GREAT WHEELS
When we received these, the package said not recommended for crates smaller than 36". Our crate is 30", and they went on just fine! We followed the installation pictures on the back and we are so glad we bought them, in spite of all the negative reviews. It was great rolling the crate away as I washed my floors today!
---
By madison4 on Jan 19, 2021
unfortunately
I was excited about this until we got them on and they wouldn't sit in one place the whole based slid up and down the wire in the kennel and there was no way to tighten it up. Waste of money ...
---
By Schnitzel on Jan 17, 2021
Crate Casters
By attaching these casters to bottom of crate I can move it into living room during the day & into bedroom at night - much easier than carrying it back & forth each day!
---
By DeeDee on Mar 5, 2021
Casters for Dog crate
These casters were perfect, very satisfied with the product, as well as the ease of installing.
---
By Iggylvr on Aug 23, 2020
Be aware of the wire guage for the best fit
Installed perfect on my standard crate but couldn't use the second set of washers on my bigger crate with a larger guage wire. I have a crate that has a pad side and a bed side. The wire guage is larger so the grooves on the wheel brackets do not fully cover/close around the wire to screw them together. Got them to attach by excluding the nut washer. Love that i can move both of these crates around for cleaning or lock the wheels for my babies when we are out.
---
By Saintlunatic on Aug 30, 2020
Very sturdy and handy!
I added these to a small cage for my Chihuahua, The Mighty Hercules when he sadly went blind and deaf in 2018. Poor boy has to spend a lot more time in his cage now and these make it easy for me to move cage around the room to vacuum and mop the floors.
---