Mighty Paw Smart Bell 2.0 Potty Training Dog Doorbell, White
---
About This Item
Teach your dog to let you know when he has to go potty using this simple, innovative system.
System installs in seconds–receiver plugs into standard outlet; wireless activators require no power source.
Activator requires just 0.75 pounds of pressure to send a signal so any size dog can use it; four volume levels and 38 ringtones to choose from.
Water and dust-resistant housing protects against wet, dirty paws and is ideal for both indoor or outdoor use.
Activator and receiver communicate up to 1,000 feet away indoors so you can install the receiver where you spend most of your time and never miss an alert.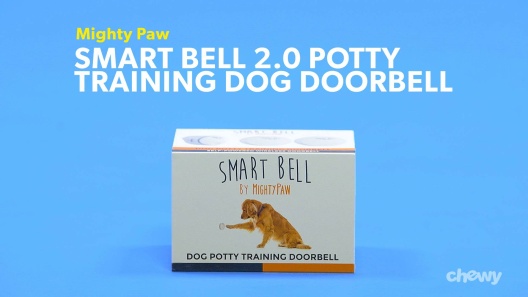 Learn More About Mighty Paw From Our Team of Experts
---
---
Questions & Answers
23 Customer Questions
---
The description claims that the wireless activator requires no batteries or power source. How is that even possible?
Answer by • Oct 06, 2018
The receiver itself does need to be plugged into an outlet within 1000 feet of the wireless activator. The receiver sends a frequency to the wireless activator that energizes it each time to work when pressed by your pet.
---
Would this work for a cat wanting back indoors?
Answer by • Jul 08, 2018
A water-resistant housing means the system is ideally suited for indoor or outdoor use, so your pet can also let you know when they're ready to come back inside.
---
Both my wife and I are hard of hearing and we would need 2 chime units, one at each end of the house If I purchase 2 of these units will one of the activator buttons cause both of the receiver chimes to ring?
Answer by • Mar 07, 2018
This product is activated by your dog's touch. Touching one unit will not cause the second unit to ring. At this time, the manufacturer doesn't have multiple receivers available as a pre-built set.
---
Will the adhesive rip paint off the door?
Answer by • Aug 23, 2020
Smart Bell is designed to stay securely on the wall even with constant abuse from your pup, which can make it hard to remove. But don't worry, we have some tricks. We recommend using a hair dryer to heat and loosen the adhesive and then a putty knife (or something similar) to gently pry it away from the wall. For delicate walls and surfaces, we recommend using 3M Command strips. These are designed to be strong and easily pull out from behind the unit if you need to remove it.
---
---
---
By lauriebelle on Apr 17, 2022
doorbell works as described, but my dog doesn't
my 6 year-old who was used to scratching on the door to be let in & out wasn't too happy in the change of routine. she was perfectly happy with the old model and make her satisfaction perfectly clear. needless to say, the doorbell didn't really work for her (we're still trying), but the system itself did exactly as promised.
---
By Ruffy on Mar 3, 2022
Love these
My human picked up a set of these so my sister and I could signal that we needed to go out or come in. It's so much better than standing around hoping somebody will notice to open the door for us. The doorbell communicates our specific need much more clearly than hanging around barking or whining, so our humans were able to pick up this skill pretty quickly, especially when we reward them by quickly going through the open door and no longer scratching on the door. I don't know much about batteries and electricity, but I am told that it is pretty cool that the bell part plugs into the wall and that the signal part needs no batteries. The humans were so pleased, they picked up a second set for the other door we use.
---
By Harness on May 15, 2022
Sent from the gods
Amazing. Best thing I've purchased on chewy. Beans realized after 3 example pushes from us, what the bell meant. Now she pushes it every time she wants to go outside. Best potty training tool EVER
---
By Brooke on Feb 23, 2022
Exactly what we needed
We got tired of peeking out the back door constantly to see if our dog was ready to come inside, so this is the perfect solution! The button stuck beautifully to our porch (at snoot height) and has survived a couple weeks of nasty Iowa winter weather so far. The chime is nice and loud, so we can hear it anywhere on the first floor. We knew our dog would be able to figure out the system, since she learned to ring jingle bells to go *outside* very quickly. It took about a week to figure out that tapping the button gets her back indoors. It was an easy training process, and the button is pretty easy to push (she's about 65 lbs, if that's relevant). In my dreams there would be a second chime that I could plug in upstairs. Crossing my fingers for the future :)
---
By Waldo on Mar 31, 2022
didn't last very long
The puppy took the cover off the button, I put it back on and he didn't damage anything at all underneath, but now the button doesn't work anymore. The cover came off super easily too. He learned how to use the bell and now I'll need to find a different solution
---
By Smith on Mar 15, 2022
Potty bells
My dog figured out how to work the bell quick! He now uses it all the time when he wants to go outside or just get me off the couch and come play with him. He is pretty cute ringing the bell! He is only 18 lbs so a small dog has no problems ringing the bell.
---
By chris on Mar 20, 2022
didn't last a month
the bell worked week for about 2 weeks then for some reason stopped working , the unit that plugs in works fine but the button the the puppy pushes no longer communicates to the plug in part
---
By Katie on Feb 10, 2022
Best Thing I Purchased From Chewy!
I absolutely love this doorbell! It is loud enough for me to hear throughout my house, has different songs for different seasons, and is so easy to install. I have read a lot of reviews saying their dog won't use it...but you have to train them to do so! I would recommend this product to anyone!
---
By Penny on Apr 2, 2022
A must have!
Our lab pup caught on to this in a week. No accidents since! I bought one for back and front door, then programed them with different songs. Great product!
---
By JRTMOM on Jan 11, 2022
Works great unless you have Jack Russells.
My three month old JRT and 4 year old JRT learned how to use this quickly, but my puppy also learned he could fit his mouth around it and pull the top part off, exposing the microchips and wiring inside. After putting the cover back on multiple times, even after taping it together, it finally died tonight. I've had it for maybe two months. I'm not sure why it died, everything inside looks intact and I damaged, but perhaps the design should account for really smart breeds… aka, not come apart so easily.
---