---
About This Item
Great for dogs looking for a challenge when it comes to treat-dispensing dog games and toys.
Combines both challenging mental stimulation and independent play to maximize your dog's playtime.
Treat compartments on this dog game can hold your dog's dry kibble to make mealtime more exciting!
Enhances your relationship with your dog with this fun, interactive game.
Easy to clean: simply remove all treats/kibble and handwash with warm soapy water.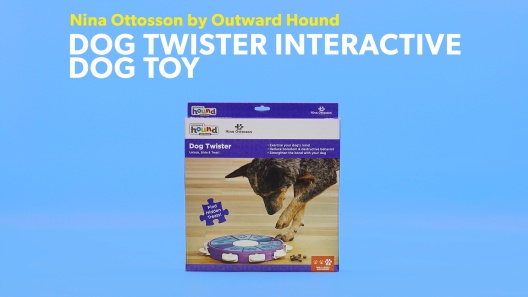 Learn More About Nina Ottosson by Outward Hound From Our Team of Experts
Caution: Do not let the dog chew or bite the toy, only play with it together with your dog, do not leave the dog unattended, the dog must not play with or chew the blocks. Put away when the game is over. Designed for dogs, it is not a toy for a child.
Shop Prescription Medications from Chewy Pharmacy
---
---
About Outward Hound Puzzle Toys for Dogs
Healthy Playtime Problem Solving
Did you know that 15 minutes of mental exercise can have a similar effect on your dog's emotional well-being as 30 minutes of physical exercise? Dogs love to explore and problem solve and will use their noses and paws as tools. Each Nina Ottoson puzzle toy game is designed with your dog's natural behaviors, senses and safety in mind.
Reduce Unwanted Behaviors
Setting your dog to work on a puzzle or game helps focus his attention and energy. This mental redirection can help reduce boredom, anxiety and destructive behaviors, too. Try using puzzle toys to distract your dog from fireworks, thunderstorms and other stressful situations.
Four Levels of Play
All dogs are different. That's why each treat puzzle toy was designed with a different level of difficulty—to please dogs of all skill levels, whether they are beginners or puzzle-solving pros. Start by choosing a level that suits your pup's skill set and level up as he learns!
Level 1
Perfect for beginners, these puzzles help gain interest and prepare dogs for puzzles to come.
Level 2
Features added obstacles, requiring your dog to combine actions to retrieve each tasty reward.
Level 3
These advanced puzzles challenge your dog to complete several steps in order to reach the hidden treats.
Level 4
This is the hardest level and requires multiple steps and problem-solving skills to solve!
For Bonding and Training
Nina Ottosson puzzle games are a great way to build your relationship with a newly adopted dog or help a shy dog come out of his shell. You can also use puzzles to help train your dog and practice basic commands like "sit" and "stay".
About Outward Hound
Designed for dog lovers by dog lovers, Outward Hound products are made to meet the demands of your pet and your active lifestyle. Their unique lines of gear, toys, treat puzzles and dog bowls create engaging, interactive experiences that foster bonding between pets and their people. Let Outward Hound help you push the boundaries of playtime and Raise the Woof on what you expect from your pet gear!
Shop Outward Hound
Compare Similar Items
| | | | | | |
| --- | --- | --- | --- | --- | --- |
| | | | | | |
| Customer Rating | | | | | |
| Price | | | | | |
| Toy Feature | Training | Training | Training | Exercise | Training |
| Breed Size | Small Breeds | Small Breeds | Medium Breeds | Medium Breeds | Medium Breeds |
| Material | Polypropylene | Polypropylene | Plastic | Wood | Plastic |
| Toy Type | Games & Puzzles | Games & Puzzles | Games & Puzzles | Games & Puzzles | Games & Puzzles |
| Chew Style | N/A | N/A | N/A | N/A | N/A |
---
Questions & Answers
9 Customer Questions
---
What is the difficulty level? I just got a level2 for my dog and he figured it out in 2 mins.
Answer by • Aug 21, 2018
This toy has an advanced level of difficulty.
---
Do you think I could give this toy to a cat?
Answer by • Feb 25, 2020
This toy is designed for play with dogs.
---
How much dog food does it hold? Cup wise?
Answer by • Jul 10, 2020
This toy does not measure an exact amount. It is recommended to add as much as you want but to remember the toy must still work to be effective. It varies due to kibble size or wet/canned or raw food.
---
Is this toy durable? My dog likes to chew
Answer by • Apr 24, 2020
Do not let the dog chew or bite the toy, only play with it together with your dog, do not leave the dog unattended, the dog must not chew the blocks.
---
---
---
By Note on May 18, 2022
Level 2 for chewers and torquers
My 6lb puppy specializes in destruction and he treats this as an engaging level 2 puzzle where you leave the white handles and do a scratch bite twist combo on the teal segments to pop them out. It's a great tactile puzzle and you can just pop them back in but it isn't technically level 3 mechanics for all dogs as he would get very frustrated moving on to a level 4 from this.
---
By dogmomof2 on Apr 22, 2022
great toy for my dogs
This is awesome. My dachshund figured out how to move the top pieces immediately with her paws. It keeps her distracted/busy when she is hyper. I moved it up higher so she can use her nose but she knocks it off the stand. So as soon as I can figure out how to stop that, that will be her next challenge and then we can move on to the locks. My other not so smart dog hasn't figured it out yet, he just lays on top of it so Diane doesn't get the treats :o)
---
By Pekemom on Mar 18, 2022
Eh.........it may be for some; but not me!
My name is Mia and I'm a 2 1/2 yr old Peke. My mommy thinks I'm smart but this puzzle blew me away. I can't figure it out so my mommy helps me. I do like it but it's not one of my favorite ones. I guess if you're a superbrainiac dog, then this may be for you. But I'd rather leave it alone and play with something else. My mommy leaves it out when she works hoping that if I get bored I may try to play with it. Little does she know, I'd rather take a nap than play with this thing! Maybe some day I'll try it again. But for now, there's other puzzles I like much better than this one. Thank you Chewy! We love you!
---
By Fahzdo on Mar 18, 2022
Complex but lower quality
This puzzle proved to be complex but the quality of materials is much less robust than some of the others and it quickly had big gash marks from nails and teeth. The puzzle also requires a pretty advanced digital dexterity so may not be a good option for puppies who don't have that nailed down yet.
---
By angie on Apr 17, 2022
easy for 10 month old
my 10 month old bc got through this puzzle in one minute. we struggle with puzzles because he is very good at them once he masters them he loses interest. it is a cute puzzle though
---
By doggielava on Mar 2, 2022
Frustrating for dog
This one while a good idea, is extremely frustrating for my dog. The white pieces have to be pulled out just right for the plates to slide, and so it encourages her to bite the white pieces and fling the entire toy around because the white pieces are so close to the ground. Not ideal for my wood floors.
---
By xandr on Jan 30, 2022
Great for bored and/or destructive pups
I purchased this (and about 10 other games) for my growing puppy. A year later this is the only game he still wants to play - he simply can't get enough! He conquered the lower level games with ease (aka about 30 seconds) but this one kept his interest. He figured out how to pull the white handles that unlock the sliders in about the 3rd try, agree with other reviewers it may be a little noisy at first. :) I highly recommend, this is a go-to especially for pups who are destructive when they're bored.
---
By Roxymom on Mar 6, 2022
Too complicated
My dog loved the puzzle with removable bones and flip lids. She gets frustrated with pinwheel sliders and chews the lid off. No way she can maneuver the lock situation. I"ll keep working with her. Currently she sees the puzzle come out and she walks away.
---
By michele on Feb 18, 2022
I don't know about this
It is a great thinking toy. Easy to fill. But my pup uses it then it was made for. He can flip it over and all the doors open for him or he takes it to the top of the steps and drops it, before final landing, all the doors have fallen off. Maybe he is just an over-thinker..
---
By Sarah on Jan 7, 2022
Would be better with some design changes...
I had been expecting the locking tabs to keep the doors actually locked in place... but they only keep them from moving side to side. It took my dogs all of 30 seconds to figure out that flipping the whole thing causes all of the food/treats - and some of the doors - to fall right out. Since flipping is my dogs' default response to puzzle toys... it's pretty useless for that. Instead, I've been using it as a slow feeder for my cats, in a room the dogs don't have access to. It serves that function well enough, so isn't a total waste (even though I didn't particularly need a cat slow feeder). The cats figured out how to rotate the doors fairly quickly... although they prefer to make a human do it for them if one is available. It holds about a cup of the size of cat food I feed, so for the two of them I'm refilling about once a day. The locking tabs engage at the slightest touch, and you can't always tell visually whether they are completely all the way out (and unlocked) or just slightly in by a hair (and locked), or caught up on a piece of food wedged in between the moving parts (so the doors won't move, but they could still be completely unlocked) so they're more of a frustration for me refilling it than a logic puzzle for the animals. I wound up removing them completely after about a week. I have to take it apart fairly regularly to clean out the center - pieces of kibble like to get trapped under the white part. It's a bit of a pain to put back together, since the screws are on the bottom and the little doors fall off fairly easily if you flip it upside down (just means you have to hold it over your head to put everything back together, which isn't horrible, just awkward).
---