Pet Fit For Life Plastic Cat Water Fountain with Cat Wand & Mat, 67-oz
By Pet Fit For Life
Compare Similar Items
| | | | | | |
| --- | --- | --- | --- | --- | --- |
| | | | | | |
| Customer Rating | | | | | |
| Price | | | | | |
| Bowl & Storage Feature | Non-Skid, Dishwasher-Safe, BPA-Free, Lead-Free, Tip-Resistant | Dishwasher-Safe, BPA-Free, Lead-Free, Tip-Resistant | BPA-Free, Lead-Free, Tip-Resistant | BPA-Free, Lead-Free, Tip-Resistant | Dishwasher-Safe, BPA-Free, Lead-Free, Tip-Resistant |
| Capacity (Max) | 67-oz | 50-oz | 100-oz | 100-oz | 80-oz |
| Assembly Required | Yes | Yes | No | No | Yes |
| Tools Included | No Tools Required | No | N/A | N/A | No Tools Required |
| Material | Plastic | Plastic | Plastic | Plastic | Plastic |
| Compatibility | Plug-In Power | N/A | N/A | N/A | Plug-In Power |
| Breed Size | — | — | N/A | N/A | N/A |
---
About This Item
Raised fountain attracts your pet to the bowl and allows her to drink without putting a strain on her neck.
Charcoal-activated filter helps to remove impurities from tap water to provide your sidekick with delicious, purified drinking water.
Low-power, submersible pump is designed to be whisper quiet—that means you won't hear anything but the refreshing sound of running water.
Includes a bonus non-skid rubber mat to protect your floor, plus a feather cat toy.
Ideal for both dogs and cats, making it a great addition to multi-pet homes.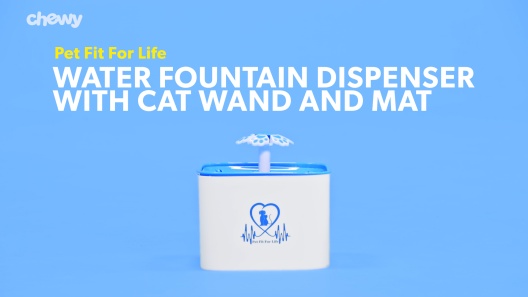 Learn More About Pet Fit For Life From Our Team of Experts
---
---
Questions & Answers
32 Customer Questions
---
How often do you need to refill this with more water? Is it battery powered or plugged in?
Answer by • May 07, 2019
How often the fountain will need to be filled will depend on how much your pet(s) drinks. The fountain can hold up to 2 liters. It is not able to run on batteries and will need to be plugged into a standard outlet as a power source for its pump.
---
Where can I get replacement filters?
Answer by • Jan 26, 2020
Replacement filters for this fountain are available for purchase on our site and are listed as Pet Fit For Life Pet Water Fountain Replacement Filters.
---
What is the cleaning process. I have found other fountains difficult to clean with small areas that can barely be reached with a q-tip.
Answer by • May 14, 2019
The pieces would detach for simple cleaning. It's recommended to wash the fountain with soap and water. Cleaning instructions are also provided in the instruction manual provided with the fountain.
---
Can you use an extension cord ?
Answer by • Jun 30, 2019
An extension cord may be used. We recommend using one which is made for outdoor use, just in case it may come into contact with any water.
---
---
---
By Sami on Apr 8, 2022
Great cat water fountain
My husband and I recently purchased this little water fountain for our 3 cats, after realizing they weren't drinking enough water. After setting it up, we originally had the largest fountain flow with the little white paw on the fountain. However, we quickly realized it was freaking the cats out. We put the lower fountain feature on the fountain, while also still having another water source available for them to drink from. It took all three of my cats about a full week, 7-ish days, to figure out the fountain and drink from it. I was worried about my blind cat figuring this out, and she did take the longest out of all the cats to drink from it, but she did figure it out! Now I see them drinking out of it all the time!! It's not very loud, and the fountain noise that it does make is pretty soothing and nice to listen to. I'd definitely recommend this to a friend!
---
By Debb on Apr 2, 2022
Nice Fountain
Easy set up and keeping it clean Simple maintenance of filter. Also cute with paws and pretty color. Cats like and use this. The non skid blue mat is good too! Only disappointment was with the toy wand that Came with the fountain ~ unfortunately it's a two-piece wand that is supposed to screw together but it does not screw together so you have to hold it by just small one piece not as much fun that way
---
By orbitor on Jan 26, 2022
love this item
this is the first item I have bought that all 4 of my cats will use. It took about a week or so for all of my cats to start drinking from it, but it is well worth it. I was worried about them not drinking enough and this worked out perfectly.
---
By Heather on Jan 17, 2022
Great product!
I've had other fountains for the animals but this one is the best. The extras that it came with are awesome, but also the different fountain attachments are great! My cats drink from this more than they play in it, which is a win!
---
By TabbyTwinMom on Jan 26, 2022
Stops working after only a couple months
I've only had this item for a couple months and it stopped working randomly. My cats loved their water fountain but now very upset that it no longer is working. Should have invested in a better fountain.
---
By Buffy on Feb 5, 2022
Motor dies
The original was replaced as the motor died after a few months. The replacement died about a year later. Don't recommend this.
---
By lasjan2001 on Sep 28, 2021
A Piece of Junk
I could tell that my old water fountain (Catit) was about to wear out, so I decided to give this one a try. As predicted, my fountain finally went kaput. I thought to myself, "No problem! I have my backup water supply for the cats." I assembled the fountain as instructed. After assembly, I plugged in the fountain. It spouted water for about three seconds and then stopped working. Now, my cats must be without their usual water supply. I am beyond frustrated that a brand new fountain does not work! Don't waste your money on this piece of junk!
---
By Midnight on Jan 26, 2022
Cat loves fountain
Midnight likes to play with water and dump his bowl. With this fountain, he loves it and doesn't dump it.
---
By PAWS on Sep 28, 2021
Absolutely YES!
This is a great product. Doesn't leak, quite, and cats love it and affordable. Also, easy to clean. I have had three different kinds and had problems after a couple months. This one also comes with a cute rubber mat and cat want. That is a plus. My boys love feathers and jumping. I am constantly buying wands with feathers because they break. The wand they give you for free is so durable my cats are jumping 4 to 5 feet in the air. They do not want to stop. I have to hide the want in the bathroom closet and keep the door shut. When I go into the closet, they are right there trying to get the wand. If you don't like the paw stand, you can switch it out for the bubbler. My boys like to play too much in the water with the bubble. Overall, this product is a must!!
---
By KatMom on Sep 10, 2021
Very nice quiet fountain.
This water fountain is pretty cool. It did take awhile for my cat to drink from it though. I thought all cats liked moving water but I don't know that is necessarily the case. I'm not sure but it could depend on the anatomy of the face or jaw. My cat finally did learn to drink from it carefully at the corner always. I'm not sure if she's afraid she's going to get water up her nose or not. I keep it running all the time but I also have a bowl of water that she seems to prefer. My cat is 17 and it's good to have fresh water available always. It's funny but she does seem to enjoy sticking her head either in my cup and drinking my water or from a container that I use to water plants. I would say that the only thing that I would like to see different is the actual base of it free of all the sharp little corners that are hard to clean. I do use vinegar to help cleaning any bacteria. I'm not sure but I might like it more than my cat. All I know is she does drink from it but I usually don't see her do it much. The water level changing does indicate she's drinking it.
---