PetSafe Basic In-Ground Fence System
---
About This Item
Waterproof receiver collar for dogs 8 pounds and up, fits neck sizes 6-28 inches.
4 adjustable levels of static correction or tone-only mode alerts your pet with a beep. Correction increases if your dog tries to run through the boundary zone.
Collar uses PetSafe RFA-67 battery (included).
Covers up to 1/3 acre with included boundary wire, expandable up to 5 acres with additional wire (not included).
Add an unlimited number of pets with additional in-ground receiver collars.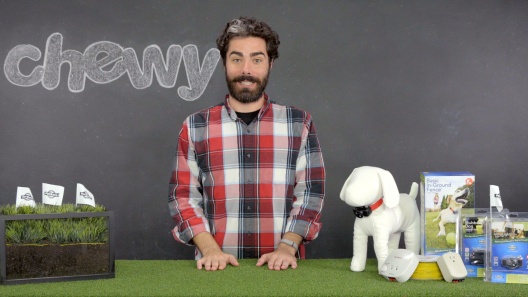 Learn More About PetSafe From Our Team of Experts
Click Here for 6-Volt RFA-67D batteries.
Shop Prescription Medications from Chewy Pharmacy
---
---
About PetSafe In-Ground Fences
Perks of Doing it Yourself
Installing a DIY in-ground pet fence from PetSafe has innumerable benefits. While keeping your furry BFF safe, this in-ground pet fence won't affect the look of your yard at all—no unsightly, expensive above-ground fencing that requires maintenance over time. The in-ground fence allows you to fit the boundary shape to your yard and even cover up to 25 acres with additional wiring.
How Does DIY In-Ground Fencing Work?
DIY, CUSTOMIZED INSTALLATION
Bury your PetSafe in-ground fence wiring around your yard or property for a completely customized boundary solution.
QUICK, EASY TRAINING
Once your in-ground fence is installed, it usually takes just two weeks to train your furry friends to understand the limits of their space.
FREEDOM TO PLAY
Your dog is free to explore, play, and relax safely within her learned boundary—which gives her enjoyment and you peace of mind.
About PetSafe
The team at PetSafe is dedicated to helping pet parents keep their pets healthy, safe and happy. Their innovative product line includes pet fencing, self-cleaning litter boxes, pet doors, harnesses and leashes, feeders, fountains, toys, remote trainers, bark solutions and pet travel accessories, all designed to bring pet families closer together for a lifetime of love.
Shop PetSafe
Compare Similar Items
| | | | | | |
| --- | --- | --- | --- | --- | --- |
| | | | | | |
| Customer Rating | | | | | — |
| Price | | | | | |
| Features | Adjustable Correction, Low Battery Indicator, Waterproof | Adjustable Correction, Low Battery Indicator, Waterproof | N/A | N/A | N/A |
| Collar Type | Fence System - Noise, Fence System - Static | Fence System - Noise, Fence System - Static | Fence System - Static | Fence System - Static | Fence System - Static |
| Compatibility | Battery Powered, Plug-In Power | Battery Powered, Plug-In Power | N/A | N/A | N/A |
| Breed Size | N/A | N/A | N/A | Small Breeds, Medium Breeds, Large Breeds | Small Breeds, Medium Breeds, Large Breeds |
| Lifestage | Adult | Adult | Adult | Adult | N/A |
| Closure Type | N/A | N/A | N/A | N/A | Buckle |
---
Questions & Answers
90 Customer Questions
---
Can the wire be incased in PVC pipe an ran under gravel driveway, so not to damage wire?
Answer by • Jun 06, 2018
If your drive is gravel or dirt, you can run the boundary wire through a PVC pipe or section of water hose to protect the boundary wire. Then bury the pipe or hose and wire.
---
Part of the area I have to use in the backyard can possibly flood at times. Is it still safe to put in that area since the wire is buried and I assume insulated?
Answer by • Mar 13, 2018
This in-ground fence systems includes a 500 spool of solid-core, 20 gauge insulated copper wire. Per the manufacturer, this is safe to use in flooding areas.
---
I have 1 very lg dog and 1 very small dog. Can i have different levels of correction set for each collar?
Answer by • Nov 01, 2017
The correction level is set on the collar so each collar can be set individually.
---
If the wire is too long are we able to cut it to shorten for the size of our yard?
Answer by • Sep 28, 2018
The wire can be cut to accommodate the size of the containment area. You can also use extra wire if you need more than the 500 feet that is included.
---
---
---
By KylieG93 on Apr 11, 2022
This fence worked for maybe a week
We followed all the instructions to a T, watched videos and tested it all out before we buried the wire for this fence. Our dogs started getting shocked all around the yard, sometimes even if they just stepped off the front door step and we had well over the amount of yard space, and if we turned the intensity down even a little they just walked right over the line. Eventually with new batteries in the collar and lots of trouble shooting the dogs could walk over the wire in random parts everywhere. A giant waste of money, just get normal shock collars or put a fence up.
---
By KenH on May 8, 2021
Works great
I installed this in a day back in March, and it is working well for my dog. Everything as advertised and the instructions were helpful.
---
By Ale9 on Dec 27, 2020
Didn't work for us
Trained our dog with the in-ground fence and it worked. It beeps when you get near the flags/line and then will shock if you go past it. My dog learned all this very quickly and did very well until one day we were playing in the backyard and he ran past the lines not realizing and it never shocked him. Since then he now realized if he runs through it, it won't shock him. If he walks near it however it will and he knows and doesn't walk anywhere near it. I don't know if this is just a problem with our device or if anyone else has noticed this?
---
By Peter on Oct 12, 2020
DOES NOT WORK
What a waste of time and money!!! I did the "test loop" to make sure the system worked before I installed 1000 ft of wire. Got it all installed only to find out this is GARBAGE!!! Collar zaps in the middle of the yard no where near the loop wire. Called customer service and of course, it's all my fault. Can't be their system. They were NO help at all. One collar was so unreliable I just took it back. Other collar never shut up and buzzed and beeped all the time. Even sitting still sitting on the counter in the kitchen. Unfortunately I spent a lot of time and money to find all this out. What a joke this company is. I will never buy PetSafe product again.
---
By Dogmom1 on Oct 25, 2020
Easy to install and reasonable
We installed 1300 feet of wire. We had to splice 4 times. I was concerned that it would be too many splices, but it worked great. We did have access to a machine that buried the wire so we didn't have to do it by hand. The whole fence cost $230 to install compared to the $2000 quote we got. My dog was trained within days.
---
By Karen on Jun 19, 2020
Work but worth it
I fully admit there was a time while installing this that I wanted to throw my hands up and quit. We got an estimate from a company to have a system installed and the price tag left me with my mouth on the floor. A friend mentioned this system and the price tag was to my liking. Day one of installation i feared I made a terrible mistake. Hot sweaty and frustrated i thought the smarter idea would have been to write the big check to the other company.... with some perseverance, more sweat, and some language I am not proud of, we finally finished installation, and one week in to training I am beyond thrilled! Life outside with our pup is a whole new level of amazing not having him constrained to a leash or worried he will run off down the street. Do it! If you aren't sure, do it! It is amazing.... but... know it will take quite a bit of work to get the whole system installed. There is a reason that company charges so much!
---
By Glenn on Apr 25, 2020
In ground fence
I have used the pet safe product since the 90's (same one), and decided to upgrade to one with a surge protector for our new house. Installation is easy with a electric edger and a paint stir stick. Works great and the dogs are taking to the training quickly. Always a pleasure dealing with Chewy and we appreciate the crew working and keeping us safe.
---
By Shaggyrun on Mar 18, 2020
Great alternative to physical fence
I have a chocolate lab named moose. Hes a good boy but seems to like to wonder around and were constantly finding shoes, bird feeders, etc... on our front porch from his wonderings. So we put this fence in took a weekend so it's not hard. I did have a bad transmitter so I called pet safe they shipped a new one out so A+ for customer service. I trained moose quickly then I let him wonder a little. He ran through the fence with the setting on 2 so I do more training and increased it to 3 he ran through one last time so I trained a 3ed time and upped it to level 4 he recieved 1 correction and now hes staying in the yard.
---
By GraciesMom on Mar 10, 2020
My Only Concern..
I've volunteered for Animal Rescues in addition to working at our local Humane Society so I'm members of many online groups. Just wanted to pass on some info regarding these. While they work great as long as your pet stays within the fence boundaries..they're awesome!! Yet I've read about times a dog may run past them chasing a squirrel, etc., and forget all about the shock they're getting when crossing the in ground electric fence. A missing dog is absolutely NO fun..nor is trying to get your fur baby back into his/her yard when the Fence System is on. At the point that your pet is beyond the system, so please turn it off so they are free to come back into the yard without getting a shock telling them otherwise. Here's a sad story to share so that ALL understand: There was a dog that had chased a squirrel past his families "In Ground Fence System". He was lost for days!! Neighbor's cameras saw him coming close to the property, but then he would run off again. While trying to figure out why..they thought that maybe an animal had left their scent that he was afraid of..etc. Looking for DAYS on end, they finally found him in the back woods of their property. Thankfully he was okay..but thin and dirty. Reason he wasn't coming back onto their property was because he was getting shocked by their in ground fence system that wasn't turned off. Poor little one never knew why he couldn't get back into the yard and come home...he kept getting shocked every time he tried. Sooo my advice to all; while these things are great, if your pet gets outside of them, please shut them off until your furbaby is safely inside the confines of your yard and the Fence System. Hope this helps as I for one, never would have even thought about this. Big helpful hugs to all the families and their fur babies out there. <3
---
Did not work properly
Decent product, but did not work for my dog. Trained her for months, and the barriers kept changing (without changing the knob) which made her get shocked for no reason sometimes, twice it just shut off, and it's very difficult to put in the ground (this last one I was expecting). I would suggest if you are going to invest money into this type of fence, then go for a higher priced fence system. The basic was not worth the money in my opinion.
---