Drinkwell 360 Stainless Steel Cat & Dog Water Fountain, 128-oz
---
---
Try This Similar Item By Chewy
---
Frequently Bought Together
---
About This Item
Scratch-resistant stainless steel unit ideal for multiple cats and dogs under 60 pounds.
Dishwasher-safe fountain doesn't contain any pesky nooks or crannies, simplifying cleaning.
The free-falling, 360-degree access streams keep water fresh, encouraging pets to drink more without making you constantly refill the bowl.
Receiving ramp and adjustable flow control reduce splashing to accommodate the shy and timid furry members of your family.
Pet-focused design, human friendly operation: this fountain is easy to assemble and disassemble.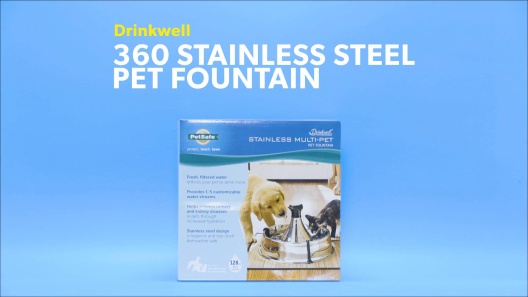 Learn More About Drinkwell From Our Team of Experts
---
---
Keeping Pets Happy & Safe Since 1998
PetSafe has helped millions of pet parents care for their pets through every stage and season of life.
US-Based Customer Care
The PetSafe team of customer care experts is available 5 days a week via live chat, email or phone.
Healthy Pets, Happy People
PetSafe is dedicated to helping pet parents keep their furry family members healthy, safe and happy. From irresistible toys to life-protecting pet fences, their innovative products are designed to help bring pet families closer, for a lifetime of love.
Pick of the Litter
What sets PetSafe apart is a team of pet experts who come to work every day with one goal: making the world a happier place for pets and their people. They work with professional trainers, veterinarians and pet behaviorists to keep up on the latest research and insights and use that in developing their products. They rigorously test every product for safety, quality and efficacy, too – because your pet deserves the best!
About PetSafe
PetSafe has been a global leader in pet care since 1998. They pride themselves on empowering pet parents through innovation, education and experiences. Their goal is to strengthen the bond between people and their pets, providing them with thoughtful products, expert advice and compassionate support. PetSafe's US-based customer support team is always ready to help you get the most out of your life together with your pets!
Shop PetSafe
Compare Similar Items
| | | | | | |
| --- | --- | --- | --- | --- | --- |
| | | | | | |
| Customer Rating | | | | | |
| Price | | | | | |
| Breed Size | Large Breeds, Giant Breeds, Small Breeds... | Large Breeds, Extra Small Breeds, Small Breeds, Medium Breeds | Small Breeds, Medium Breeds, Large Breeds | Large Breeds, Giant Breeds, Small Breeds, Medium Breeds | Large Breeds, Giant Breeds |
| Lifestage | Puppy, Kitten, Adult, Senior | Puppy, Kitten, Adult, Senior | Adult | Puppy, Kitten, Adult, Senior | Adult |
| Material | Stainless Steel, Metal | Plastic | Ceramic | Plastic | Stainless Steel, Metal |
| Bowl & Storage Feature | Spill Proof | Spill Proof | Spill Proof | Spill Proof | Spill Proof |
| Capacity (Max) | 128-oz | 64-oz | 115-oz | 128-oz | 128-oz |
| Assembly Required | Yes | Yes | No | Yes | Yes |
| Compatibility | Plug-In Power | Plug-In Power | — | Plug-In Power | Plug-In Power |
---
Questions & Answers
63 Customer Questions
---
Does this have an automatic shut off in case the water becomes low so the motor doesn't burn up in the pump? If it doesn't, can the pump burn up?
Answer by • Jul 24, 2018
A minimum level of water must be maintained in the fountain in order to keep the pump running properly. The pump will not shut itself off if the water level gets too low. If the pump were to begin to overheat due to a situation like this, though, it will shut itself off. This safety shut-off will typically render the pump inoperable and in need of replacement.
---
What is the advantage of the stainless steel over the plastic one??
Answer by • Jan 25, 2018
The advantage is the stainless steel fountain stays cleaner longer and doesn't attract bacteria as quick.
---
How long can you leave it running?
Answer by • May 14, 2018
This fountain is electric powered so the length of use depends on how long it is plugged in for.
---
Does the fountain splash water on the surrounding floor?
Answer by • Aug 06, 2018
This product holds one gallon of water, making it perfect for multi-pet households, and the stainless steel construction resists bacteria and makes cleanup simple. However, it's possible your pet could knock some water out of the fountain to the surrounding area.
---
---
1017 Customer Reviews
---
Filter by reviews that mention
---
By Alwaysonfactory on Nov 13, 2022
This fountain makes me and my cat happy
I love this fountain. It is easy to clean using a nice new toothbrush and the small round brush made by the manufacturer. It holds a large quantity of water which is a great asset. I have had mine for almost 2 years and it is still like new. Stainless steel is better than plastic for preventing cat chin pimples. My cat loves it and no longer licks the sinks, the tub and the faucet aerators. I solved the problem of the black clips not holding the components together very well by using pieces of scotch tape to hold them on. A very easy solution and it works! This little thing should not prevent you from buying it! It is one of the best things I have for my cat.
---
By kams on Nov 8, 2022
disappointed
I really wanted to like this fountain because I like this brand. But I just hate it. It's difficult to clean, and seemingly requires more frequent cleanings. I change the filters everytime I clean, but the water always looks murky and gets foamy after a few days. My cats have used a fountain for years and prefer a stream of water, but they won't drink from it after a few days. I sized up so that I would not need to freshen the water as often. Unfortunately, I'm freshening the water daily and it's just not working. It's not a bad product if you don't mind frequent cleaning. But I'm probably going to retire this one and switch to a new fountain.
---
By ad19 on Oct 14, 2022
fountain stainless
We got this fountain years ago. We found one of our cats was sensitive to plastic (had stress feline acne) and needed metal. Another is part outdoors and suffered from bladder issues. This fountain creates continuous stream of water similar to out in nature. If they don't want stream, they can just drink from bowl. For them it's easier to drink from stream BC the bowl is high, harder to lean over. Only problems is I wish it would give a ringing or something when water is low. I fill it up every few days but sometimes house is dryer or they drink more. It'll make a quiet gurgling sound when water low. So that said we replace pump yearly from blowing it out. We replace the tube filters and foam pad every 6 weeks. Easy to take apart and hand wash. We use filtered gallon jugs so no calcium buildup.
---
By Lynne on Oct 20, 2022
Very disappointing. Quite loud
This fountain was so loud that my cats would not go near it. The motor rattles and vibrates the metal cone, and the water itself sounded like a kitchen faucet constantly trickling, which annoyed us as well as the cats. They can now shoot at asteroids in space, why can't they make a quiet stainless pet fountain?
---
By Holly on Sep 28, 2022
It never worked great, but it's gotten worse
We've had this fountain for about a year and a half now and have only had it this long because we were too sunk into the amount of money we spent on it. The water pressure is really inconsistent and trying to get it to lock into place is a complete pain. It is really difficult to take apart and I wouldn't suggest it for folks with any type of arthritis particularly because of the three prongs that hold the thing in place. Getting them off is a big hassle. The product is also GIANT. The image here with the cat is not accurate or true to size. This thing dwarfs both our 13 pound house cats.
---
By fountain on Oct 6, 2022
my cats like it but i hate it
I despise this fountain. It gets dirty SO QUICKLY that I need to dissemble and clean it every few days. The water has never poured out of all 4 spouts and now a year later it barley pours out of 2. I keep messing with it thinking it must be a user issue but I can't figure it out. I will say both cats drink out of it and one cat loves it. Eventually I will try another fountain though, this one gets dirty far too quickly. Not worth $75
---
By Cats on Aug 17, 2022
Best for a large dog
I was disappointed in this purchase. I simply wanted a stainless steel water fountain for my cat in an attempt to curb her desire to drink from the bathroom sink. I was surprised at how big the fountain was when it came. It is somewhat labor intensive to set-up and having to change one of the filters every two weeks gets pretty expensive. I think there are less expensive fountains available that are easier to keep clean and change the water than this one. My cat isn't using it and seems intimidated by it. I think it would be a good choice for a large dog however if you don't mind the setup process.
---
By POSexpensive1 on Sep 19, 2022
Lotstolearn
Have had this since April 2022, worked great for the 1st week then it totally quit running water through it, changed the filters twice a week and it made no difference. Wish I would have bought the cheaper one, since I paid over $75 for this one I thought it would be good but it is not it doesn't work like it should! Good idea but a total fail!!!! Wish I could get my money back!
---
By SAJB on Aug 10, 2022
We Love it!
Ordered this for our 2 older large dogs (Lab & Husky - both 13 yrs) to share with our 2 kittens (5 months). The kittens absolutely LOVE it! It truly encourages them to drink, which is important for kittens/cats. The dogs are older and used to water bowls so they don't drink from it as much. In our opinion, if they were puppies and started on it, they would enjoy it as much as the kittens do. They still drink from it, but we are still providing them with their own water bowls.
---
By Ellyn on Aug 17, 2022
This Is a piece of garbage
I bought two fountains by mistake, Chewy generously refunded one of them and told me to give it away to a friend. I did just that. At first we were happy with our fountains and our four cats enjoyed drinking from it. It was, however, a pain to assemble ( too many pieces to fit together) particularly the piece with a hole at the bottom that you blindly had to fit into a vertical projection on the motor. As soon as I cleaned and replaced the filter and attempted to put it back together, it didn't work. Soon after my friends fountain stoped working. We are both dumping it and replacing it with a simpler unit.
---