PetSafe Static Basic Waterproof Dog Bark Collar
By PetSafe
---
About This Item
Features 6 levels of static correction, so you can adjust as needed.
Uses PetSafe RFA-67 battery (included).
Waterproof up to 3 feet, so you don't have to worry about walking in the rain or splashing in puddles.
Fits dogs 8 pounds and up and adjusts to fit neck sizes up to 27 inches.
Works for canine companions of all sizes, but is best for medium to large size dogs.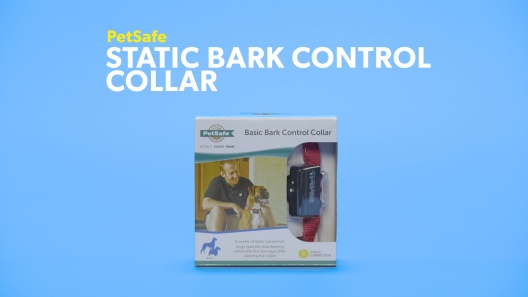 Learn More About PetSafe From Our Team of Experts
Click here for batteries.
Shop Prescription Medications from Chewy Pharmacy
---
---
About PetSafe Bark Control Products
Bark Control
Let PetSafe help you turn down the volume with a variety of bark solutions, including Spray, Static and Ultrasonic correctives. Each one can help you limit unnecessary barking and bring peace and quiet to your home.
Helpful Training Features
Automatic: Hands-free system sends a signal whenever your pup barks.
Progressive Correction: Helps dogs learn, safely.
Bark-Sensing Technology: Learns your dog's bark and only corrects it (not other noises)
Choose the Bark Control Option That's Right for Your Dog
Every dog is unique and responds to situations differently. That is why PetSafe makes a variety of bark product training solutions, so you can find the best fit and keep your best friend healthy, safe and happy.
Static
Uses mild electrical stimulation that feels like a tickling sensation.
Spray
Sprays a light citronella or unscented mist to distract your dog.
Ultrasonic
Sounds a tone that is inaudible to most humans, similar to a dog whistle.
About PetSafe
The team at PetSafe is dedicated to helping pet parents keep their pets healthy, safe and happy. Their innovative product line includes pet fencing, self-cleaning litter boxes, pet doors, harnesses and leashes, feeders, fountains, toys, remote trainers, bark solutions and pet travel accessories, all designed to bring pet families closer together for a lifetime of love.
Shop PetSafe
Compare Similar Items
| | | | | | |
| --- | --- | --- | --- | --- | --- |
| | | | | | |
| Customer Rating | | | | | |
| Price | | | | | |
| Collar Type | Bark Control - Static | Bark Control - Static | Bark Control - Static | Bark Control - Noise, Bark Control - Static, Bark Control - Vibration | Bark Control - Noise, Bark Control - Static, Bark Control - Vibration |
| Breed Size | Small Breeds, Medium Breeds, Large Breeds | All Breeds | Small Breeds, Medium Breeds, Large Breeds, All Breeds | Medium Breeds, Large Breeds | Medium Breeds, Large Breeds |
| Material | Plastic, Nylon | Plastic, Nylon | Plastic, Nylon | Plastic, Nylon | Plastic, Nylon |
| Compatibility | Battery Powered | Battery Powered | Battery Powered | N/A | N/A |
| Leash & Collar Feature | Waterproof | Waterproof | Waterproof | Waterproof | Water Resistant |
| Closure Type | Quick Release | Quick Release | Quick Release | Buckle | Buckle |
| Technology Feature | N/A | N/A | N/A | N/A | N/A |
---
Questions & Answers
58 Customer Questions
---
Why cant you leave the collar on for more than 12 hours a day? Will it harm the dog if left on longer?
Answer by • Jul 02, 2017
Although the static correction itself is completely safe and incapable of causing any harm, we do know it is possible with constant wear beyond the recommended hours per day for sores to develop. This is called pressure necrosis, and is a possible result from prolonged contact of the prongs with the skin. Depending on each particular dog and the sensitivity of their skin, how tight or loose the collar is, and how long they wear it, the amount of time that could pass for something like this to occur could vary. For this reason, we recommend pets never wear their collar for more than 8-12 hours per day, to give their skin a break from the presence of the collar, as well as to regularly re-position and clean the collar, and check the skin underneath where it rests.
---
Do the collar work itself? Or I will have to purchase a remote for this collar
Answer by • Jun 27, 2017
There's no remote necessary. The collar reacts to the sound of your dog's bark. If your dog continues to bark, the static correction automatically increases to the next level until he stops.
---
In the description it says it stops after 50 seconds. That is a long time. Is that in full or 50 seconds AFTER the dog stops?
Answer by • Apr 07, 2021
If your dog continues to bark, the static correction automatically increases through 6 levels of progressive correction with an automatic safety shut-off after 50 seconds.
---
How do you turn the collar on an off? We received our collar days ago and have no idea how to use it because the user manual isn't very detailed.
Answer by • Jul 12, 2017
Removing the battery turns the Bark Control Collar off. To remove the battery, turn the battery counterclockwise using a large coin.
---
---
---
By Vicki on Feb 27, 2022
Would not recommend this new model at all
I had the previous model for years and it worked great; this newer model did not work at all; there was no option to turn it off except for 'turning the battery' which caused the battery to fall out half the time and there was no options for various settings. This new model did not work at all; my dog barked the same way if she had the collar or on off.
---
By JWepp on Mar 16, 2022
Too powerful
This product shocked my dog so hard, she looked like she was struck by a car. She only barked 2x, and flew back 3 ft. yelping. I felt awful. It needs more warnings and less shock or more gradual increases.
---
By LoriDoxieLover on Dec 2, 2021
Not as bad as you think!
My mini dachshunds (2) were out of control! They were incessantly barking at everything and my neighbors were not happy....can't blame them. So, after careful research I chose this particular collar because it is not a HARD shock. It's the same as if you have socks on in the winter, walk on carpet, and then turn your light switch on. It definitely got their attention but it did not hurt them or leave marks in anyway. They actually line up to put them on...it's a hoot! They worked! I still need to use them occasionally but after just a few days things were back in control. I definitely recommend these even though I have never been an advocate of these kind of collars. My bark BOX actually failed me and I wasn't really left with another option.
---
By Mamie on Mar 4, 2022
Still Barking
After one week, a couple of calls to PetSafe, STILL DO NOT DETER BARKING! My mini dachshunds still bark as much as before...DO NOT WASTER YOUR MONEY.
---
By badpurchase on Apr 13, 2022
Doesn't work
The battery died in 2 days after I got it. And my dog just barked through the collar shocking her.
---
By Sandy on Nov 8, 2021
Petsafe Dog Bark Collar
I was skeptical that a bark collar could work but Petsafe's bark collar really does. I onto used it on our dog for a few days before we noticed the difference. Our Phoenix would go out and start barking as soon as the sun would go down and just wouldn't stop. So I had started to take her out on a leash so I could control her and the barking. Now with the bark collar, she is out on her own and we no longer worry about her being a nuisance. Definitely worth every penny!
---
By Kathryn on Nov 20, 2021
Worked before, not now
I purchased this in the past and didn't have any issues with that one not working. Recently purchased a new one and it doesn't go off at all when my dog barks. I've tried tightening and testing. It works off the dog but not when she barks. Disappointing.
---
By Jess on Dec 15, 2021
Don't waste your money
This collar does not work, at all. I've tried tightening it readjusting it and nothing makes it work. My dog is still barking up a storm where the neighbors are hearing her.
---
By Dogbarkcollar on Mar 1, 2022
Doesn't work
I've changed the battery. No beep. Does not work. Defective.
---
By WildFire380 on Jul 30, 2021
Only worked for a month!
The title says it all. We have a dog who is absolutely annoying when it comes to barking. We were so excited to get the collar because it would help with the constant barking. Well it did.. for a month. It says estimated battery life is 3 months, and sure that's estimated but I guess I'm just shocked it didn't even last two months. And what's funny is it still works! Scrape it across a tabletop like it says to see if it beeps and it does. So I'm confused? But I wouldn't recommend this. I'm just going to find a different collar now.
---