Prascend (Pergolide) Tablets for Horses, 1-mg
This item requires prescription approval.
---
Medications ship separately. Delivery times may vary.
---
---
---
About This Item
Prascend Tablets for Horses is a dopamine receptor agonist that works to help control the signs of PPID —also known as Cushing's disease— in your horse. PPID is known to affect over 20% of older horses and ponies, generally over the age of 15 years old. Prascend Tablets for Horses can offer you an easy and effective way to help manage symptoms, while also helping to treat the pain and discomfort associated with Cushing's disease. Unmanaged Cushing's disease in your horse can impact her overall health and wellbeing, including weight loss and delayed shedding. Horses treated with Prascend Showed improved clinical signs within 3 months with 75% of cases considered treatment successes.
Proudly sourced directly from the manufacturer or their approved distributor. Guaranteed genuine and backed by the manufacturer.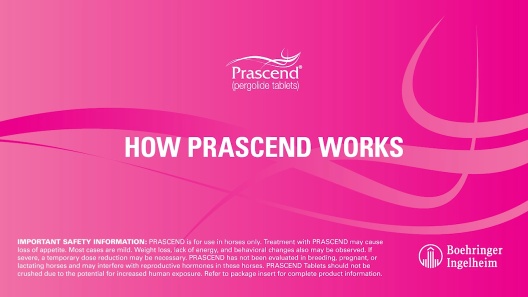 Learn More About Prascend From Our Team of Experts
---
---
---
By Maddie on Sep 17, 2022
Best Purchase for EMS
Bought this for my mare who was diagnosed with EMS as the vet reccommended. Within 2 weeks she was back to a regualr weight and healthier coat. She feels better and looks like her old self again. She is moving smoother and is no longer lethargic. This medicene is a godsend for anyone with a horse with EMS or other metabolic issue. Highly recommend!!
---
By Choochoo on Jun 21, 2022
Cushings meds
Need this for my horse with Cushings. Definitely you can see the difference she has a new coat and her nipples have stopped leaking. Getting it through Chewy was the easiest and was reasonably priced
---
By Vicki on Sep 11, 2022
Prascend- giving me hope
Wonderful drug. Been on for 2 weeks-remarkable! TY
---
By Chuchie on May 4, 2022
Prascend Tablets for Horses
Chewy Pharmacy was easy to deal with. There customer assistance was very helpful.
---
By SugarBaker on Dec 5, 2021
Works as prescribed
The first time I ordered this I was able to order by the pills I needed, the second time it was in packs of 10, but came in the same blue pill container. Wonder why I can't order by the pill but they do seem to be working, it just takes a while to get vet approval so order at least a week or two before you need them.
---
By 1Topangan on Nov 10, 2021
This is better than the liquid form
My first horse lived to be 32 years old and spent a good amount of time on pergoide, the liquid form of this drug. That was good for starting the horse on the drug for titration of doses which I did again with my now 16 year old second horse but when that quantity was exhausted I was glad to be able to switch to prascend, the pill form. They are small and packed well and horses don't seem to notice the dose.
---
By KimD on Oct 21, 2021
Best Deal I've Found
Our equine vet prescribed Prascend approximately 4 yrs ago for our aging horse with Cushings. All along I've been buying through another on-line vet pharmacy. Decided to check with Chewy only to find the cost of it and another Rx significantly lower, and of course faster.
---
By MaryC on Sep 11, 2021
Education needed
I have been using this medication for my senior horse for 2 years now. I like that I can save money with Chewy but it seems that Chewy doesn't understand how this medication is used. It is a lifelong treatment that would never be prescribed for just one tablet. They need to make whole boxes available. I hope this statement is seen by the persons making that kind of decision.
---
By krplun on Oct 29, 2021
Pills for horses
Excellent delivery and price. Great packaging...............................................,..........
---
By Whimmy on May 9, 2021
Vet ordered
My mare showed typical sounds of cushings so we did the test, placed her on the meds and within 5 days she started to show signs of improvement. Now about ordering from chewy vs the others, I love the ordering options of by the pill, not by the box of 30. It makes a lot more sense! They still come in the sheets of 10 (which chewy can edit for your order), but in a clear bag which I prefer! The boxes never survive the month for me. Also I can put the equioxx bottle in the baggie and keep all my old lady's meds together! Glad I found them on chewy.
---