Primal Venison Nuggets Grain-Free Raw Freeze-Dried Dog Food
---
About This Item
Made with antibiotic, hormone and steroid-free venison meat and organs, along with fresh ground bone for calcium supplementation.
Incorporates certified organic produce, certified organic minerals and unrefined vitamins to fortify the complete and balanced nutrition for all life stages.
All the benefits of a raw ancestral diet in a highly-palatable, freeze-dried form that's fast and easy to serve.
Optimum levels of amino acids (protein), essential fatty acids, natural-occurring enzymes and necessary vitamins and minerals supply the building blocks for healthy biological functions.
Crafted in the USA with sustainably-sourced ingredients and contains no grain, gluten, corn, wheat or soy.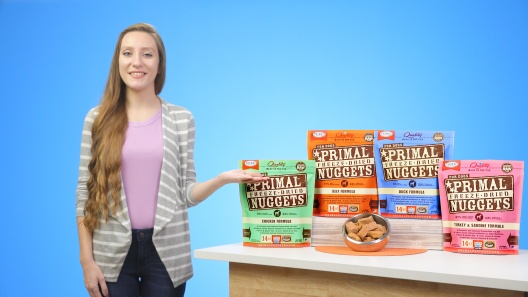 Learn More About Primal From Our Team of Experts
---
---
About Primal Freeze-Dried Dog Food
Freeze-Dried Raw Nutrition
Primal's freeze-dried formulas pack the nutrition of raw into dry bites that are irresistible to your pup, but easy on you. By removing moisture, Primal makes feeding raw versatile and uncomplicated—simply add water to rehydrate and serve, or feed the freeze-dried pieces dry. Use them as a topper, or serve as a balanced meal. Your canine's dinner is what you make it.
Lab-Tested, Canine-Approved
These complete and balanced recipes are formulated to meet and exceed your pet's nutritional needs with the added benefits of raw. Plus, they're laboratory tested to ensure they offer the best quality and nutrition possible. After all, Primal knows you only want the best for your best friend, and they do, too.
Whole Food Means Whole Nutrition
Using whole food ingredients, Primal creates a balanced, wholesome meal without the need for synthetic vitamins. They're the real deal—as in they only use real, unrefined, food-based ingredients. Plus, there's no denatured meat or poultry products, either. Just delicious, USDA inspected, antibiotic- and steroid-free meats and poultry your pal will beg for.
Clean, Wholesome Ingredients
Primal crafts these delicious bites without the use of steroids, antibiotics or added hormones. They're proud to source from trusted ranchers for the health of your dog, and won't include any ingredients from China. Plus, they're made with no grains, gluten, corn, wheat or soy. Even pups with discerning palates can enjoy!
ORGANIC SQUASH:
Acts as an anti-inflammatory, rich in vitamins A and C and high in carotenoid antioxidants.
CRANBERRIES & BLUEBERRIES:
Loaded with antioxidants for immune system support and urinary tract health.
ORGANIC PUMPKIN SEEDS:
Natural source of zinc and manganese and the full spectrum of vitamin E antioxidants.
ORGANIC SUNFLOWER SEEDS:
Whole food source of vitamin E and loaded with antioxidants to help defend against free radicals.
ORGANIC COCONUT OIL:
Excellent source of short- and medium-chain fatty acids for a healthy coat and skin.
Global Flavors Made at Home
Primal freeze-dried recipes are made in the USA and packed with ingredients from around the globe—including the USA, New Zealand, France and Spain. Best of all, each of those nutritious ingredients is responsibly sourced. You'll find certified organic fruits, vegetables and supplements, and protein sources that are ethically raised, too. Because every step counts when it leads to your pet's bowl.
About Primal Pet Foods
Primal Pet Foods was founded with the goal of improving the quality of life and overall health and happiness of pets through wholesome raw foods that mimic the diet of animals in the wild. Since 2001 Primal has been committed to elevating the health of your pets. From complete and balanced diets along with supplemental foods, to their full line of nutritious treats, they use only the best ingredients because that's what your pets deserve.
Shop Primal Pet Foods
Compare Similar Items
| | | | | | |
| --- | --- | --- | --- | --- | --- |
| | | | | | |
| Customer Rating | | | | | |
| Price | | | | | |
| Autoship | | | | | |
| Top Ingredients | Venison, Venison Hearts, Ground Venison Bones... | New: Pork Hearts, Ground Pork Bones, Pork Livers... | Lamb Hearts, Ground Lamb Bones, Lamb Liver... | Beef Hearts, Beef Livers, Ground Beef Bones... | Rabbit (with ground bone), Rabbit Livers, Organic Kale... |
| Special Diet | Gluten Free, Grain-Free, No Corn No Wheat No Soy... | Gluten Free, Grain-Free, No Corn No Wheat No Soy... | Gluten Free, Grain-Free, No Corn No Wheat No Soy... | Gluten Free, Grain-Free, No Corn No Wheat No Soy... | Gluten Free, Grain-Free, No Corn No Wheat No Soy... |
| Breed Size | Small Breeds, Medium Breeds, Large Breeds, All Breeds | Small Breeds, Medium Breeds, Large Breeds, All Breeds | Small Breeds, Medium Breeds, Large Breeds, All Breeds | Small Breeds, Medium Breeds, Large Breeds, All Breeds | Small Breeds, Medium Breeds, Large Breeds, All Breeds |
| Food Flavor | Venison, Meat | Pork, Meat | Lamb, Meat | Beef, Meat | Rabbit, Meat |
| Health Feature | N/A | N/A | N/A | N/A | N/A |
| Food Form | Freeze-Dried | Freeze-Dried | Freeze-Dried | Freeze-Dried | Freeze-Dried |
---
Questions & Answers
6 Customer Questions
---
I soak these venison nuggets overnight in the refrigerator and find that they are still very difficult to break into edible pieces - I actually have to use a knife and fork. Is this normal for venison only because I have no problems with the duck nuggets.
Answer by • Jun 24, 2018
It's recommended to manipulate this food before and after hydrating it.There is a protective coating around each nugget so it might be difficult to break.
---
Can this food be prepared ahead of time?
Answer by • Mar 11, 2018
Rehydrated food should not be left out for longer than 2 hours.
---
How many calories per nugget?
Answer by • Jan 30, 2018
This product contains 150 Calories per ounce.
---
Where is the venison sourced from? Is it pasture raised or is it fed an organic vegetarian diet? Is the alfalfa used non-GMO?
Answer by • Sep 11, 2020
Our venison is sourced out of New Zealand. The animals are pasture raised and without the use of GMO's
---
---
---
By ShihtuzMom on Jun 21, 2022
My Mom Loves Me!
I love this dog food, or should I say, my dog loves it! I was concerned after reading different reviews. But was willing to try it because he loves deer meat and is a picky eater. When the venison nuggets arrived, I dumped the bag (minus the moisture packet) into my ninja blender and made it a powder and placed it back in the original bag. When dinner time comes, I sprinkle a teaspoon full over his Zignature dry dog food, add water and stir. By the time I set the table, his dog food has a gravy texture. I stir it once more and sit it down and he devours it! He even leaks the bowl clean! I really appreciate that it doesn't smell since he thinks he needs to push his bowl by my chair at the table. I would highly recommend this dog food! We found that at the beginning, our shihtuz was whinnying more than usual. After a couple of days, we realized he was wanting more. So after increasing the amount, he is satisfied and wants to play after eating. Can not believe that the venison nuggets make his dinner that special for him, but they do. We even gave some to a family member that their dog has cancer and had given up on eating. After just a week of eating these nuggets, (powdered form & water) the dog is looking better and the vet was impressed with how their dog is eating and starting to gain some weight and strength. We have it on our auto shipment, and hopefully they continue making it for years!!!
---
By Fayeee692 on May 1, 2022
My dog loves it
My dog Missy has sensitive gut until I switched her diet to freeze dried. I think Venison is best for senior dog to have adequate protein but low fat and primal freeze dried has best quality. My dog loves this food and I'm really satisfied too
---
By ymonteagudo on Jan 31, 2022
Primal & Chewy
I own a French Bulldog and, in the ongoing quest to seek the best nutrition available for this breed, which suffers from major allergies, I was introduced to Primal through a friend who also owns a Frenchie. Subsequently, I reached out to Primal via their website and was recommended the wild-type of nutrition and I immediately started my Frenchie on the Primal Venison Nuggets Grain-Free Raw Freeze-Dried Food and I have noticed tremendous improvement in both, her allergies and overall health and noticeable better skin and shiny coat. I am extremely happy and satisfied with this food and would highly recommend it to people who truly wish to offer the best nutrition available to their furry companion. Cuddles also to Chewy for their outstanding customer service and on point fast shipping! YMonteagudo
---
By Ellie on Apr 8, 2022
Wonderful!
Having a dog with many allergies and a picky appetite, it is great to finally find a food that she not only can eat but loves it!,
---
By Chestaar on Apr 8, 2022
Nice treat
My dog loves venison! But it's hard to find venison for my dog that my husband didn't put in the freezer! Thanks for providing!
---
By AliS on Nov 20, 2021
Great for doodle with food sensitivities
Our puppy has a number of food sensitivities/allergies including chicken and beef, and is also a picky eater. So far, she has LOVED the venison nuggets and has had no GI upset. It does take a little work to break up the nuggets, but so worth it because she is doing great on this food.
---
By BenjaminandFrancesca on Jul 6, 2021
the BEST food
This is hands down the BEST food for my yorkie. Benjamin has been eating primal since he was a baby, I rotate all of the proteins to ensure he's receiving a fully balanced diet. He's 5.5 lbs, he eats 2 nuggets hydrated in bottled water every 8 hours, 3 times a day. I don't have his baby sister, Francesca yet. She will be eating 1 nugget every 8 hours when she comes home. They say it's best to start them on Turkey sardine for 3 weeks, then try venison for 3 weeks, rabbit etc. rotating each protein between white and dark meats for 3 weeks to see how they react. Leaving chicken and beef as the last proteins to try.
---
By Nox014 on Jul 7, 2021
Great food
Nox loves this food. He gets this mixed with Ziwipeaks Mackerel and Lamb. Since he is a miniature schnauzer, the breed is prone to pancreatitis since they have a higher than normal fat in their blood naturally, I use the Primal Venison to lower the fat content in his meal since this is really low fat compared to other raw foods. I have not had any problems breaking the nuggets into smaller pieces but yes they are harder than other varieties of primal. One of my other dogs, a Boston terrier, gets the lamb (he needs high fat since he has a really fast metabolism) and it is much softer.
---
By Janice on Aug 21, 2021
Primal Venison Nuggets
Dogs loved the venison flavor! My pups wouldn't touch dinner so I added a nugget each to entice them. As others have mentioned the nuggets are harder than other flavors to break up. I used a kitchen shears to break off pieces which worked great.
---
By HeidiP on Aug 6, 2021
Primal Venison Nuggets
My GSD was on Addiction Figlicious Venison and for some reason it was discontinued. I tried the other venison formula they offered but he would not touch it. Bought the primal venison nuggets and he devours them. It is expensive but I notice a big difference in his coat and energy.
---