Safari Fine Comb for Dogs
By Safari
---
About This Item
Your pet will enjoy painless grooming with this product's smooth rounded teeth. Thoroughly gets through the undercoat without irritating your pets skin.
Features extra-long and rotating teeth that penetrate deep into the undercoat without pulling or tugging.
Fantastic tool that will help control shedding, remove mats, and prevent tangles.
To maintain a top-notch coat, comb and brush your pet frequently. Always be sure to comb your pet's entire coat before bathing.
This 4 1/2'' comb is perfect for medium/fine coats and makes an excellent finishing comb.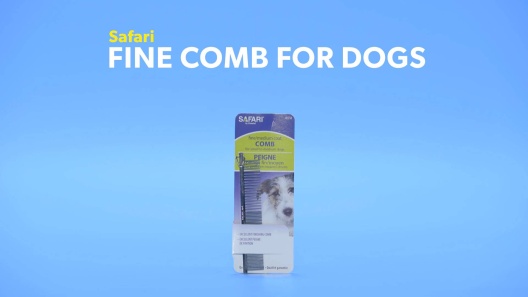 Learn More About Safari From Our Team of Experts
---
---
Questions & Answers
2 Customer Questions
---
In what country is this product manufactured?
Answer by • Jul 23, 2021
This tool is manufactured in Taiwan.
---
how many inches long is this comb?
Answer by • Mar 18, 2020
The comb is 4 1/2 inches long.
---
---
By BobPeq on Sep 28, 2021
Well made, like all Safari products I own, but tines too short to be useful
This comb is VERY small. It's not just the comb length (4.5 inches, as described), which is a bit shorter than a pocket comb for humans, but the length of the tines (5/8 inch, VERY inaccurately described). I picked up a plastic human pocket comb for $1.00 and it works great. From the description... "Features extra-long and rotating teeth that penetrate deep into the undercoat without pulling or tugging." Clearly, this is for some other product. The teeth do not rotate and are NOT extra-long; they are extremely short.
---
By Windyplains on Jul 23, 2021
Perfect Little Comb
I LOVE this little comb & I'm ordering 2 more!!! It's perfect for our Schnauzers little tangles on her legs & skirt as well as for her face! She HATES grooming but tolerates this little comb very well! I also use it on our long haired cat for little tangles behind her ears. But... my favorite use for this little gem??? I absolutely LOVE it for my little Lionhead rabbits and for my Mini Lop babies I think this little comb is an absolute treasure!!!
---
By pupparent on Feb 4, 2021
Great size!
A bigger comb is fine for her back, flanks and legs, but this smaller comb is perfect for my puppy's face, ears and paws.This comb runs smoothly through her coat, fits into a pocket, and is well made.
---
Perfect for my youkie's top knot and face!
This comb is perfect for my yorkie's top knot and for her face. I have two of these combs. They are small. I keep one at home and the other in her bag for when we go out and I need to freshen up her top knot. Worth the money.
---
By marteny on Aug 31, 2020
Tiny comb is GREAT for small dogs
This tiny 4.5" inch long comb seems miniature in size compared to other metal grooming combs you may have seen. But for the small dog or the dog with very fine hair, it is excellent! It's teeth are not quite as fine as a flea comb but should still be considered fine. The other side of the comb is a medium to medium fine. It's a tiny comb, it is easy to loose grip of it. I put a small hand-lanyard on the swivel to keep it right there if it slips from my grip while using it. Plus, when I have the comb tucked away in my bag, the lanyard lets me know right away where it is. It's a great comb for smaller dogs. I use it for bathing also to comb through their hair to ensure there is no trace of shampoo left in the fur. One of my most-used combs.
---
By Puregold on Aug 4, 2020
Don't buy!
This is a ridiculously small comb, so it's totally useless! It's about the length of your cell phone and very difficult to use because it's so tiny! Big waste of my money!
---
By Lilly on Apr 11, 2020
Perfect for my 10 lb Chichon
I got a little white Chihuahua-Bichon mix who weighs 10 lbs and needed a small comb to get her mats out and this is perfect! It gets her tangles out so quickly and easily. I use the sides with the wider teeth to untangle her hair before giving her baths and the smaller side after I blow her dry. The smaller side also works great to get her eye boogies out! Definitely recommend this comb for smaller dogs or any dog that has a bad mat! I work with dogs at a facility that offers daycare, boarding, training, and grooming. I have definitely told them we should invest in a few of these combs! I love it!
---
By Shadow on Mar 22, 2020
Less pulling
I like this comb but prefer the longer ones. My dogs tolerate combing their hair when I use this comb. I foster dogs so I order a few at a time so I can give people a comb Every time they adopt a dog from us
---
By Jean on May 20, 2020
Not as Expected
Much smaller than expected. All the other combs seemed to be sold out.
---
By PupsPick on Jun 25, 2019
Great comb
This comb is perfect for around the nose and eyes gets the crud from food and I debris. Perfect for small dogs and small spaces. I like the dual side as well. I have been looking for one in the dog stores for about three years after I lost mine so I was very happy to see this one online.
---