ScoopFree Covered Automatic Self-Cleaning Cat Litter Box, Gray
Frequently Bought Together
---
About This Item
Self-cleaning automatic rake system cleans entire box 20 minutes after your cat goes to the bathroom. The rakes moves waste into a separated closed waste compartment for superior order control.
Crystal litter is formulated to eliminate odors 5 times more efficiently than clay or clumping litter. It is also designed to absorb urine on contact and dries solid waste to reduce odor.
Plastic litter tray liners prevent leaking that can stink up your home. Disposable litter trays are ideal for easy clean-up and this box includes 1 litter-filled tray to get you started.
This product has been rigorously tested at manufacture's labs for more than 100,000 cycles without failure or jamming.
Extremely efficient as this system uses 5 to 10 times less litter than clay and clumping litter.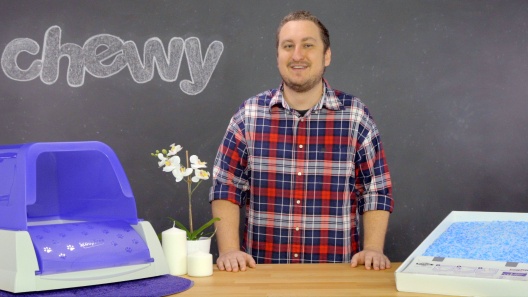 Learn More About ScoopFree From Our Team of Experts
---
Compare Similar Items
| | | | | | |
| --- | --- | --- | --- | --- | --- |
| | | | | | |
| Customer Rating | | | | | |
| Price | | | | | |
| Litter Box Type | Automatic, Covered | Automatic | Automatic | Automatic, Top Entry, Covered | Automatic, Covered |
| Litter Feature | Non-Clumping, Scented, Natural, Low Tracking, Odor Control | Odor Control, Non-Clumping, Scented, Natural, Low Tracking | N/A | Odor Control, Non-Clumping, Scented, Natural, Low Tracking | Odor Control |
| Material | Plastic, Silicone | Plastic, Silicone | Plastic | Plastic, Silicone | Plastic |
| Lifestage | Kitten, Adult, Senior | Kitten, Adult, Senior | N/A | Kitten, Adult, Senior | Adult |
| Compatibility | Plug-In Power | Plug-In Power | N/A | Plug-In Power | Wi-Fi |
| Assembly Required | Yes | Yes | N/A | Yes | N/A |
| Tools Included | No Tools Required | No Tools Required | N/A | No Tools Required | N/A |
---
Questions & Answers
63 Customer Questions
---
On three occasions, my cat has pooped but the indicator light does not turn on when my cat leaves the litter box. Therefore, the poop doesn't get raked away and I must do it manually. Does anyone know why this would happen, and is anyone else experiencing it?
Answer by • Jul 09, 2017
If you've not done so already, you may want to check to make sure there are no obstructions behind the rake. If you see anything which could be getting in the way, such as an unusually large piece of litter, try removing it to see if this helps. You might also want to check the sensors on the litter box. Clear away any waste or litter which might have collected on the sensors. Finally, make sure the magnets on waste cover are properly attached to litter tray. If not, lift waste cover and lower it back down. You should hear a "click" when correctly attached to the tray.
---
How do you clean the cat's solid waste?
Answer by • Jan 02, 2018
The automatic rake system cleans the entire box 20 minutes after your cat goes to the bathroom. The rakes move waste into a separated closed waste compartment for superior odor control.
---
Will this prevent orders? That's the reason im looking into these types of litter boxes.
Answer by • Jun 30, 2017
This litter system uses crystal litter that is specifically formulated to eliminate odors 5 times more efficiently than clay or clumping litter. It is also designed to absorb urine on contact and dries solid waste to reduce odor. However, the litter trays must be replaced at least once every 20 to 30 days for one cat, every 10 to 15 days for 2 cats, and every 7 to 10 days for 3 cats.
---
Hi, how do I convert my cats from the traditional litter box to this?
Answer by • Jun 20, 2018
When transitioning your cat to the new litter box, it is recommended to place the new ScoopFree litter box next to your cat's current litter box, allowing them to have access to both boxes for at least a week. Add a few handfuls of your cat's old, unused litter to the new crystal litter tray. You can also add some of the crystal litter to their current box. You should also refrain from cleaning your cat's old litter box, allowing it to remain dirty. Since cats prefer a clean litter box, this will help make the new ScoopFree litter box more appealing.
---
---
---
By NHSeacoast on May 22, 2022
Works Great!!
This cat box works great. As soon as it was setup, our female Maine Coone got right in and used it. Its very quiet and the crystal litter works great at keeping the odor at bay. It's well worth the price and doesn't take up a lot of space. The only draw back I have is that the litter box itself is cardboard and not plastic or metal. The whole bottom of the box comes with a cover so you can dispose of it all at once. So, with that being said, you'll need to purchase the cardboard litter box with the crystals. Those are about $70.00 every three months when you can get an 8 pound bag of crystals for just under $15.00. The bag of crystals that come with the cardboard portion of the litter box is 4 pounds.
---
By Jules on Jun 21, 2022
Not impressed
I'll be returning this as it is not self cleaning. The rake moves the crystals to the end and then stops. leaving a pile of you-know-what and not dumping it in the box. I've had self cleaning litter boxes in the past and they have had the final step of lifting the debris up and over a lip into a receptacle. This just rakes to the end and stops.
---
By Binxmama on Jun 14, 2022
Bring back the old one
Welp, I bought one in July of 2021 and it worked perfectly! No smell, absorbed the liquid! Fantastic. I noticed that it was getting stuck on the numbers and decided to purchase another. This is the current new version. I can not stand it! You can smell the poop! Annnnd It doesn't clean the wet well. Now I'm searching for the older model and ready to throw this one away! Very disappointed!
---
By Marion on May 10, 2022
Waste of money
Unfortunately this thing did not work for us at all. I'm giving it one star for the silent operation and another for the low-key design. But that's pretty much it. The rest of our experience was awful. For the context, we have one senior cat and we used a covered litter box with pine litter before. Scooping the poop on demand and replacing the litter once a week worked for us. First of all, the crystal litter is horrible. It's messy, it spreads all over the house and crunches under my feet wherever I go. But the worst part is THE SMELL. Seriously I have no idea how it can possibly last for a week or even a day. After just a couple of uses the smell of the urine was totally unbearable. And the hood didn't help at all because there is a large opening on the front side and no door. My whole house stank of ammonia on the very first day. The rake didn't do a great job, too. The poop kept sticking to the rake and I had to disassemble the whole thing and clean it with an old toothbrush while wearing a pair of gloves. Never had to do anything like that before and it's definitely not something I expected from a "self-cleaning" device. The whole construction in general is flimsy and ridiculous. You cannot lift it up or easily move around because the litter box is not attached to the bottom tray. The advertised "self-cleaning" feature which makes this device worth $200 literally just means that the poop is being shoved under a free hanging piece of carton. Do not recommend.
---
By Auto on Jun 2, 2022
Only good for solids
If you have a kitty with ANY softness in their poop, this is NOT a good litter box. I was really hoping but I can't say I'm 100% happy! It's nice not having to scoop a litter box every day, until you have to clean poop off of the self cleaning box.
---
By Leia on Jun 7, 2022
my kitties will not use
none of my 3 kitties will use this litter box! My Bengal got in it one time and watched it rake the litter...then none of them would use it. I believe it must be the transition to the crystal litter
---
By Jake on Apr 14, 2022
Life changing!!
Was very nervous about getting this, but it is truly life changing!! So great not to scoop everyday! I have 3 cats so bought 2 of them-so far so good. One lasted about 7-10 days (starts to stink), so hope to get 2 weeks out of 2 of them
---
By LuDe on Mar 1, 2022
I got this to clean up less poop...well...
I'm not into cats, but my daughter gave me the puppy dog eyes and I couldn't say no. I quickly got online and looked for self-cleaning litter boxes. Who wants to scoop cat poop every day...not me. I read the reviews and ultimately decided to give this litter box a try. Worst decision of my life. Now, I don't know if my cat is just gross or if all cats poop this much, but the comb/forks/whatever you want to call them is not doing the job. They are supposed to automatically move to shovel the poop into a hidden compartment and that works correctly. However, when it goes back to reset itself, it brings the poop with it... It squishes it into the combs and gets all over. Moral of the story, if you want to clean up less poop, this is not for you. This device actually makes you clean up more disgusting poop than a normal litter box with clumping litter would.
---
By Heather on Mar 1, 2022
Best purchase EVER
Still going strong!! I've had up to two cats using this cat box and cleaned it about every 7 days. I Currently only have one kitty and we can get by over two weeks. Crystal litter is KEY- I've tried cheaper litters but the crystals work the best. Also purchased the plastic reusable tray and it wipes out easy. Don't plan on switching and I've been a cat owner for 20 years.
---
By Kate on Jan 27, 2022
LOVE this litter box!
This box is SO worth the investment, especially compared with the price of other self-cleaning litter boxes. Luckily, my cat was already using crystal litter, so he transitioned to this no problem. I have literally never noticed an odor, either from stool or that acrid ammonia smell from too much urine. I never even see the solid waste, and I just check inside periodically and change out the whole tray when the crystals start to look urine-y. No scooping, and no trying to hold open a trash bag while you pour the dirty litter into it. I work a lot of hours and struggle to keep up with all the things that need doing around the house, and taking litter box scooping off the daily task list has been such a stress reliever! It's really a small investment to make when you consider how much time it can save you.
---