Suitical Recovery Suit for Dogs
By Suitical
---
About This Item
Comfortable, stress-reducing alternative to the traditional cone is recommended by vets.
Snug fit with rear fastening prevents the pet from wiggling out; can be pulled back for potty breaks.
Covered areas are kept clean and dry, which prevents bacteria and dirt from causing an infection.
Made from a non-toxic, breathable, 4-way stretch fabric that is machine washable for reuse.
Allows air to circulate around the wound for healing, with built-in pockets for gauze pads.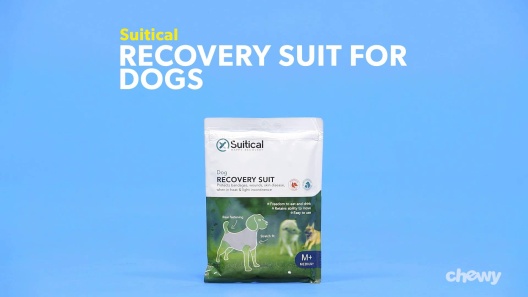 Learn More About Suitical From Our Team of Experts
---
Compare Similar Items
| | | | | | |
| --- | --- | --- | --- | --- | --- |
| | | | | | |
| Customer Rating | | | | | |
| Price | | | | | |
| Breed Size | Medium Breeds | Small Breeds, Medium Breeds | Extra Small & Toy Breeds, Small Breeds | N/A | Small Breeds |
| Health Feature | First Aid, Itch & Redness Remedy, Recovery | First Aid, Itch & Redness Remedy, Recovery | N/A | Recovery | Recovery, Calming, Itch & Redness Remedy, First Aid |
| Material | Cotton | Cotton | N/A | Polyester, Spandex | N/A |
| Closure Type | N/A | — | — | — | — |
| Potty Feature | N/A | — | — | — | — |
| Top Ingredients | N/A | — | — | — | — |
---
Questions & Answers
64 Customer Questions
---
Would this suit work for a male recovering from neutering?
Answer by • Jan 20, 2020
This suit is suitable for male dogs that have been neutered.
---
What is the piece of fabric with a snap on the inside of the garment?
Answer by • Aug 03, 2017
The Suitical Recovery Suit has a rear closure with two straps on the belly side which are secured by threading them between the rear legs and then connecting the snaps to the upper section near the base of the tail.
---
My pup has a 6" x 1-1/2 w rectangular scalp that removed all hair and skin to the facial along ribcage on upper side. We've been using pads and jacket but she is still pulling out staples after ripping stitches out. Is there a video showing how to use?
Answer by • Feb 16, 2020
Please see attached video at the 2:06 timestamp is a demonstration of how to put on the suit.
---
How breathable is this suit? I want this for my dog, but when we are not home he stays outside for most of the day.
Answer by • Jun 12, 2018
This suit is made from a non-toxic, breathable, 4-way stretch fabric to allow maximum comfort.
---
---
---
By DaneMom on May 6, 2022
Great Buy! so much better than a cone.
The xxl fit my Great Dane well. She actually didn't mind wearing it after her spay. It's easy to get ona and off. You just unsap the back like a baby onesie. We learned to tie the 2 flaps in a knot on her back vs using the snap that came with it when she went to use the bathroom because it kept her stitches covered. The little snap you're supposed to use didn't keep her stitches covered and they got dirty once. Danes need a huge cone after their surgery and that makes it hard for everyone, this is a great option. Make sure to buy 2 so if one soils the other is available right away since you can't dry in the dryer. Definitely 2 paws up from our family.
---
By Pete on Apr 29, 2022
Better than the cone
After her spay, my standard poodle managed to reach around her Kong inflatable doughnut collar to get to her incision site. There is nothing wrong with the Kong product...I just have a long, lean scary smart poodle. This suit is great. It would have helped me get this thing on if I'd played with dolls as a child, but still, it went on without much fuss. Her movement is less restrictive and her dignity restored. The incision site itself is covered and protected. Everyone says to get two...they're right. I only got one the first time to see which worked better; cone or suit. Here I go, ordering suit #2. My poodle is around 50 pounds and the medium fits her well. Oh, and it's nice and snug, and would also make a good Thunder Shirt.
---
By StoMo on Apr 25, 2022
Life Saver
We adopted a 7.5 month old lab puppy who was not spayed. We scheduled her spay surgery for 10 days after we got her and we were worried about the whole cone thing b/c she is very active and at that time she was a little anxious at being in a new home. A local trainer told me about this suit a couple of days before the surgery was scheduled, so I ordered it and it arrived while she was at the vet having surgery. We took it with us when we picked her up and they were excited about seeing it and said they had recently heard of these suits. It was a life saver and NO cone!!! It protected our pups wound and she was only able to get it off of herself once (in the middle of the night, no idea how she did that). Otherwise, it was on her all of the time except for washings. I 100% recommend this product. I measured her and got a large for a 60 pound lab and it was a little big in the length and kept slipping around. I had to make some nip and tuck alterations to make it fit better and not move around so much. Not sure if a medium would have been better, but it worked fine before I made the tucks but even better after I did. I also loved the solid black color as she is black and it was not that noticeable that she was even wearing it!
---
By Hikergirl on May 13, 2022
Best alternative
This is an option that everyone who needs to spay or neuter their pet should consider. I used one for my female pup after her spay surgery and we never needed to use a cone (e-collar). The material is durable and breathable. The snaps are very effective and the design is easy to put on, comfortable and versatile. Even on the very first day home from the vet, my pup was able to rest comfortably and not bother her stitches.
---
By SuperSuit on Mar 30, 2022
A MUST HAVE ITEM
When I scheduled my puppy's neutering surgery, I did quite a bit of research as to what to expect and how to make the after-care easier. The Suitical Recovery Suit, was something I happened acrossed on Chewy. After reading multiple reviews and doing outside research on the pros and cons of the suit, I decided to get one. I can say with 100% confidence that the suitical suit (or as we called it, the Super Suit) was a complete game changer! First of all, I have to say: Buy TWO!!!! - I attempted to put the cone of shame on him while I was washing his super suit, but he was TERRIFIED of it. I immediately ordered a second super suit and it was delivered from Chewy the next day! Having a second to put on my pup while the other got washed, but extremely helpful!! It is able to be rolled up to be able to bring them outside for potty breaks, but I found after the first couple of days, that it was better to just take it off and give him some time to air it out, and give his fur a break from being constantly covered. It was extremely easy to put on and take off. Though he wasn't a fan of having it on, he never attempted to get out of it and didn't appear uncomfortable. I have a Shiba Inu/black lab mix. He was 32lbs at the time of his surgery and I ordered the Small+ size. It fit him perfectly and covered the surgery site perfectly. I did measure him, as suggested by Chewy, in order to find the perfect fit. Highly recommended product!!
---
By Lori on Apr 27, 2022
Game changer
I bought this suit for my 8 lb teddy bear who is recovering from getting neutered. I bought an xxsmall. The fabric is soft and breathable with enough room in the torso region allowing his incision to heal. It is a bit of a hassle snapping at the bottom, with a wiggly puppy but with an extra set of hands, its doable. It rolls up well for potty breaks, so no reason to take it completely take off. I am surprised that this isnt well known because having the suit is so much easier than a stiff cone. My dog is so much happier! I highly recommend this product.
---
By Linda on Apr 7, 2022
Post-op Protection
When my Golden Doodle had surgery last week, I was dreading using a cone. I researched other options, read tons of reviews, and decided on getting a Suitical dog recovery suit. Rather than simply order the item, I called Chewy. The person I spoke with reviewed the item, the shipping, everything with me. I was so pleased with her positive, helpful information and her positive attitude. My dog weighs nearly 100 lbs. The measurement for a 2XL was accurate. The suit is a perfect fit and a lifesaver! It is pretty easy to get it on him. It is just as described. I really like the snaps instead of Velcro closures. The stretch and softness is perfect. Thank you, Chewy for providing this quality product. Did I mention I got it the very next day? How great was that?
---
By OESinDC on Apr 11, 2022
SuitiCal used after SurgiSox did its Job
My lovely Old English Sheepdog (OES), Luna, underwent triple surgery ten days ago: laparoscopic Spay, laparoscopic Gastropexy, and a secondary cyst removal. She was fitted with a high-compression full-body SurgiSox to cover over her surgical sutures for first ten days. This to impede Luna to lick her sutures, which did worked as a charm but with some degree of discomfort. But after the ten days, once the SurgiSox was removed, the SuitiCal (XLarge) was fitted to provide less-constraining support and continued protection as a second skin for the next three days. The Suitical is working perfectly and does not restrict her motions like the high-compression SurgiSox. Luna is now a happy doggie and the SuitiCal looks totally cute as a bonus.
---
By SatisfiedCustomer on Mar 22, 2022
Perfect For Spay Surgery!
This Suitical Recovery Suit is wonderful for spay surgery. My puppy came home with a cone on for the first two days after surgery. She couldn't eat, sleep, or play well at all. She (and I) were miserable. There had to be a better way, and Chewy.com came to the rescue! I spoke to a rep who helped determine the correct size. My puppy is 10.5 lbs and measured 17 in from base of neck to tail. She fits perfectly in the extra small size. The material has Lycra and is breathable and feels like a second skin, not hot or binding. My puppy can ditch the cone and eat, sleep, and play comfortably now. I don't have to worry about her scratching or biting at her surgery site. It fits over the head and has easy-open and close snaps back at the tail end. Going potty is easy. I wish I had it to bring her home in after surgery. It would have been so much easier on my little pup. The pink camo design is fun and makes the stress of surgery easier to deal with. Be sure to select size carefully. If it's too baggy, the pet will be able to get at the surgery site.
---
By Lola on May 14, 2022
Brilliant idea!
This worked perfectly for our puppy who just got spayed. She is potty trained so it was very easy to unsnap the rear snaps and roll the suit forward when she had to go potty. The fabric is great (breathable and stretchy) and it fit perfectly. She looks adorable in the pink cammo one. Thanks for such a great product!
---