Tetra Pond Submersible Flat Box Filter
Frequently Bought Together
---
About This Item
Keeps outdoor ponds clean by filtering dirt and debris in 250 to 500 gallons.
Submersible design lets you place it completely underwater so it's great for ponds.
Works to constantly reduce pump and fountain clogging to keep your filtering system working smoothly.
With compact flat box design that means it can fit many different pond pumps.
Easy to detach to clean easily and effortlessly as often as needed.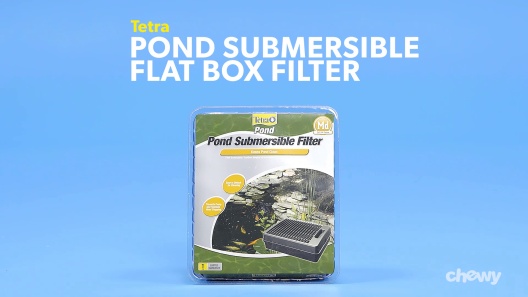 Learn More About Tetra From Our Team of Experts
---
Compare Similar Items
| | | | | | |
| --- | --- | --- | --- | --- | --- |
| | | | | | |
| Customer Rating | | | | | |
| Price | | | | | |
| Fish Type | Koi & Pond Fish | Koi & Pond Fish | Tropical Freshwater, Marine Fish | Tropical Freshwater, Marine Fish | Tropical Freshwater, Marine Fish |
| Aquarium Type | Pond | Pond, Freshwater, Saltwater | Freshwater, Saltwater | Freshwater, Saltwater | Freshwater, Saltwater |
| Material | Plastic | Polyester, Synthetic Fabric | Mesh, Synthetic Fabric | Plastic | Plastic |
---
Questions & Answers
17 Customer Questions
---
Do you have to have a pump for this?
Answer by • May 25, 2018
A pump would be needed for proper filtration and circulation.
---
Can filter media be put inside this filter? I'm intending on having a goldfish pond and their filters need lots of media.
Answer by • Jun 06, 2018
This flat box filter does not use filter media, it uses coarse and fine foam pads, which are included.
---
Can it work in a pond woth ducks?
Answer by • May 18, 2018
The flat box filter would work for a duck pond if you can keep the bottom of it fairly clean. That can be hard to do with ducks as they typically bring a lot of mud into the pond.
---
Does this come with the pump?
Answer by • Sep 26, 2017
The pump is not included with this Filter.
---
---
---
By Todd on Jul 25, 2022
Clear pond and very happy!
Purchased this filter along with a pump and very happy with the results. I see other reviews on here about the filter box not submersing, but once mine fills with water it did sink, maybe I got lucky. My pond was always cloudy and I could never seem to keep it clear for any length of time. I tried many things to try and clear my pond, including a variety of filters and chemicals. I had gone to the local pond store and they recommended some expensive filter system that was over $400 but I wasn't ready to spend that kind of money. I found a review on here that appears to have been deleted but it ran through a similar pond problem as mine. I did the same thing that this other person had done with the same success. What I did to was install this filter and pump and cleaned it daily, careful not to dump the sludge that it collected back in when removing and rinsing the filter clean before putting it back in the pond. I did the daily cleaning for a couple of weeks and started to see results almost immediately. Now I clean out only weekly and it seems to be working great. I'm 5 weeks into using this and it's been clear for over 3 weeks, I can see clear down to the bottom, about a 20 inch depth. I recommend this product and process and hope others will see the same success! Hope this helps someone!
---
By Mandy on Apr 19, 2022
Have to weigh it down
Filter seems to work okay, but what a pain that it's submersible and yet it floats?! Tried weighing it down with rocks inside, but then it didn't filter the water and pond was disgusting in a couple days. We have a small pond and putting a block on top to weigh it down looks silly and restricts flow. Was a great price, but not sure why it wouldn't be made to stay down on it's own as a submersible filter.
---
By Marie on Apr 12, 2022
My Koi send a big "Thank you"
This submersible flat box filter exceeds my expectations in effectiveness. It's smaller than my old flat filter, which is more aesthetically pleasing, yet draws in a greater volume of water. It also maximizes my existing pump. It included hose and connectors, as pictured, for easy, instant assembly.... and was happily surprised to find a couple of filter sheets inside!! Chewy was EXCELLENT communication delivery was FAST!!
---
By Pondlover on Jun 29, 2022
Yes, it floats.
As people have mentioned before, this filter floats. This can be easily solved by putting a rock on top of the box..
---
By Izero on May 30, 2021
Doesn't Filter
I have a brand new 300 gallon tank with four koi and this filter attached to a 500 gph tetra pump does nothing to filter. Nothing. It picks up nothing and the tank is now totally dark. Just four koi and no substrate because this is only a temp tank while my pond is repaired. The set up is also a drag to "clean" because you have to remove two components - pump and filter - from pond to clean just the filter. But you can just leave it in and forget about it and your fish cause it doesn't work anyway.
---
By Rosa on Jul 16, 2021
It does okay-ish
It will do in a pinch. Even when you fill it with water before hand, you still have to put a rock on it to be on the safe side, or it could float up on you. It keeps the largest stuff out, but does nothing for water clarity.
---
By Leanne on Mar 22, 2021
FALSE ADVERTISEMENT
What you see is not what you get. If you look at the pictures in the ad you will not be sent half of what you think you will be getting.
---
By Claudia on Feb 23, 2021
Filter box
The filter is good. Only thing, it must be weighed down or it floats up
---
By Betsy on Jul 3, 2020
Doesn't sink
Though marketed as a submersible filter, it is too buoyant! I woke up this morning to the floating box filter and the pump running dry. Fortunately it did not burn up the pump. Things I'm going to try: a rock or brick like others have suggested (but the sides of my pond slope, and the rock keeps sliding off), replacing plastic filter media with batting-type (definitely absorbs water, thus heavier), or pushing the pump more to the deeper center in the hopes that the short tether to the box filter will keep it pulled below the surface. Hope the filter helps. Only installed it yesterday. Fish don't seem to mind the algae, but I'd like to see them more!
---
By Dewayne1128 on Jul 10, 2020
filter review
This filter works great. I have a 400 gallon 10x13 base pond with two waterfalls and I've had no problems with keeping it clear. The only downfall with this filter is I can't find any replacement filters to go inside the box.
---