Yaheetech 51-in Plush Multi-Cat Kitten Tree & Condo
---
---
Try This Similar Item By Chewy
---
Frequently Bought Together
---
About This Item
This multi-level cat tower is ideal for 1 to 2 smaller cats or kittens to play on and enjoy.
Includes a tunnel and a ladder for extra-fun climbing and exploration.
The soft and cozy hammock provides an ideal spot for a comfortable snooze.
Features multiple scratching posts covered in natural sisal rope—helping your kitties develop paw-sitive scratching habits.
Made with high-density particle board and plush, tear-resistant fabrics for extra safety and comfort.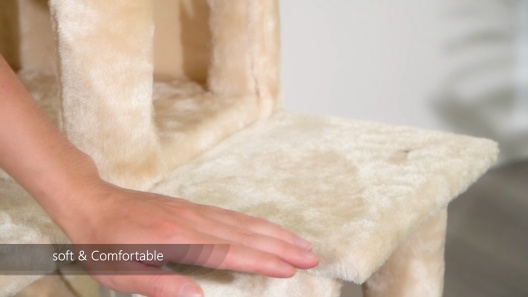 Learn More About Yaheetech From Our Team of Experts
---
Compare Similar Items
| | | | | | |
| --- | --- | --- | --- | --- | --- |
| | | | | | |
| Customer Rating | | | | | |
| Price | | | | | |
| Cover Material | Sisal, Plant Material | Sisal, Plant Material | Faux Fleece, Sisal, Plant Material, Synthetic Fabric | Sisal, Plant Material | Faux Fur, Sisal, Plant Material, Synthetic Fabric |
| Furniture Features | Condo, Hammock, Tunnel | — | Modern, Floor-to-Ceiling | Condo, Modern, Hanging Toys | Condo, Hanging Toys |
| Furniture Frame Material | Engineered Wood, Wood | Engineered Wood, Wood | Engineered Wood, Wood | Engineered Wood, Wood | Engineered Wood, Wood |
| Height Range | 31 inches to 59 inches | 31 inches to 59 inches | 31 inches to 59 inches | 31 inches to 59 inches | 31 inches to 59 inches |
| Tools Included | Yes | Yes | Yes | Yes | Yes |
| Number Of Condos | 1 condo | — | 2 condos | 1 condo | 1 condo |
| Furniture Mount Type | Free Standing | Free Standing | Free Standing | Free Standing | Free Standing |
---
Questions & Answers
7 Customer Questions
---
What is the return policy?
Answer by Selah • Sep 19, 2022
Chewy has a 100% guarantee satisfaction return policy for 1 year from the date you ordered it :)
---
Can adult cats play on this too
Answer by • Mar 03, 2021
This multi-level cat tree is perfect for one or two smaller cats.
---
Does it have a wall strap to anchor unit?
Answer by • Apr 19, 2021
This cat tree features a strap to attach to the wall for extra safety.
---
Can you get parts for cat trees
Answer by • Jul 04, 2021
At this time, the manufacturer does not make replacement parts for this cat tree.
---
---
---
By BlackCatMom on Sep 22, 2022
Not fully functional, but my cat loves it anyway
The first thing I noticed when I put it together was that the size of the podiums was very petite. Luckily my cat is a mere 6.7 lbs so the small size isn't a deal breaker. There are parts of the cat tree that are too small for even her (the tunnel and the hammock specifically). I can imagine that this cat tree wouldn't be very functional for the average sized cat, if it is a tight squeeze for my very small cat. All that being said, my little kitty loves spending time on her cat tree. This was a decent purchase for the price.
---
By Alpha on Sep 21, 2022
Value for my money
At first i wasn't sure about buying it i thought it was small but on second thoughts i gave it a try and upon arrival i knew my judgement was so wrong because what arrived exceeded my expectations. My cat could not wait for me finish joining it she was all over the place like she knew what it was . Finally she can stop scratching my couch now. She sleeps in it all day and play around it. Every cat owner wants their cat to be happy this is truly what defines its happiness total value for my money.
---
By Chris on Sep 22, 2022
Cat loves it
This is one of the best cat trees I seen. The price is great best price I've seen This one is a great place for any cat to play. Love all the different platforms for my daughters cat to get on. Her cat loves climbing an jumping from level to level. Her cat loves to hide in the cubby holes. It's not just entertaining just for the cat It's entertaining for the whole family. It's we made at a price you can't beat. An from a great company.
---
By Daniela on Aug 19, 2022
Amazing cat approved
I have three ragdoll cats, one of those being a kitten, and I knew I needed something that was big and also that had entertainment for the little kitty. After doing a lot of research, I came across this one and the dimensions were perfect for the place I was looking for, and it was going to offer enough space for my three cats. This was perfect, it took me maybe 15 minutes to assembly, and he came with everything I needed to do so, very easy and instructions were simple. My cats absolutely love day, ever since I got it they have not had one day that they don't play with it and also sleep on it which is amazing because they now stopped laying on the sofa, which was getting full of hairs. The quality of this cat tree suppresses my expectation, because for the price I was not expecting a lot, but it really is great quality I would highly recommend
---
By sandy on Sep 25, 2022
Too small and wobbly
The tree is a bit wobbly and my 18 week old kitten looks unsure on it. Also the surfaces such as the swing bed, the circular perch and the very top perch are going to be way too small as she gets bigger. Not worth buying if you are looking for something that will accommodate your kitten as it gets bigger.
---
By Benn on Aug 10, 2022
Awkward, Flimsy Construction
Bought this as our first cat tree and while one of our two cats love it, I'm going to replace it very soon. Our first cat can't be bothered with this thing, but our other cat loves it in spite of - not because of - the design. Like others have said, some parts are just way too small for anything larger than a kitten. The cylindrical tunnel is both too narrow and too short for an adult to get into, and the placement makes it awkward even for small cats. For the top bed, a cat could theoretically jump onto the main box, on top of the tunnel, and on top. But given the slick material, lack of claw grips, and wobbly posts, it makes it nearly impossible to navigate as intended. Our cat has instead opted to stand halfway up the tree, reach up to the top bed, and dead lift her entire weight onto the bed. Given that this extremely important part of the tree is affixed flimsily to a thin piece of plywood by a short screw, it flexes the entire post down as she hoists herself up. Even just normal movements and adjustments while up there causes the entire tree to bend and sway precariously. No accidents yet, but I'm replacing it soon to avoid any inevitable breaks or slips in the screws. The hammock underneath seems pointless and confusing to use as well. I do not recommend.
---
By Abhi on Aug 9, 2022
Best Cat Tower - Buy ASAP
We have 4 indoor cats and previously, had two (a large and small) towers for them to play on. At first, they didn't play on them at all and then they started using them all the time that they started to come apart (scratching posts, etc). We looked and looked for a new tower that all 4, which 2 are very large cats and the other two are very rough with the towers. We decided on this tower and before we could put it together, they were all over it. The assembly was very easy and once it was put together, they were immediately checking it out. There's always one or two cats it in at all times. Everyone who comes for a visit, always states that they are amazed at the price and quality. Many have purchased from seeing ours.
---
By Robin on Aug 23, 2022
Large Cat tree I love it
This product is quite sturdy and has decently thick carpet. The scratching posts are wrapped well with thick sisal. My cat could not wait for me to finish putting it together. The moment i finished she was jumped on and immediately started using the scratch posts. I have this tree sitting in a window next to my work desk. She sleeps in it all day long while i work and enjoys watching all of the wildlife out the window. I will definately purchase this product again.
---
By Renee on Aug 16, 2022
Cats love it
I have 2 cats that are brothers, one is extremely overweight so I have trouble finding a cat tree that has big enough spots to where he can stretch out without falling off. The last cat tree I had took up a lot of space as where this one doesn't. Fits perfectly in the corner and both cats was trying to climb on it as I was putting together. They definitely love to lounge on this and use the poles to sharpen their nails. This is also an affordable price and is very sturdy and stable. Definitely recommend.
---
By Petra on Aug 31, 2022
Yaheetech 51-in plush multi-cat kitten tree and condo
I bought this product a week ago,am impressed with its features.its very affordable.i have two kittens in my house and ever since I bought it they never cease to play happily.they climb using ladder easily ,and they love sleeping on it ,I found out it's more comfy so that's why.they have improve on their scratching too.am really impressed with this product.
---